Menu
Table Tent Menu
Need a cooler and more efficient way to present your restaurant's menu options while also benefitting from increased sales? Then, try out making table tent menus instead. Explore the rest of this article as we share a collection of free and premium table tent menu templates. We've also included a step by step guide so that you can easily learn the ropes of stress-free menu card-making.
Table of Content
Shown below are a collection of downloadable table tent menu in psd, Illustrator, MS Word, Publisher, and Apple Pages file formats.
1. Birthday Table Tent Creative Menu Template
Glam up any birthday party or event using the Birthday menu design shown above. This template design is perfect for those who are planning a little girl's birthday bash or a debutante's ball. The template design can also work for a bachelorette party or even an adult birthday party.
2. Burger Table Tent Design Menu Template
If you are looking for a clean tabletop display for your burger joint, check out the Burger Table Tent Menu Template featured above. This template sports simple chalkboard design that will appeal to customers of a casual burger joint or sandwich shop. When using this template, always add your dining establishment's logo design to promote brand recall.
3. Sample Coffee Shop Table Tent Menu Template
Use the Coffee Shop Table Tent Menu Template (featured above) to benefit from people dawdling at your coffee shop. This standup menu template can be a gem in attracting more diners to order. The template may also be used as a separate drink menu for your restaurant.
How To Make a Table Tent Menu (5 Steps)
According to a study made by a restaurant management company called Upserve, 80% of most restaurant's food sales come from only 16% of menu items. With that in mind, it's perhaps time to develop a new restaurant menu that reflects the high-value items that your dining establishment sells or wants to sell.And to further make sure that your menu cards get the attention they deserve, follow the tips shared below on how to make your own impactful table tent menus.
Step 1: Use enticing labels and descriptions

A winning table tent menu starts with targeted content. You must first craft appetite-inducing descriptions. Use enticing labels and headers. Be creative with how you fit all these texts with the limited space of a table tent menu.

Step 2: Take advantage of white space.

The next step is to decide on a menu layout. Take advantage of white space as it makes the entire table tent menu look organized and clean. Choose a layout design that melds both text and graphic elements and, at the same time, makes the menu easier to read.

Step 3: Add images sparingly.

Another essential component of an organized table tent menu is the smart use of food photos. Remember, a table tent menu has limited space. Use high-resolution photos only for the high-value items. Make sure that each photo is professionally taken and that there is enough breathing space between each image.

Step 4: Choose a complementary color scheme.

Also, don't forget to choose a complementary color palette for your table tent menus. And if you want to take color theory a little bit further. Pay attention to colors that evoke hunger and/or remind people of food. For example, you may use green (and its many hues and tints) to make your vegan menu to a lot of diners.

Step 5: Download a printable table tent menu.

And to combine all these steps, download a printable table tent menu template. Choose a menu design that matches the layout, color scheme, and overall theme that you have chosen earlier. These printable templates will make the entire menu-making process easier and quicker for you.
4. Printable Dinner Table Tent Menu Template
Check out the Dinner Table Tent Menu Template (embedded above) if you are looking for a new way to present a fine dining restaurant's menu options. This template's floral illustrations and cursive font styles make the printed table tent menu appear more elegant that it is.
5. Basic Event Planner Table Tent Template
As a bonus, we have also included the Event Planner Table Tent Template (pictured above) in this list. This template is primarily a business menu template. It is used to promote the services of an event planner or other types of business. If you are a restaurateur, you may still use this template as long as you modify its built-in wording to match your business type.
6. Modern Sandwich Table Tent Menu Template
The Sandwich Table Tent Menu Template (shown above) takes advantage of white space quite well. This, in turn, makes the table tent menu's content easier to read. Download this template and don't forget to showcase mouth-watering photos of your restaurant's specialty.
7. Standard School Table Tent Menu Template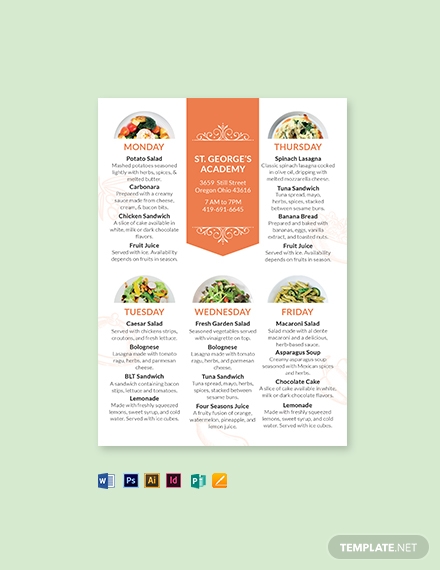 School-age kids can be picky eaters. But with the School Table Tent Menu Template (embedded above), you can create an informative and, at the same time, enticing menu list. Another draw to this table tent menu is its inclusion of high-quality food photos. Customize these image placeholders with pictures of actual school lunch meals that your school serves.
8. Wedding Table Tent Menu Example
Paired with a color coordinated tablescape, the Wedding Table Tent Menu Template (pictured above) can elevate any wedding dinner tablescape. Download this editable wedding menu template now and feel free to match the template's simple elegant design to your official wedding motif.
9. Baptism Table Tent Menu Download
10. Modern Bakery Menu Table Tent Template
Take table tent marketing to a new level with the Bakery Menu Table Tent Template featured above. This double-sided menu template can be used to display your dining establishment's entire menu list. Or, you can use it to generate add-on or take-away orders. To get the most out this table tent menu, make sure that they are placed on your countertops, on each dining table, or on top of the food display cases.
11. Simple Chalkboard Cafe Menu Table Tent Template
Are you operating a fast-casual dining establishment in a trendy section of town? Then, you may like the Chalkboard Cafe Menu Table Tent Template pictured above. As an editable template, you may replace the default focal image with a photo of your restaurant's bestseller.
12. Editable Pizza Table Tent Menu Template
Capture your customers' attention from the get-go with the Pizza Table Tent Menu Template shown above. This printable template design best suits casual dining establishments like pubs, bistros, or casual dining restaurants. When you use this table template menu template, you may opt to print it on letter-sized paper and insert it on a menu holder. Or, you may also have it printed following the table tent format at your local print shop.
More in Menu