When people hold events or gatherings, they can either choose to prepare the food themselves or to avail of professional services, some may even do both. These services are rendered by catering companies, and they take orders from clients and prepare the food for them.
This way, the host may hold the event at the convenience of their own home. Instead of bringing all the guests to a restaurant, you are bringing the restaurant to the guests. As usual, if you're in the food or drink business, you will need to make use of menus. Luckily, we have a collection of catering menu templates just for you.
1. Name and logo of the catering business: In order for customers to know who they are dealing with, the catering business should never keep their identity hidden. On their menu card, their name and logo should be easily seen. This way, not only will they be identified by their customers, but they will also be easily remembered.
2. List of menu items served by the business: What are menus without product lists? This element is the most important one regardless of the type of menu, it provides customers with information regarding the dishes and drinks that are being offered by the business.
3. Categories or sections to organize the items: For customers to be able to easily find what they need from the menu, it is highly recommended to arrange the menu items either according to its order in a meal (appetizer, main dish, dessert), or according to its base ingredient (meat, poultry, seafood).
4. Price lists for the menu items: Aside from the list of menu items, it is also essential to also include a list of the corresponding prices. This will provide customers with information on how much they will need to spend on each menu item.
5. Catering business' contact information: Food establishments may choose to focus on having guests come in to dine, or on catering services and deliveries. Regardless of which, it is always best to place your contact details on your menu. But for catering businesses, your contact details on the menu is a must and is the only way of providing customers with a means of reaching out to you.
6. Address/es of the catering business' branches: There is some catering business that offers to either deliver their orders or to have them picked up by the customers themselves. This is exactly why you should also indicate your address on the menu. And if you have multiple branches, their addresses should all be indicated on the menu.
7. Catering business' marketing materials: Oftentimes, catering business gives out copies of their menus to passersby in the same manner as promoting something through flyers. While this may be enough to share the word regarding the business, they may also include a business card or an actual flyer with the menu.
Food Catering Services Menu Sample
Catering Services Food Menu Example
Catering Menu Template
Details
File Format
&nbsp
&nbsp
&nbsp
&nbsp
&nbsp
Size: (US) 8.5×11 inches
Restaurant Catering Services Menu Format
Catering Business Food Menu Layout
Minimal Food Catering Menu Design
Iron City Catering Menu Design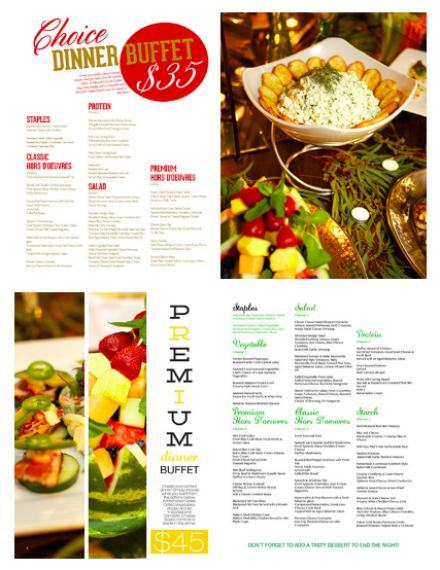 Empire Eats Catering Menu Template
Creative Food Catering Menu Example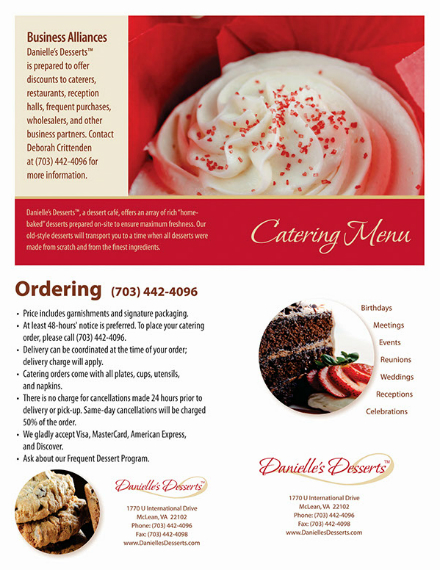 Colorful Food Catering Menu Sample
1. Decide on a type of cuisine for your menu: Are you planning to go Italian? Chinese? or French with your catering business? Decide what cuisine you're going for in order to make it a basis in the design of your catering menu.
2. Choose a type of menu from among the ones listed below: The next thing that you will need to do is to decide what type of menu you'll be using for your catering business. If you aren't familiar with the different types of menus, you can refer to the list provided below as your guide.
3. Plan out the layout of your catering menu: After choosing the menu type, you will need to plan the layout of your chosen menu. There are two ways you can do this, you can either make a rough sketch of the overall layout of the menu, or you can just write down notes describing it.
4. List down all the possible menu items: Next thing that you will need to plan out is what menu items you want to include on the menu. Since this is only a plan, you can write as much as you want, just be sure to narrow down the list along the way.
5. Pick out a menu template from the ones shown above and download it: To keep you from getting stressed in having to make your own catering menu, we have a collection of downloadable menu templates above. With these, you no longer need to start all the way from the bottom and you'll easily get the job done in no time.
6. Edit the downloaded catering menu template: Once you have downloaded a particular template that works for you, it's time for you to edit it. Editing a template involves adding and/or removing elements, rearranging the placement of elements, filling in the required fields, and changing the color scheme.
7. Check and re-check the content: Before you finalize your catering menu and make it ready for printing, you will need to check and re-check the design and the content for accuracy. After doing so, you can then proceed to the next and final step.
8. Print out your catering menu: After you have finalized your catering menu design, the only thing left for you to do is to have your menu design printed out. If you choose to have it printed yourself, make sure to use high quality and durable materials.
Simple Tips for an Excellent Catering Menu Layout
Keep the design simple.
Embrace the use of margins and white space.
Use colors to enhance the look of the menu.
1. Table d' hote menu: Translated to English as "the host's table", this type of menu offers an entire meal for a fixed price regardless of what customers choose for each course. The contents of this type of menu usually include appetizers, side dishes, main dishes, and desserts.
Banquet menu: A banquet menu is a sub-type of the table d' hote that lists down various items that are being offered at a set price. Oftentimes, the selection of food will depend on the guest's preference.
Buffet menu: Even though most buffets don't use a menu since all of the food are already served on the table, they are still considered to be a sub-type of the table d' hote. This is because buffets (and a buffet menu) offers a limited number of selections and the price to be paid by the customer is fixed.
Cyclical menu: This menu sub-type primarily focuses on offering a set of food items which are then repeated over a set time period. For most food establishments, the contents of the menu are changed to a new set of items after the cycle has been completed.
2. A la carte menu: A la carte is French "according to the menu", and this is the most commonly used type. This type of menu allows the customers to choose their food more freely since the menu items are listed and priced individually.
Breakfast menu: This sub-type of the a la carte menu primarily lists down breakfast food items such as fruits, cereals, eggs, pancakes, toasts,  and waffles. Usually, the items on breakfast menus are only prepared after the customer's order has been taken.
Luncheon menu: A luncheon menu is another sub-type of the a la carte, but unlike the breakfast menu, this one can either be a la carte or semi a la carte. A semi a la carte menu is distinguished by its extensive variety of food combinations.
Dinner menu: And lastly, the dinner menu, which is similar to the luncheon sub-type wherein it can be both a la carte and semi a la carte. With dinner menus, they usually offer more appetizers and entrees than both the breakfast and luncheon menus.
Ethnic menu: An ethnic menu is defined as a sub-type of the a la carte menu, and is noted to represent a particular cuisine from a specific country. Usually, ethnic menus charge moderate to high prices for their items.
Lounge menu: A lounge menu is a type of menu that offers customers with food items that require easy preparation and are less expensive than those sold in other food establishments. This type of menu is commonly used in hotels, inns, and spa centers.
3. Static menu: As the name suggests, a static menu is a type of menu that offers the same set of food items all year round. This is a common type of menu among fast food joints and diners, and the menu items are usually categorized into different sections.
4. Du jour menu: The complete name for this type of menu is a plat du jour, which means "specialty of the house". This type of menu offers a very limited selection which will change on a day to day basis. The menu items will usually depend on the seasonal items or the available ingredients in the kitchen.
4.25″ x 11″
5.5″ x 15″
8.5″ x 11″
8.5″ x 14″
11″ x 17″
11″ x 25.5″
FAQs about Menus
What is a menu?
It is a list containing the food and drinks being sold by a restaurant, cafeteria, or dinner.
How important are menus for food establishments?
Very important. They are also able to communicate the business' goals and how they wish to serve their customers.
Before we conclude this article, it might be best to inform you that each one of these catering menu templates is more than just magnificently designed. Since these templates are indeed fully editable, we guarantee that the entire process would be less stressful (if not, totally stress-free) for you.