For a lot of people, they would consider a meal incomplete without a drink or cocktail. But there are also others who drink cocktails when socializing with others. If you enjoy making up your own cocktail drinks and wish to turn it into a business, then you are definitely in the right place.
Below, we have gathered up an entire collection of cocktail drink menu designs and templates for you. These menu templates are guaranteed to help feature the best aspects of your cocktail drinks to attract attention from customers. Go ahead and check out the templates yourself.
1. Business' logo and name: In order for customers to easily identify or distinguish your cocktail menu from others, you should include the name and logo of your establishment on the design. While this element is commonly placed on a cover page (if there is one), the logo and name are usually placed on the topmost portion of the menu.
2. List of cocktail drinks: The main element on every menu is the list of the products being served by the business. For cocktail menus, the list will consist of cocktail drinks and other types of beverages, and it should also come with a short description of the product.
3. List of prices: Aside from the list of the different cocktail drinks, a cocktail menu should also include a list of the prices for every drink. Regardless of where you put this element, it is recommended not to put a currency symbol.
4. Business' contact details: Just like the business' name and logo, the contact details is another important element that can help promote the element to gain more customers. The menu's contact details should be more than just the business' phone number, it should also include other details such as an email address or a website.
5. Photos of menu items: While it may seem enough to put a description on each cocktail drink, you can actually do more by placing a photo of that drink. Not only will this provide customers with a visual image of the product, but it can also help enhance the look of your menu.
Minimal Cocktail Menu Sample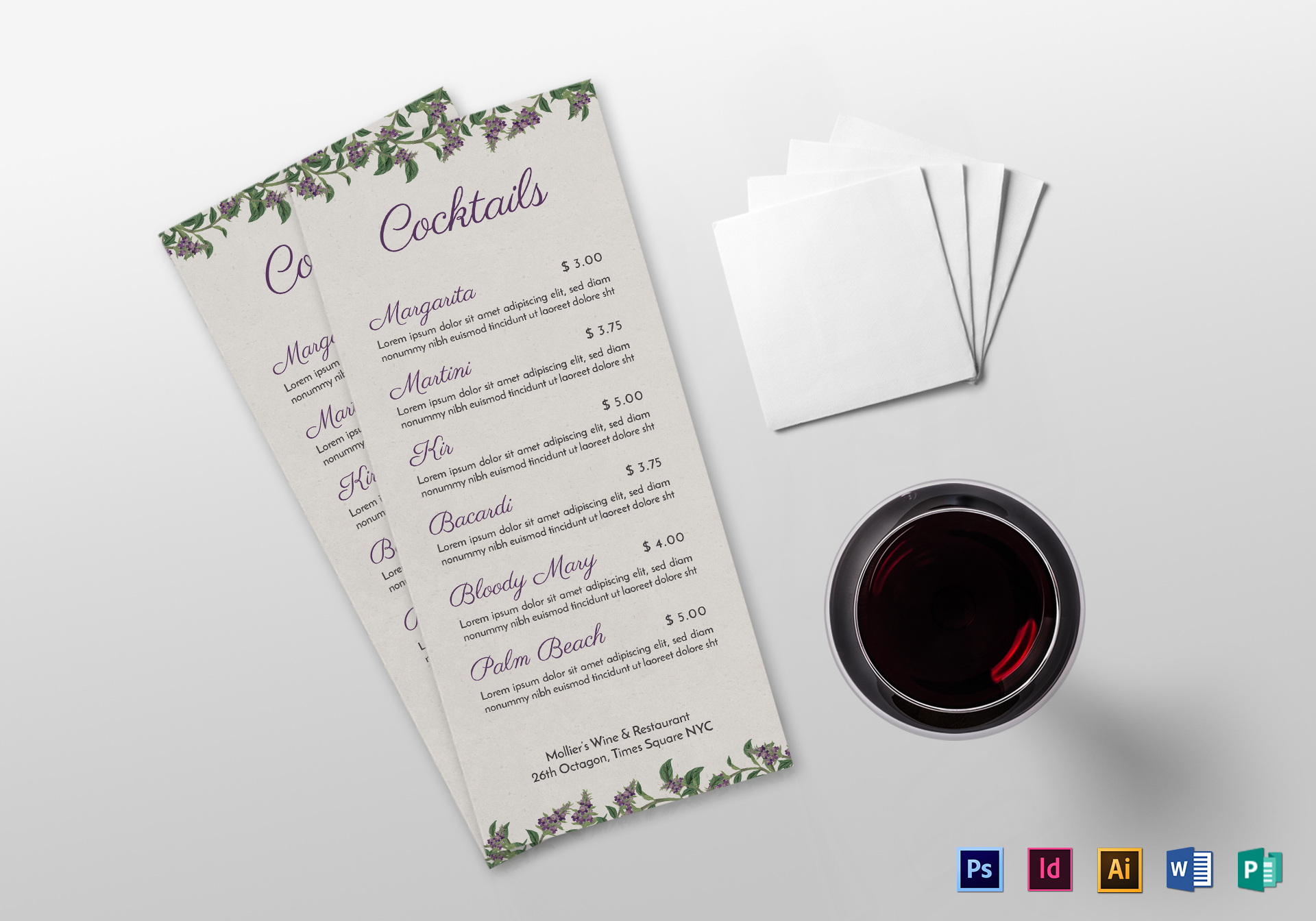 Download Now
Cocktail Menu Example
Download Now[/ns_col][/ns_row]
Cocktail Bar Menu Format
Download Now[/ns_col][/ns_row]
Summer Cocktail Menu Layout
Download Now[/ns_col][/ns_row]
Simple Cocktail Menu Template
Details
File Format
&nbsp
&nbsp
&nbsp
&nbsp
&nbsp
Size: (US) 8.5×11 inches
Trifold Cocktail Menu Layout
Cocktail Drinks Menu Example
Classic Cocktail Drinks Menu
Elegant Cocktail Menu Sample
Typographic House Cocktail Menu Design
1. Choose a type of menu: Even though you're planning to make cocktail menus, you still have the choice to have it included on the main food menu itself or have it separate. In other words, you will need to choose a type of menu that you wish to create.
2. Pick a menu size that's manageable: When we say manageable menu size, we are actually referring to a size that doesn't overwhelm customers with too many choices. Also, your menu size shouldn't be too small since this will tend to make your menu look crammed.
3. Make a planned layout of your cocktail menu: In order for you to have an idea on what elements to include on your menu and how to arrange them, it is best to make a sketch of the design.
4. Write a list of the possible cocktail drinks: And just like the sketch, it would also be best to make a draft list of all the possible cocktail drinks that you want to include on your menu. This way, you'll have an idea of what items to serve to your guests.
5. Download a cocktail menu template: Now, you can start working on the more technical aspects of the menu. But instead of having to start from scratch, you can give yourself a head start by downloading and creating your menu from a cocktail menu template.
6. Edit the design of the menu template: After downloading a cocktail menu template, the next thing that you will need to do is to edit the design. Thankfully, these templates are all fully and easily editable.
7. Add the list of cocktail drinks with a short description: Once the design has been edited, you can then proceed to add in the final list of cocktails drinks to your menu. If you have previously written down a draft list, then you may or may not have narrowed it down throughout the process.
8. Add the corresponding prices for each cocktail drink: As mentioned in the elements section, the price list is an important element since it communicates how much a customer will need to spend for a particular beverage.
9. Enhance the design by adding photos: If you think the design of your cocktail menu isn't appealing enough, you may choose to enhance the design by adding in photos of the cocktail drinks.
10. Proofread the menu's content: And right before printing out your cocktail menu, you should check the lists and the descriptions for any error in the spelling and/or grammar, and you should do this more than just once.
Simple Tips for an Excellent Cocktail Menu Layout
Use high-quality images that highlight the cocktail's best features.
Use photos sparingly so as not to clutter the menu's layout.
Apply white space on the layout to keep it from getting crammed.
1. Table d' hote menu: Table d' hote is a French term that is translated into English as "the host's table". And the options listed on this type of menu are offered at a fixed price. While this type of menu shares similarities with the prix fixe (French for "fixed price"), they differ in the sense that the table d' hote often has additional surcharges.
2. Buffet menu: According to many food businesses, they consider buffets a sub-type under the table d' hote type simply because of the limited options and the fixed price that it offers. In buffets, they charge their customers according to the number of people dining and, regardless of the number and type of dishes ordered, the amount charged will remain unchanged.
3. Cyclical menu: In some food establishments and many industries not related to food service, they will often use a type of menu that lets them use and reuse their list of products over a pre-determined time period. This cycle may vary depending on the business' preference, some do it weekly while others do it monthly.
4. Static menu: While the cyclical menu reuses their list of food items in a cycle and may often change their list after the cycle has been completed, the static menu uses the same list all year round. This menu type is very common in fast food joints and diners.
5. A la carte menu: The a la carte menu is probably the most widely used type among the ones on this list, and this is because it is convenient for both businesses and customers. Translated to English as "according to the menu", this type of menu is a good example of a "what you see is what you get" since the menu items are listed and priced individually.
6. Room service menu: A room service menu type is something that follows either the a la carte, semi a la carte, or the prix fixe style. This type of menu is common in establishments that take in guests such as hotels and inns, and these guests will usually make their orders over the phone.
7. Du jour menu: Du jour is French for "on the day".  This type of menu lists down different menu items each day depending on the demands of customers, the season, or the supply of ingredients. This type of menu is also referred to as a chalkboard menu, although some businesses would choose to use a digital display for their du jour menus.
8. Breakfast menu: There are certain types of menus that are meant for a specific meal, the first one of which is the breakfast menu. As the name suggests, this type of menu serves only breakfast food and beverage items such as hot dogs, eggs, pancakes, toast, coffee, and milk.
9. Luncheon menu: This is the second type of meal-specific menu on this list, and this type of menu can either be an a la carte or semi a la carte, which makes it different from the breakfast menu. The menu items here may include appetizers, salads, sandwiches, various entrees, desserts, and beverages. Oftentimes, the luncheon menu may even offer daily special items to their customers.
10. Dinner menu: And lastly, the dinner menu which lists down dishes and drinks particularly enjoyed during the evening. Just like the luncheon menu, this type can also be an a la carte and a semi a la carte since it features items from both types. But unlike the luncheon menu, this type tends to offer more appetizers and entrees.
4.25″ x 11″
5.5″ x 15″
8.5″ x 11″
8.5″ x 14″
11″ x 17″
11″ x 25.5″
FAQs about Menus
What is the purpose of food menus?
The primary purpose of food menus is to communicate to customers the food offerings and their corresponding prices.
What is menu planning?
Menu planning is the act of selecting foods for the menu. Menu planning is usually done for special events such as weddings or birthday parties.
What are the principles of planning meals?
Adequacy
Balance
Calorie control
Moderation
Variety
Nutrient density
How should you price menu items?
Assess your own financial status.
Decide on how much you're willing to spend.
Compute your total expenses for the raw ingredients.
Calculate your expenses for preparing each dish.
Add up the two totals and determine an amount that promotes profitability.
We are hoping you were able to find a particular cocktail menu template that works perfectly for you. Every single one of the templates that you have just seen is not only well-designed but also high quality and fully editable. If you're looking for cocktail menu templates, then we've got them here for you.