Get started with our 100% customizable, easily editable, beautifully designed, high-quality, professionally made, and printable IT Software Organizational Chart Templates. Explore our website and discover various collections of templates that will reach all your business needs. Our template comes with a suggestive content and header that you can modify whenever and wherever you are. This template is compatible with all versions of Microsoft Word, Apple Pages, PDF, and Google Docs. Bring your organization to another level with our organizational chart template. What are you waiting for? Don't let this chance pass you. Own an exceptional Chart Template by subscribing to any of our subscription plans and enjoy exclusive member deals!
What Is an Organizational Chart?
An Organizational Chart is a simple chart that contains the members of an organization, business, or company. It shows the structure of the organization and represents a visual communication within it. Most businesses and companies use an organizational chart to disseminate workload and trace the work process. It also helps in figuring who the work is for and who to report. An organizational chart is beneficial since it helps establish the system and the process within an organization.
How to Make an IT or Software Organizational Chart?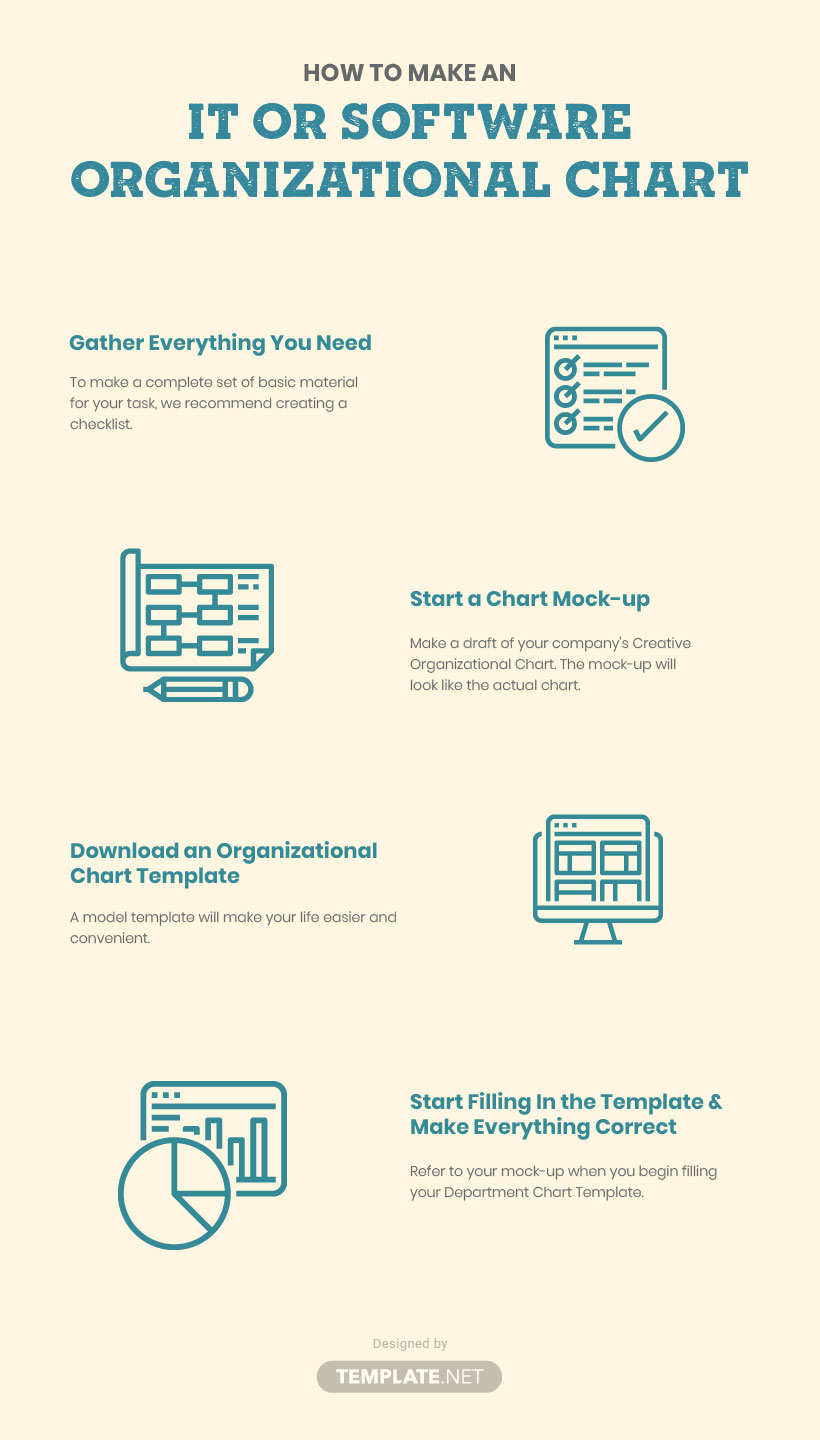 It may seem overwhelming, but making an IT Software Simple Organizational Chart is easy. You will only need a few things to come up with the best organizational chart possible. There are different types of business, and it will have a different kind of structure too. Before going straight to the actual corporate organization, learn the work process that your organization is following. Though there's no specific standard that you can follow for your work process, you can trace where all the work goes by tracking it. Once you are familiar with the operations process of the organization, it will be easier for you to start the actual chart using word processing software.
There are a few kinds of word processing software that are easy to access; however, the most accessible and readily available is Microsoft Office Word. It is easier to work with Microsoft Word because it has a clean interface, user-friendly, and you can familiarize it quickly. Hence, we made a list that will help you make a company organizational chart in MS Word. Make sure to stick to our steps and come up with the best IT Software Organizational Chart, whether for your organization, company, or business.
1. Gather Everything You Need
Before diving into the actual organizational chart, make sure you have a bag full of everything you need. To make a complete set of basic material for your task, we recommend creating a Checklist. With a list, you can monitor the progress of your job. And you can track the needed task to be finished and what stuff you must have on hand. Start the checklist with the essential materials and finish it off with the job you need to perform.
2. Start a Chart Mock-up
Make a draft of your company's Creative Organizational Chart. The mock-up will look like the actual chart. However, it is a temporary draft that will allow you to make changes. Begin the mock-up of the company position with the highest-ranked member of the organization. Then, continue with the lower-ranked offices. Use arrows to define bond and to show relationships. If you want more details to include, do research.
3. Download an Organizational Chart Template
Whether you are beating a deadline or not, use an action plan for your task. A model printable organizational chart template will make your life easier and convenient. You know that there are a lot of sources on the internet, but you have to make sure your source is trusted. To assess the credibility of your reference, you can scan through the reviews and ratings of the past customers. Good feedback may mean a reliable one.
4. Start Filling In the Template & Make Everything Correct
Once you're done and settled with a template, start filling it in. The customizable suggestive content is easy to manipulate. Refer to your mock-up when you begin filling your department organizational chart. Run through the document and make everything correct. A well-made organizational chart design looks professional, and that's what you need to achieve.
General FAQs
What are the 4 Types of Organizational Structures?

Traditional organizational structures come in four general types – functional, divisional, matrix and flat – but with the rise of the digital marketplace, decentralized, team-based organizational structures are disrupting old business models.

How to Read an Organizational Chart?

Learn how to read an organizational chart. Look at the highest block on the chart. This is the person in the department with the most responsibility. Look down and to the left of the highest block on the chart that branches out.

What is a Tall Organizational Structure?

A tall organizational structure means that management is broken down into several layers, with executives on top and normal employees on the bottom. In a tall organization, there will be a large number of managers, and each manager will usually be responsible for a small group of employees.

What Does an Organizational Chart Display?

As the name suggests, organizational charts (or Organogram charts) display the internal structure or hierarchy within the organization. It is a graphical representation of different relationships amongst functions, departments, teams as well as individuals.

What is an Organizational Chart Made Up of?

The six basic elements of organizational structure are: departmentalization, chain of command, span of control, centralization or decentralization, work specialization and the degree of formalization.
Read More
Earn 20% commission on every sale from your Share
Bloggers: Publish/Mention Template.net products on your website, blog, Social Media or Via Email & Earn affiliate commission of 20% for every sale