Are you worried that people might not come to your party? Calm yourself down as we've got it covered with our enticing Bash Party Flyer Templates! These templates are 100% customizable, printable, easily editable, and very high quality for your important use. With its professionally written pre-made contents and beautifully designed royalty-free graphics and scaled vectors, it will be convenient and easy for you to customize them quickly without stressing yourself too much. Another advantage of these templates is that you can use them in different file formats like Adobe Illustrator, InDesign, Publisher, Apple Pages, Microsoft Word, and Photoshop. Not just that! You can also easily save and download them into your different devices. Do not waste your time, download these Bash Party Flyer Templates today, and make your party a blast!
What Is a Bash Party Flyer?
Flyers are not all about advertising as well as promoting products but it can also invite people to any events or occasions. A bash party flyer is one of the examples of flyers that invite people to a certain event or celebration. Sometimes, a party is not called a "party" without inviting people to come over. So in order to get as many people's attention as possible, you need to create the best bash party flyers for them to attend. Like any other flyer, a bash party flyer can also be distributed or posted in public areas. A bash party flyer can be used in a vast field of occasions like birthdays, summer parties on the beach, businesses, anniversaries, schools, clubs or even holidays like Halloween, Christmas, Easter, and Eves.
How to Create a Bash Party Flyer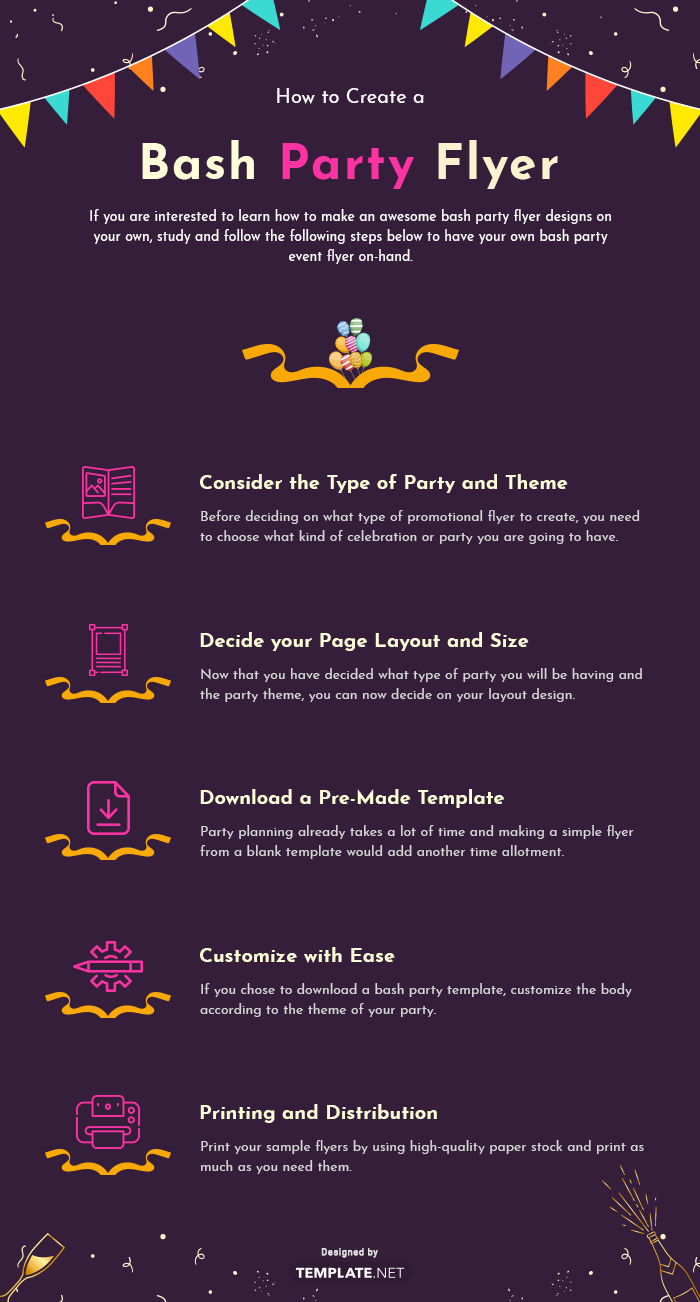 If you are interested to learn how to make an awesome bash party flyer designs on your own, study and follow the following steps below to have your own bash party event flyer on-hand.
1. Consider the Type of Party and Theme
Before deciding on what type of promotional flyer to create, you need to choose what kind of celebration or party you are going to have. There are different kinds of parties and your bash party flyer must be specifically inlined for your planned event. Is your event a birthday party? beach party? Halloween party? Christmas party? or the last night party? Be specific with the type of party.
A party may or may not have a theme. Not every party has a theme anyway, but if you would decide to have one, you should also be particular with it. The theme will be used as a guide in designing your bash party flyer.
2. Decide your Page Layout and Size
Now that you have decided what type of party you will be having and the party theme, you can now decide on your layout design and your paper printing size. The two must come together since the layout design will be depending on the intended size of your bash party flyer. You can choose or create your own layout design that will allow you to exhibit the party details accurately.
3. Download a Pre-Made Template for Convenience
Party planning already takes a lot of time and making a simple flyer from a blank template would add another time allotment. It is best to download a pre-made flyer template to save time. We can offer bash flyer templates here at template.net that is ready for you to use and they are very convenient for you to customize. Our templates can serve you free features like graphic designs, layouts, fonts, and more. Make sure that you choose a template design that matches your party.
4. Customize with Ease
If you chose to download a bash party template, customize the body according to the theme of your party. Make necessary changes until you are satisfied with how your bash party flyer would look like. Make sure that the party details are being provided on the bash party flyer. Make sure they are free of typographical errors and the information is accurate. Before proceeding to the next step, review everything.
5. Printing and Distribution
Now that everything is all set, you can start printing your bash party flyers. Print your sample flyers by using high-quality paper stock and print as much as you need them. If printing is done, you may start distributing them in your target areas where you have been targeting to reach your potential guests. According to a trusted source, make sure to ask permission in the locations that you don't own.
Read More
Earn 20% commission on every sale from your Share
Bloggers: Publish/Mention Template.net products on your website, blog, Social Media or Via Email & Earn affiliate commission of 20% for every sale