Halloween is celebrated for various reasons in various parts of the world. Different cultures have their own version of how to commemorate and celebrate the essence of the holiday. If you are going for a fun way to celebrate it, go ahead and invite everyone to celebrate with you. Halloween is a time for gatherings and a time to throw events that are spooky and fun-filled. If you want to throw one big event for children or for grown-ups, then it's time for you to make the big announcement through a Halloween Flyer. Make one now through our high-quality, 100% customizable, highly editable, and beautifully designed flyer templates. With these templates, you can create the best flyers bound to attract the target audience. Save time and download your flyer now through Illustrator, InDesign, Publisher, Apple Pages, Microsoft Word, and Photoshop. Sign up in our subscription plan for more amazing offers!
What Is a Halloween Flyer?
A Halloween flyer is a promotional or informational material distributed to a specific target market or community. A flyer is a tried and tested marketing tool that helps promote an event, a cause, or a product. In this case, Halloween flyers help promote activities and events related to the celebrated holiday.
How to Create a Spooky Halloween Party Flyer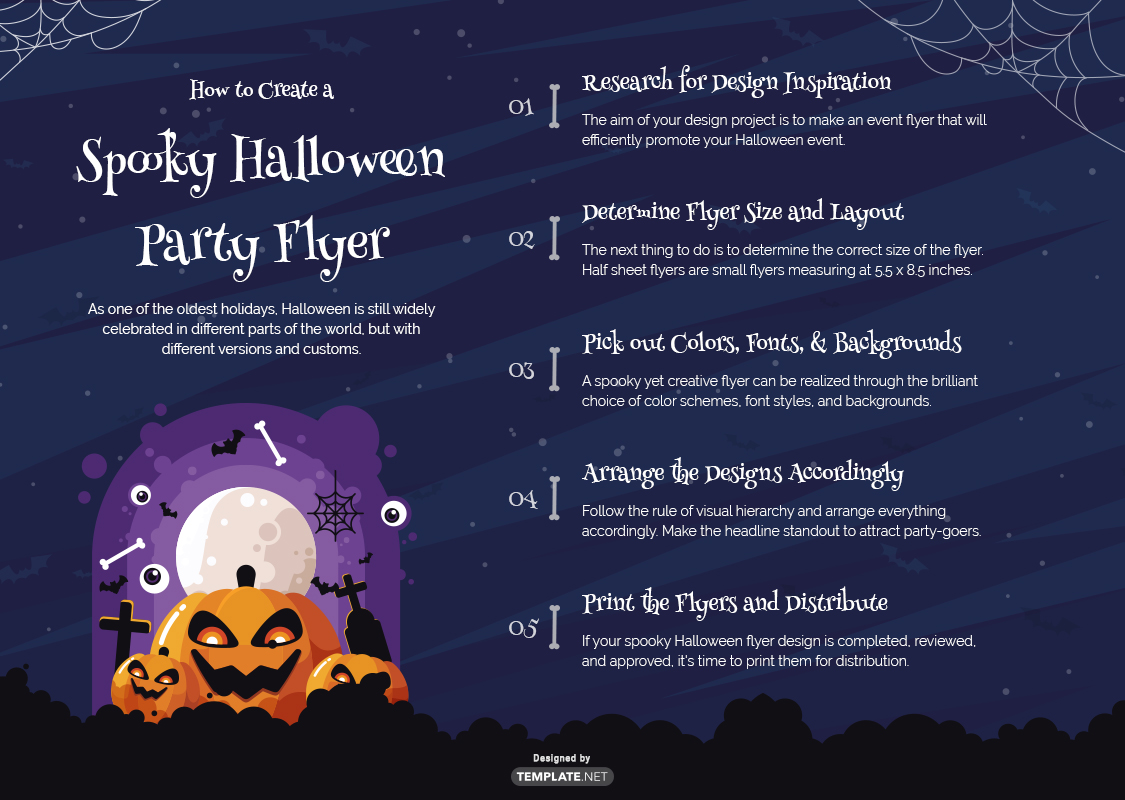 As one of the oldest holidays, Halloween is still widely celebrated in different parts of the world, but with different versions and customs. The Day of the Dead or "Día de Los Muertos," is celebrated in Latin American countries and in Mexico. Meanwhile, in the United States, Ireland, and Canada, Halloween is celebrated through costume parties, trick-or-treating, pranks, and games. Other countries have their own original practices and Halloween celebrations as well.
It's Halloween again, and you are tasked to create a party flyer for an upcoming spooky event filled with pumpkins, scary designs, and of course fun with friends and acquaintances. If you don't know where to gather the resources and steps on how to make a Halloween flyer, we will guide you through the process. Never worry and read through the items below.
1. Research for Design Inspiration
The aim of your design project is to make an event flyer that will efficiently promote your Halloween event. Before proceeding to the specifics of the design, you must do a study first to find the best design inspiration. Since its Halloween, you can use a variety of ideas fit for children's trick-or-treat party, office party, costume contest party, and nightclub party. With a hint of creativity, you can take inspiration from the art of carving pumpkins or the tradition of giving out sweets during the holiday.
2. Determine Flyer Size and Layout
The next thing to do is to determine the correct size of the flyer. Half sheet flyers are small flyers measuring at 5.5 x 8.5 inches. The industry standard flyers measures at 8.5 x 11 inches, it is widely used in the United States and Canada. In addition, the large format or tabloid format measures 11 x 17 inches. The size of your flyer will also depend on the allocated and available resources. Picture out the size of your crowd as you picture out the size of your Halloween flyer.
3. Pick out Colors, Fonts, and Backgrounds
A spooky yet creative flyer can be realized through the brilliant choice of color schemes, font styles, and backgrounds. Channel the vibe of Halloween, but don't use too much gore as it may some people might get turned off, especially in kid's Halloween party.
4. Arrange the Designs Accordingly
Start placing the designs and text into the layout of the flyer. Follow the rule of visual hierarchy and arrange everything accordingly. Make the headline standout to attract party-goers. Don't forget to add in the event details; they are important in the success of your Halloween event. Place contact details so that customers can link back to you. You may also add in some specific instructions on what to wear or bring.
5. Print the Flyers and Distribute
If your spooky Halloween flyer design is completed, reviewed, and approved, it's time to print them for distribution. Proceed to a good print shop and hire professional printing materials and people to print and produce the finished product. Distribute the business flyers in strategic locations to draw in and entice a larger crowd.
Read More
Earn 20% commission on every sale from your Share
Bloggers: Publish/Mention Template.net products on your website, blog, Social Media or Via Email & Earn affiliate commission of 20% for every sale