Kids love celebrating their parties along with their playmates and close friends. Studies have also proven that kids have higher percentages of being attracted visually. This is why an extra effort is always exerted in creating invitation cards for them. While sending birthday invitation cards online is more convenient, nothing beats the traditional kids' birthday invitations which are personally handed to attendees Feel free to browse through our Kid's Invitation Templates which are editable in Microsoft Word (.doc), Adobe Photoshop (PSD), Illustrator, Publisher, and Apple Pages. Our versatile and reliable kids' birthday invitations are equipped with high-quality graphics, well-written content, and a user-friendly format. Avail our subscription plan today!
What is a Kids Invitation?
A kid's invitation is a creative invitation card piece that has details and instructions referring to a birthday party celebration. It acts as an official exclusive pass to the party for the person holding the card.
How to Craft a Kid's Invitation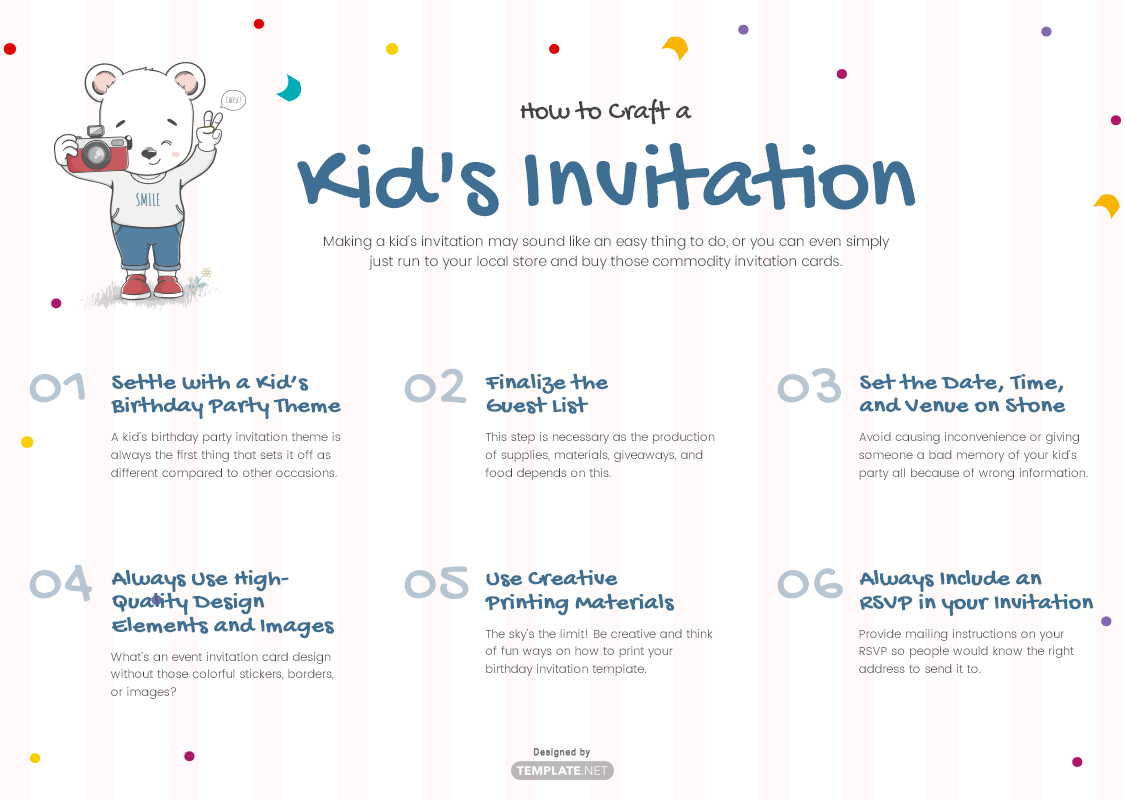 Making a kid's invitation may sound like an easy thing to do, or you can even simply just run to your local store and buy those commodity invitation cards. But if you want a memorable invitation card, you can't just throw any design into your template, there are points to take note in order to craft the best one for your child.
1. Settle with a Kid's Birthday Party Theme
A kid's birthday party invitation theme is always the first thing that sets it off as different compared to other occasions. If you are making one for your child, ask the kid on what theme he or she prefers. If the child is not old enough to make a decision, pick a child-themed party. Some examples can be a cartoon character-themed party, a superhero party, a car-themed party, etc.
2. Finalize the Guest List
This step is necessary as the production of supplies, materials, giveaways, and food depends on this. Manage your guest list better by arranging people under a category. Is the birthday party exclusive for kids only? Can they bring their parents? Is the entire family invited? The goal is to avoid the overproduction of sample invitation cards or the lack of it.
3. Set the Date, Time, and Venue on Stone
Avoid causing inconvenience or giving someone a bad memory of your kid's birthday party all because of wrong information. Finalize all the details at least a week before making and sending out your modern invitations. Take into mind that these parents are making their day available for this party and you wouldn't want to pay their effort by sending them to the wrong address or making them come two hours before the actual start of the party.
4. Always Use High-Quality Design Elements and Images
What's an event invitation card design without those colorful stickers, borders, or images? Make sure to use royalty-free and high-quality designs on your card template. The designs used should match the theme of the birthday party. Also, if you would be using images for your background or design, use one with high-definition colors. Or choose a photo that is professionally-shot. Put in mind that the goal is not to compromise the quality of your kid's invitation.
5. Use Creative Printing Materials
There's a wider variety of printing materials to choose from today. You can print your kid's invitation on metal, plastic, cloth, wood, etc. The sky's the limit! Be creative and think of fun ways on how to print your birthday invitation template. You can always use thick cardstock as your printing material if you want it that way.
6. Always Include an RSVP in your Invitation
RSVP stands for Répondez S'il Vous Plaît which means, "Please respond". RSVP cards are a practical and smart way on how to quickly confirm who is coming, and who can't come to the party. Provide mailing instructions on your RSVP so people would know the right address to send it to.
Read More
Earn 20% commission on every sale from your Share
Bloggers: Publish/Mention Template.net products on your website, blog, Social Media or Via Email & Earn affiliate commission of 20% for every sale