Letters
8+ Love Letters – Word, PDF
Writing love letters is one of the oldest methods that people use to convey their feelings for one another. Sharing how you feel is one of the best ways to stay connected and let love blossom between two partners. Sometimes love fades away because you do not nurture it along the way. Couples get complacent once they start the relationship, and that usually mark the beginning of the end of it.With the advancement in technology and the easier options we have, it is simpler to get lost in the hassle and bustle of the daily routine that we tend to lose focus on love. You can also see Thank You Letter.
People nowadays prefer social media platforms and texting to writing love letters. This old way seems gone with the wind to a point where if you prefer to use it, you may look a little more old school. As the saying goes, "old is gold". Write a good old-fashioned love letter to your loved one occasionally. It is a guarantee that no matter how much modernized they might be they will appreciate the gesture and love you even more.
Writing a Love Letter
improbable.com
Romantic Love Letter
livingmiraclescenter.org
> Handwritten letters
There are many designs of writing pads created for the sole purpose of handwriting love letters. They are usually in different shapes and sizes. All you have to do is pick one that you think will impress your loved one the most.
> Typed letters
The typing template usually uses Microsoft word to do the job. Microsoft Word also has many options that you can use to spice up the page for your love letter writing. You can add different colors both on the background and on the front interface. You can also customize the font type and size to suit your needs. After writing, you can print the letter before sending it to your significant other. If your Microsoft word is not enough for you, you can opt to use any other word processor that you think suits you. You can also see Romantic Love Letter.
Cute Love Letter Template
chalenejohnson.com
Old Love Letter
simplyscripts.com
> Uses of love letter templates
Lets you express how you feel
Sometimes we find it hard to put our feelings into words especially when we are talking face to face with our loved ones. A love letter template gives you that opportunity to write down how you feel in the best words possible. This way you avoid the awkward moment when you are face to face with your other half and words just do not come out.
Strengthens the Bond between you
Sharing how you feel with your partner will help bring you closer and make your relationship stronger. Leaving them to second-guess how you feel breeds doubts and leads to the end of the relationship. A love letter is better than social media platforms or texting. It brings with it some level of realism and effort that shows your partner that you value the relationship.
Love Letter to Girlfriend
hws.edu
> How to create a Love Letter
You cannot be mad at something or someone and then try to write a love letter in that state. That might backfire on you. Create the right mood so that you can find the right words to put down. Seclude yourself and reflect on why you fell in love with that person, and why you have stayed in love with them for the period you have. Think of all the good qualities they have and how they make you feel. Play some romantic songs or your song if you have one or two to help put you in the mood.
Begin with a date followed by greeting. In case, though, you do not have to be formal in the greeting. Welcome your loved one in an informal manner, for example, "My Love," or "Dear darling,"
Get to why you are writing in the first paragraph. The argument could be a simple reason like "you just want to let them know how you feel".
On the second paragraph, which is the body of the letter, write the reasons why you love him/her. Remind them of some of the unique things you have done together. Mention the things that make your relationship one of a kind.
llow the memories you have done together guide you at this point and try to suggest something about the future. Let them know about some goals that you would like to achieve with them, eventually reminding them of your commitment if nothing else. You can also see Recommendation Letter.
On the last paragraph, end the letter on a positive note. Tell them how you feel in a statement or two (but avoid repetition), then sign off (in an informal manner). Fold the letter neatly and place it in an envelope. You can then mail it to your loved one anytime.
Love Letter to Wife
nps.gov
Love Letter Song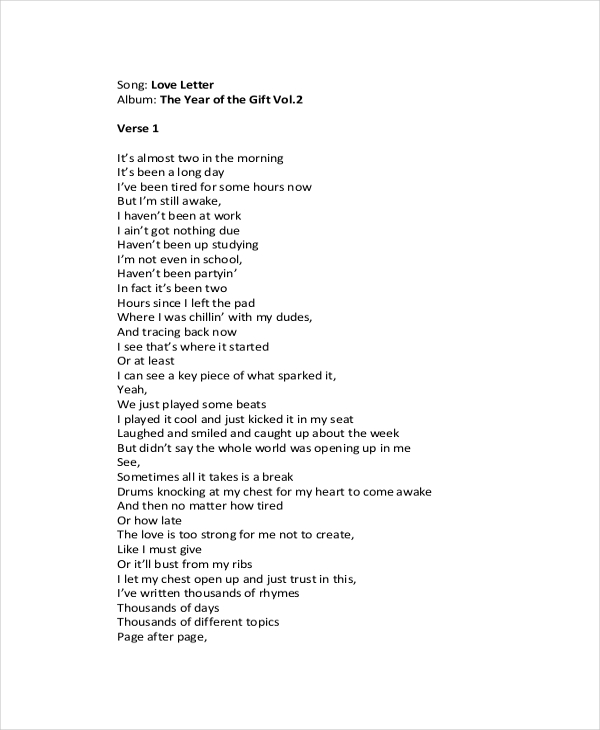 mcmatre.com
Love Letter Guidelines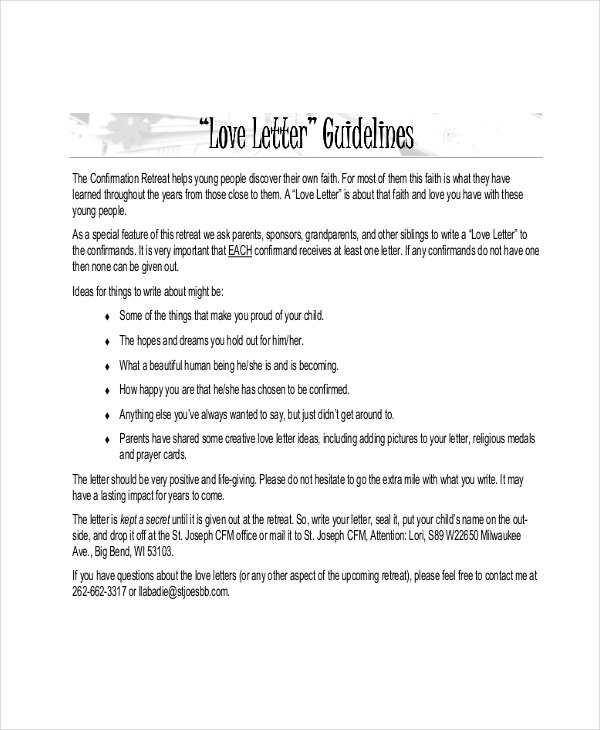 stjoesbb.com
> Tips
List down all the things you love about you loved one before writing. Writing a rough copy will help you out when you are trying to remember them by making it easier.
Write a rough letter on another piece of paper before writing the final copy. The text will help you organize the letter much better. Although this type of template does not require any particular format, it is lovely to give your message a certain flow instead of just throwing words around.
You might be carried away but try to be realistic about what you are writing. Write the things you know are possible and real and you can achieve them together.
Use a Beautiful Stationery
Pick a nice piece of paper to write your letter. There is no rule against using plain paper, but your aim here is to impress the significant other.
> Dos and Don'ts
Do not just focus on their physical appearance on your letter. It will make you seem shallow. Writing this letter is about how you feel towards your partner. Keep it that way (about them) and avoid making it about you.