Handwritten messages are a marketing tactic to give a personal touch in most relationships with a client. However, for a doctor, a doctor letterhead template serves an entirely different purpose it is a document that the institution or patient carries for future reference. It makes a consult effective since it motivates the patient to follow the advice and assures him or her that the medical professional cares for his or her well-being. Medical profession is all about trust, and you must try to create trust with everything you do. Make all your medical documentation look professional with a medical letterhead samples.
174+ Medical Templates in PDF, Word, Excel, PSD, Google Docs, InDesign, Apple Pages, Google Sheets, Publisher, Apple Numbers, Illustrator - START DOWNLOADING
5 Steps to Make a Medical Letterhead
Step 1: Plan Your Space
Medical letterhead means that most of the space needs to be allotted as a blank space for the practitioner to fill in. Focus on the header and footer space use it effectively for designing your letterhead. Use a blank sheet and draw out the space you allocate for each to get a better idea. Neatness is the first quality element of a medical letterhead, so treat this part with care.
Step 2: What's in Your Header?
The most important part of your header is your hospital logo or a logo that signifies your practice as a medical practitioner. This sets the tone for the general look-and-feel of the letterhead. It ensures a shift from the dreariness of the hospital environment to the credibility and assurance of being taken care off. Adding a smack of color to the whole affair. Make sure the colors are consistent with your overall theme and logo. Repetition of the colors and graphics in the logo helps to establish or recall your credibility.
Step 3: Watermark It!
Other than the header or the footer a letterhead does not give a lot of space to get creative with. This is where a colorful watermark draws you in. Here the watermark no longer serves the purpose of just protecting your logo but helps lighten the tone of a medical letterhead for a patient from 'I'm anxious' to 'I am responsible'. This makes a lot of difference.
Step 4: Print it Out
Images and watermarks breathe life and set the tone of your practice. Eventually, it is a factor in whether your patient follows advice. This makes it extremely important. It also poses a challenge. The quality of these makes a lot of difference. If your graphic is not the correct size your image may get pixelated and distorted. On the other hand, if your printing facilities are not good enough your color choices and longevity of the letterheads can suffer. Neither of which can be predicted unless you take sample prints along with your design process.
Step 5: Keep it Simple
Keep your footer simple. Important details like name of the practitioner, phone number and address go into the header space, calling for not more than three to four remaining details in the footer. Longer information like the email address of the establishment and practitioner are to be included here in simple, readable but small font. Let's tell you more about how you can create the perfect medical/doctor letterhead using templates.
14+ Medical Letterhead Templates
Premium Medical Letterhead Template
The template is well designed. It provides just the right amount of information required for the practitioner. Keeping it crisp. The letterhead template leaves room for a lot of creativity and is easy to edit. The suggestive headings provide a good guide has to help customize it according to your needs. It comes in six different file formats.
Medical Letterhead Template
Healthcare Letterhead Template
Hospital Letterhead Template
Clinic Letterhead Template
Dental Clinic Letterhead Template
Medical Clinic Letterhead Template
Veterinary Hospital Letterhead Template
Editable Medical Office Letterhead Template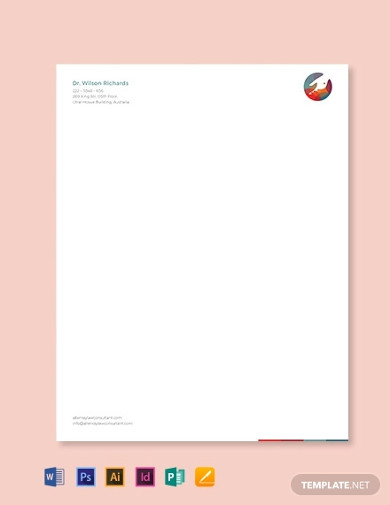 The template here uses color to contribute positive vibes. The design focuses on condensing the required information on a medical letterhead. The office letterhead template is available in Illustrator, MS Word, Pages, Photoshop, Publisher formats. Ideal for doctor's offices or clinics.
Free Medical Doctor Letterhead Format
The template is simple. It uses a blue font in addition to traditional black. It is accentuated by blue borders. The footer contains the relevant contact information and is incorporated into the border. The letterhead template can be customized to your liking including the color scheme.
Professional Medical Hospital Letterhead Template
This template uses a stethoscope image as watermark to alleviate the style and feel of the template. The sample template is free of cost. If you are looking for minimalist letterheads, crafted for hospitals or health centers, this template is your best choice. It's bound to make the right impressions because of its balanced aesthetics.
Simple Doctor's Letterhead Template
Download
The front of the template has pictures of surgeons and medical instruments. The template focuses on images instead of a logo. This template is best suited for diagnostic centers. It has an added column for clinical records and can double as prescription pads. The sample letterhead design comes in Illustrator, MS Word, Pages, Photoshop, Publisher formats.
Basic Medical Letterhead Template
Download
Letters certifying the patient fit, staff appointments, official communication between staff, you name it, and this letterhead template is versatile to do it all. This is the best medical letterhead template for senior levels of management within a medical establishment. The blue color adds a formal touch.
Printable Medical Nurse Letterhead Template
Download
The template offers three different designs. The sample letterhead template is available in two sizes. Compatible with Mac Pages and Microsoft Word, the template uses a blue colored font. It is ideal for registered nurses. It comes along with detailed instructions on how to edit and customize according to need.
One Page Medical Letterhead Template
The template offers a simple design and sample text. Ideally suited for medical directors of hospitals. The letterhead template is free. It comes in A4 size. To be ideally used for official communication from the hospital board. Check out this classy template and use any PDF editor to make it your own.