Letters
9+ Resume Writing Templates & Samples – DOC, PDF, PSD
If you want to make your own resume when you will apply for a job, then letter writing template in Microsoft word, excel and PDF file can produce whichever resume you want to have. It can be modified in its spacing and arrangements to make it your own set layout for your resume or for the company you will apply for. You can also see Obituary Writing Template.
The patterns and layout they want to have are all available in the template that can further hasten their completion of each resume being made. You can select your preferred font style and type of list you want to have for your resume. You can also see Writing Template.
Academic Resume Writing Template for Free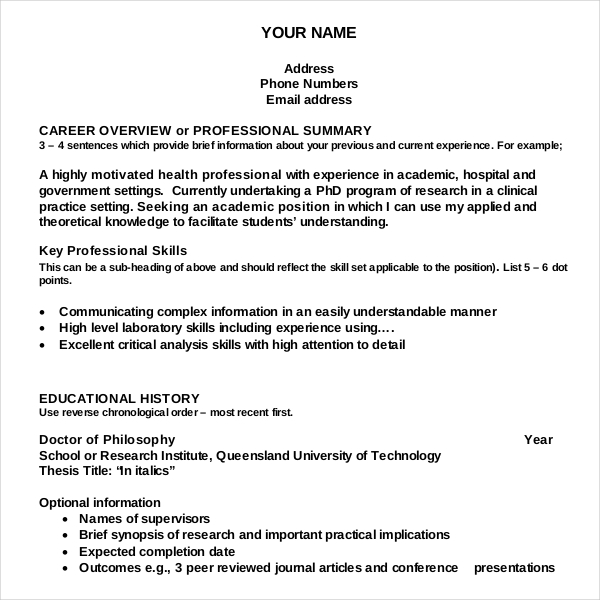 cms.qut.edu.au
Post Graduation Resume Writing Template
e-education.psu.edu
Professional Resume Writing Template in PDF
Purpose of Resume Templates
The professional resume template layout provides a place to begin writing each part of resume in proper sections and structured format.
The free resume samples template acts as a tutorial to choose the best required resume format
Resume Template with a Photo
This template offers something unique to give to employer than the rest. The designing concept generally has each section and division aligned to the left except for the image that is placed at the top right. This modern resume template layout is fully editable word document that can either be downloaded or used online. You can also see Script Writing Template.
Resume Template in Reverse Chronological
actgen.org
It is traditional template format to mention recent job, work experience, location, key responsibilities and other details proceeding backwards in a reverse chronological manner. The template offers ample space to illuminate Professional Progression and on-going work history.
Career Summary One-page Template
robinstewart.com
This is a targeted, specific and a simpler version of job resume template. This one-page summary layout offers a quick snapshot to employer about qualifications, careers and professional accomplishments. A full detailed CV is gathered in this short summary template.
Colored Lines Resume Template
This template layout incorporate colored lines in its drafting to stress on the crucial parts of the CV. This is a mix of professional and elegant layout that not at all looks immature.
Mechanical Engineering Resume Writing Template
cmu.edu
Free Resume Template Creator Online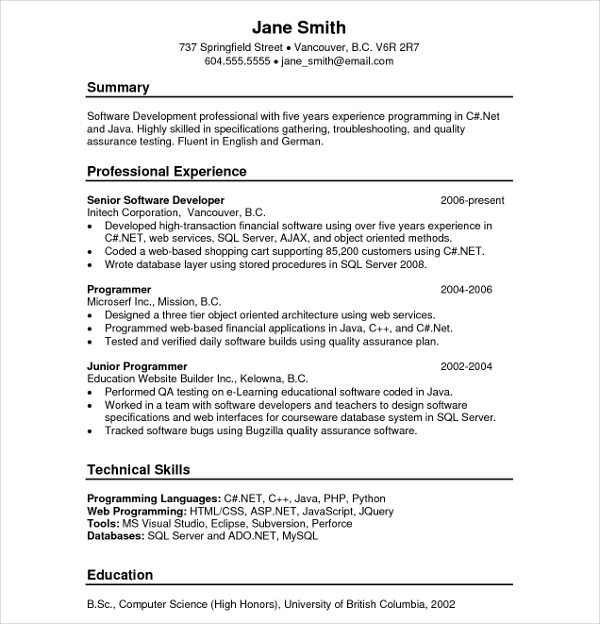 The template showcases big headings and changeable bold font. The editable template can be downloaded in Word processor or you can create it online for free.
Credential Resume Template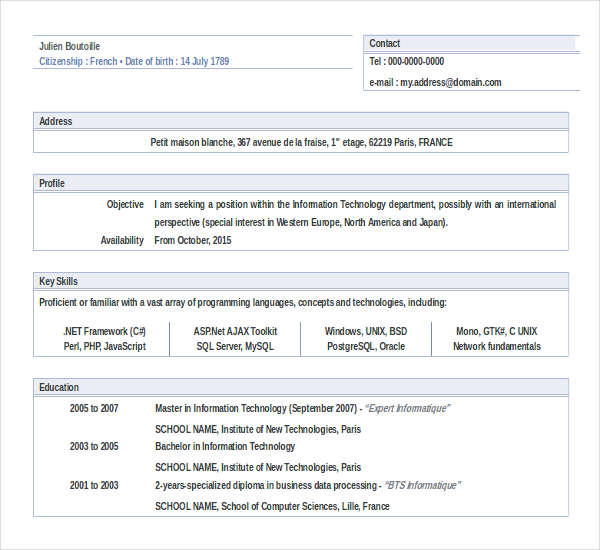 srecruiter.weebly.com
This template layout has sufficient space to present candidate's credentials, privileges, achievements and other significant facts to your portfolio. The layout demonstrates applicant's name in biggest font with a thin underlining that runs the width of the CV.
Dos and Don'ts for Resume Template
Use simple fonts like Times New Roman, Calibri or Arial
Do Print in black ink
Use as much as possible bullet points with subheadings for easy scanning.
Add a space for link of your blog, website or social accounts especially for IT, careers and creative resume template.
Do add a section for testimonials from earlier employers. It is an example of best professional resume template.
DON'T apply multi-colored fonts, large sized fonts, too many graphics and boxes.
Avoid using PDF format as most software is unable to read it properly.