As a token of appreciation and excellent certificates are awarded to deserving recipients in different environments – schools, colleges, offices, clubs etc. Being the recipient of a certificate is an honor bestowed. The bearer feels happy and motivated to excel further in his area of expertise. A certificate is a lifelong memory and that's why they are considered to have so much importance and value. In this article, we share with you a list of downloadable certificate design templates.
Doctor Certificate Template
Graduation Gift Certificate Template
Birthday Gift Certificate Template
Business Gift Certificate Template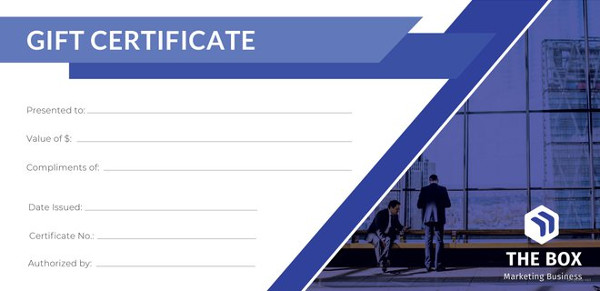 Christmas Gift Certificate Template
Carwash Gift Certificate Template
Company Gift Certificate Template
Preschool Graduation Certificate Template
Blank Gift Certificate Template
Buy Now
Professional Completion Certificate PSD Template
Buy Now
Certificate of Recognition Design Template
Buy Now
Outstanding Student Appreciation Certificate Template
Buy Now
Editable Certificate of Regular Attendance
Buy Now
Sports Award Winning Congratulation Certificate Template
Buy Now
Certificate of Badminton Excellence in Word
Buy Now
Certificate of Participation Template
Buy Now
Diploma Certificate Template
Buy Now
Black Achievement Certificate Template
Buy Now
Appreciation Certificate Illustrator Template
Buy Now
Training Certificate Word Template
Buy Now
Employee Salary Certificate InDesign Template
Buy Now
Business Certificate Photoshop Template
Buy Now
Simple Adoption Birth Certificate Template
Buy Now
Professional Experience Certificate Template in iPages
Download
Baby Gift Certificate Template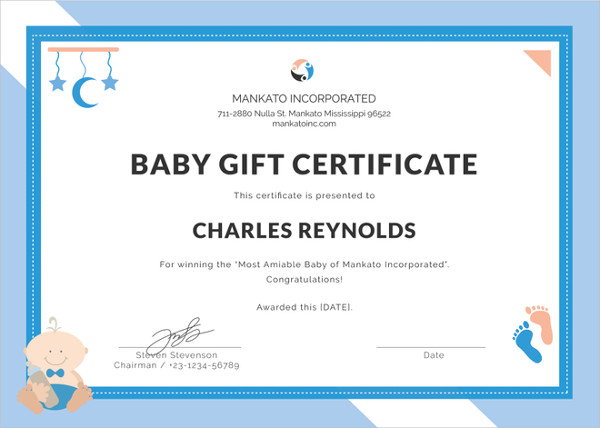 Download
Animal Birth Certificate Template
Download
Computer Diploma Certificate Template in Word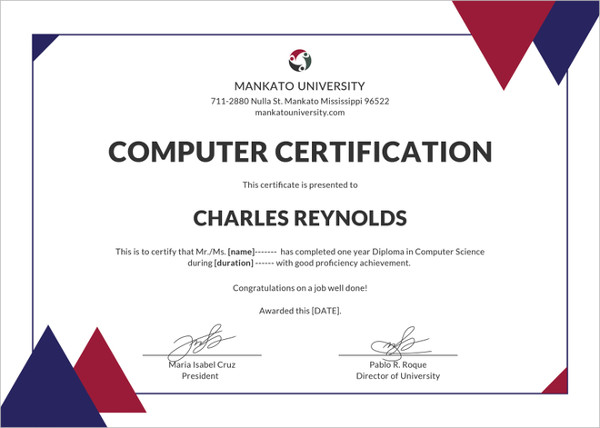 Download
Choir Certificate of Participation
Download
Baptism Certificate InDesign Template
Download
Simple Course Completion Certificate Template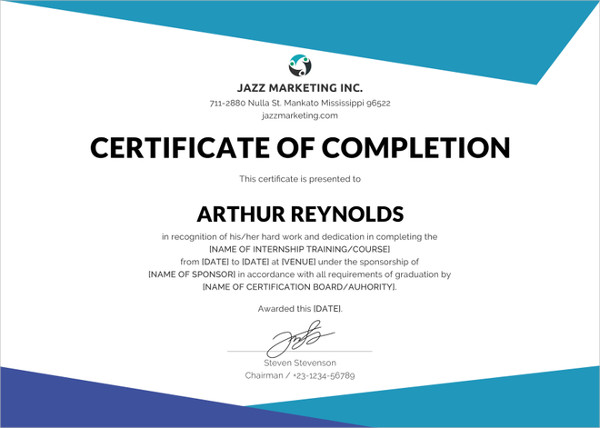 Download
Modern Multipurpose Certificates
The new template design for certificates comes in both portrait and landscape orientations. This one is complete with all demo content and has PSD, EPS, IDML, INDD and PDF files for download. the awesome free fonts used are Diavlo and Great Vibes.
Modern Certificate for Visual Designer
This easy to edit PSD format template comes with different layers for texts and images. The demo content can be edited easily. They are also print ready and come in CMYK formats with a high 300 DPI resolution.
Certificate of Completion Design
This is a Certificate of Completion with a fresh design and a very creative layout. The free fonts that are required include Melbourne and PhontPreak's Handwriting. The logos, names, event details can be changed as needed as the format is mainly PSD.
Certificate Template
This Certificate Template has a very vintage design with a plethora of vector elements, like separate logos, end notes, borders, etc which can be used to replace the downloaded PSD file content.
Portrait Certificate Template
This fully layered PSD file is completely print friendly and has a high 300 DPI resolution. The template can be used as an award of excellence by institutions and corporate companies with minimal change.
Photography Gift Certificate Template
You are getting a cool certificate design here in pretty pink which opens up with a bright picture from your archive. The back part of the card is all about the certificate details.
Certificate – Diploma of completion
You are getting a minimalist yet refined modern certificate design here where the red satin ribbon has created a fine contrast with the light yellow background. It would just have the name of the student, the date and signature of the issuer.
Graduation Certificate
If you are looking for a modern certificate template fitting for the catering or hotel management students, this template would be awesome with the cutlery icons. The ornamental border has given it a classy touch.
Certificate, Diploma of completion
The overall blue presence presents a soothing scene and you are getting a sophisticated certificate deisgn here. It would have name of the student, the date and signature of the issuer.
Anniversary Gift Certificate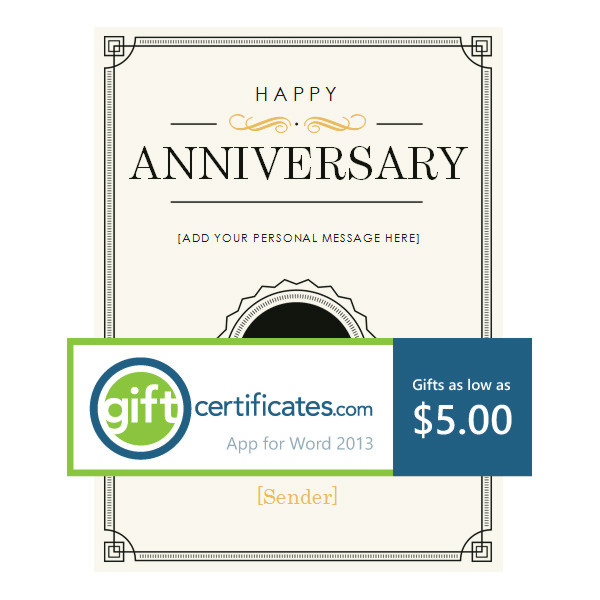 If you are looking for certificate format design for anniversary gift certificates, this one here presents a classy example. It comes with an elegant frame will even allow you to add a personal message here.
Instant Download Gift Certificate
You are getting a beautiful floral gift certificate here which creates a lovely effect with its soothing shades. The two sided certificate template would enable you include the certificate details at the back.
Certificate Template
You are getting a sleek and contemporary free certificate background here which would be good for certificates for young economists. The serene simplicity of the certificate design is really appealing.
Multipurpose Certificates
If you are looking for a royal touch on your certificate design, this would be one of the best certificate design templates for you with its intricate frame, the seal and the red imperial header.
Simple Certificate Template
You have a simple certificate template design here which comes up in four editable PSD files. The template file carries well-organized layers and shows a smart and neat outlook throughout.
Simple Multipurpose Certificate
Black and white has always been a classic combo and this template here has precisely banked on such an elite contrast. It carries a certain old-world feel to it that has added more depth to the design.
Printable Gift Certificate Template
You are getting a lovely pink gift certificate two-sided template here which opens up with pretty  colorful flowers on the front while the back side is to carry the details of the gift certificate.
Student of the Week Certificate
You are getting an elaborate certificate template here when you need to applaud the most outstanding achiever of your class. The template carries a plain yet smart outlook all through.
Pro Certificate Pack
You have as many as 3 free creative certificate design templates with a unique vintage feel in light colors that speak of the faded old-world charm- not to miss out on the ornate borders and archaic cursive fonts.
Multipurpose Modern Certificate
The beautiful nib announcing the award of excellence creates a royal picture no doubt. The cursive fonts speak of fine elegance which is further complemented by the light sophisticated template background.
Gift Certificate Award
You are getting a plain simple gift certificate template here which is colorful without being too outlandish. The date of the certificate would be mentioned at the top border and gift value would be placed at two sides.
Completion Certificate Design
Modern Multipurpose Certificates
Certificate – Diploma for Print
Golden Certificate
Photography Gift Certificate
Modern Certificate Template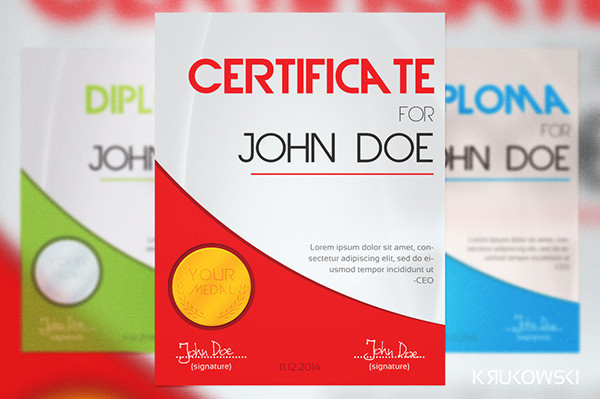 Universal Certificate
Royal Certificates
Modern Chalkboard Gift Certificate
Easy Simple Multipurpose Certificate
Adriano
Gift Certificate Award
Custom Made Certificates Design
Gift certificate voucher psd
Certificate Icon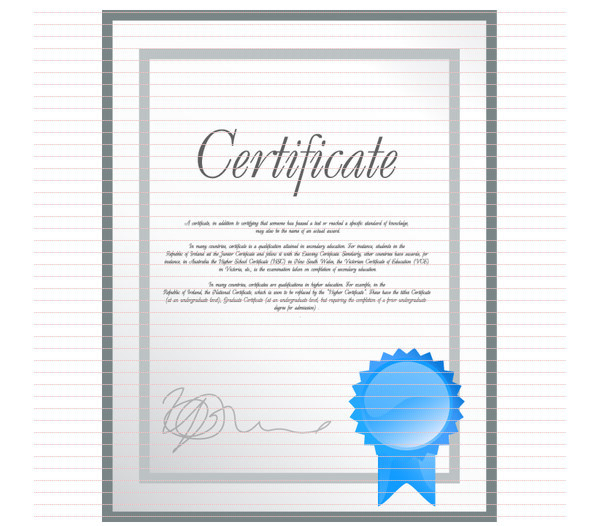 Design Template Certificate
Certificate Pack
Certificate Design
Multipurpose Modern Certificate
Blank Certificate or Diploma
Modern Multipurpose Certificates
Birthday Gift Certificate
Certificate Design
Certificate Pack 2
Luxury Certificate Template
Multipurpose Certificates
Certificate Template
Elegant Multipurpose Certificates
Create The Best Certificates With Pro Certificate Design Templates
Certificates are a glorious way to acknowledge the feat of an employee, a student or a trainee. But then again, there are gift certificates as well that are meant to pamper the customers with lovely gifts.
Uses of Gift Certificates
In simple words, certificates serve two major purposes. One is to recognize the achievement of an individual, such as graduation of a student. Added to the acknowledgement by the authority, the certificates are a great way to motivate or inspire the individual to do better further in life. Another one is mostly promotional where companies present the gift certificates to target customers to market about their products or services. These certificates generally offer a discount value which would be applied as the recipient proceeds to buy from the sender company. People are usually drawn to gifts and a discounted goodie or service is a great way to establish your brand in their minds.
Templates for Gift Certificates
Are you wondering how to design a certificate? A certificate is mostly a formal affair especially when you are handing it out as a document of recognition to a student or an employee- and hence you have to be really proper here. However, not to worry as today you have cdr design template for certificates that will help you with a readymade certificate design so that you don't have to work on the entire thing from scratch. The templates are available in customizable text which can be easily modified with your own details. Free Certificate templates are available online and come with utmost print readiness besides customizable texts and featured color combinations. Certain premium templates can also be purchased for general use and these combine class and innovation together in the most appropriate manner. PSD extensions come in handy whereas the reconfigurable layouts provide the needed commercial boost. Simplistic framework and certain topnotch image integration are combined together for making these templates come to life. As this trend is fast growing, it's only fitting that we start including certificate templates into the mix so as to get the printouts available easily. Texts and organizational logos can be added as well for a cohesive approach. Appreciation certificates, best teacher awards or the kindergarten recognitions, these design templates provide a holistic approach for the professionals and contribute to the growth and development of the concerned organization.
> Tips on Certificate Designs & Templates
Choose Template Based on Your Certificate Type
Certificate templates tend to differ as per the purpose of the certificate. For example, certificates meant to acknowledge an achievement are mostly serious ones with gravitas. On the other hand, gift certificates are more on the prettier side and might even come with pictures aligned to your service or product. So, choose your template accordingly.
Brand it
You have to brand the certificate with your company logo & signature colors of your business or institution identity. This is especially important when it comes to gift certificates.
Clean Layout
Always follow a clean layout with your certificates & there must be adequate white space in between the lines. A cluttered certificate looks uncouth and unprofessional.
> Dos & Don'ts with Certificate Design Templates
Dos
For gift certificates use templates use pastel shades & neons that can ooze a charming lighthearted feel. For official certificates of acknowledgement, stick to formal shades such as blues, greys & whites. However, a golden border won't harm especially when the certificate is meant to recognize some phenomenal achievement. Offer a simple message with your gift certificate. Make sure all spellings are correct.
Don'ts
Don't use lightweight paper for certificates, especially for official certificates. Don't use more than 3 fonts in your certificate.