Want to ensure that your recipe book sells out without paying too much for its printing? If yes, you are not alone. Thousands of chefs, restaurateurs, and individuals who want to preserve their own recipes think up of ways to do so without breaking the bank. And in this article, we share to you one way to do that by creating cookbook catalogs.  You can also see recipe cookbook catalog templates.
More specifically, this article will go into detail in how you can make your own cookbook catalogs as transform them into beautifully designed recipe books. In addition, we have also included multiple downloadable examples of these catalog templates that anyone can freely use for their own recipe book projects.
Take a Look at these Cookbook Catalog Templates
Before we start this article, let us present to your fifteen examples of downloadable and fully customizable cookbook catalog templates. These printable templates are the main tools that we will be using in teaching you how to create your very own customized cookbook without breaking the bank. Also, note that these templates are available either as Illustrator or PSD templates so make sure that you have a compatible graphic design tool installed on your computer before downloading the template of your choice.
Recipe Cookbook Catalog Template
Download
Cookbook Catalog Example
Download
Printable Cookbook Catalog Template
Download
What is a Cookbook Catalog?
A cookbook is a compilation of different recipes to make different kinds of food or dishes. It is called a cookbook because these documents are usually printed out in book form. Cookbooks can also work as a food menu list since it acts as a roster of all ingredients and steps needed to create specific meals and dishes.
A cookbook catalog came into being when cookbooks are printed out in a less traditional but more portable format. In a way, cookbooks printed in catalog format will still contain the same information (like the step by step guide on how to make certain dishes and the corresponding images or illustrations). Their main difference is that cookbook catalogs tend to be printed out on paper that is softbound while actual cookbooks will be printed on hardcovers.
Cookbook catalogs are preferable if you want your recipe book to follow magazine layout that includes a lot of illustrations and/or images of the different dishes included in your cookbook. And just like regular sample recipe books, cookbook catalogs can also be used as good coffee table books.
How to Create a Cookbook Catalog
In the age of modern printing, designing cookbooks is now mainly done digitally using graphic design software programs. And this may pose a problem for those who are not computer-savvy. That is why if you want to make the cookbook catalog-making process easier, it preferred that you use ready-made catalog templates instead.
Catalog templates are pre-made digital files that will already include all the text, image, and formatting elements needed to create a digital, print-ready version of a cookbook catalog. It is primarily in digital format to allow its end-users to make any necessary changes or customizations prior to printing out a completed cookbook. You can also read book templates.
So if you are interested in pursuing this method in creating your cookbook, check out the rest of this article as we have listed down all the most important factors that you should consider prior to choosing a printable catalog template for your own recipe book. Read more about them below while also browsing through the different cookbook catalog mock-up templates embedded within this article.
Horizontal Cookbook Catalog Template
Magazine Style Cookbook Catalog Template
InDesign Cookbook Catalog Template
Guidelines for Choosing a Cookbook Catalog Template
On the first part of this article, we have shared information on what a cookbook catalog is and how to create them using catalog templates. And we all know that the task of choosing a specific cookbook catalog template can quickly become stressful and confusing especially when you are presented with a lot of template design choices. You can also see catalog layout templates.
That is why we have created this list of the different factors that anyone creating a cookbook catalog may follow before choosing on a specific printable template. By knowing all these criteria in selecting a pre-made template, you will hopefully make a more informed decision later on.
Find out what these template selection factors are below.
1. Template Customizability
The most important factor to consider when looking for a suitable cookbook catalog template is a template's customizability. It is important to consider whether you can customize a cookbook catalog template or not because you need to match how the catalog looks with the theme of your recipe or with your business' branding identity.
By choosing a customizable cookbook template, you are giving yourself (and your team) a chance to showcase your creativity since you will have a say on what the final cookbook catalog will look like. You can do this by adding or removing graphic design elements from the simple business logo design to the more complicated pop-up design mechanisms.
2. Printing Budget
The next factor to consider when choosing a cookbook catalog template is your budget. Most people who create cookbook catalogs are restaurant chefs or owners and private individuals and the usually gravitate towards self-publishing their own cookbooks. There are a lot of advantages to this. However, one of its main downsides is its upfront costs since you will be shouldering all the book printing costs yourself.
That is why, if you are interested in creating your own cookbook catalog, you need to factor in the amount of money that you or your business can spend for printing the recipe book catalogs. If you are doing everything on your own and you only have a small amount of money to work with, it may be best to choose a restaurant catalog template and to limit the number of pages for your cookbook.
On the other hand, if you are a bigger budget, you can certainly choose the premium cookbook catalog templates and opt for the best catalog printing methods. Plan your budget accordingly so that the quality of your cookbook catalog will not be compromised. For more tips on how to create a budget plan, check out the linked article.
3. Graphic Design Skills
As we have also mentioned earlier, most printable templates are available in Photoshop, Illustrator, or InDesign templates. This means that you also need to know how to use the corresponding graphic design software tools that are used to create these template files. Before you purchase any kind of printable template, you need to determine your own editing and graphic design skills.
If, for example, you find yourself non-knowledgeable with using these software tools at all, then perhaps it is best to learn how to use them first. You may study different Photoshop and Illustrator tutorials available online before you proceed with purchasing any kind of customizable catalog template.
Also, if you prefer not to do the template edits yourself, it may make sense to delegate the editing task to another person. Once you know a person who can make the edits for you, you may purchase the template design of your choice without having to learn how to edit. This approach will help you save time but it may cost you more since you have to pay another person to edit the template for you. You may also see beautiful cookbook templates.
Black and White Cookbook Catalog Sample
BUY NOW - $19
Minimalist Cookbook Catalog Template
Professional Cookbook Catalog Design
4. Preferred Printing Method
It is also important to decide on how you want your final cookbook catalog to look like before you purchase a catalog template. To illustrate, if you want your cookbook to resemble a real trade magazine design, you may need to choose a cookbook catalog template that is formatted for glossy magazine printing. You also have to find a print shop that offers this kind of printing service.
Consider this factor well before you purchase a template so that you will not have any problem with printing the template later on. Decide on what printing method you like beforehand and save yourself any undue stress later on. You can also see book layout templates.
5. Type and Theme of Cookbook
The last and perhaps most important factor to consider prior to purchasing a cookbook catalog template is type and theme of your recipe book. If you are writing a vegan cookbook for on-the-go millennials, you should likewise choose a cookbook template that exudes the modern and flexible lifestyle that millennials live by. You can also see free catalog templates.
So before you purchase a catalog template, you should carefully choose a template that will allow you to showcase your cookbook's theme. It may take a long time to find the perfect template design but just be patient with it. Also, do not forget that you have the option to choose a customizable template. This way, you can further make changes to the base template and transform it to match your cookbook's theme. You may also see restaurant catalog templates.
Rustic Cookbook Catalog Template
Cookbook Catalaog Example
BUY NOW - $19
Simple Cookbook Recipes Catalogue Template
Elegant Cookbook PSD Catalog Template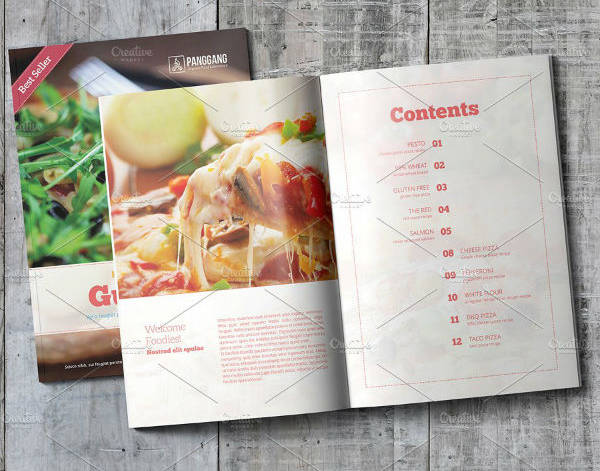 Square Cookbook Magazine Catalog Template
Food Magazine and Cookbook Catalog
The Best Cookbook Catalog Template
Even if cookbook catalogs did not start out as the norm in making recipe books, it's looking as if they are here to stay. This form of print media has its advantages that you can leverage when first starting your recipe book writing process. For now, while you are writing your own cookbook, concentrate on that. Do not trouble yourself with what specific cookbook catalog template to choose. Enjoy the writing process first so that you will have a lot of useful content to showcase on your recipe book later on.
For more examples of catalog templates and different kinds of book formats, check out the rest of our website. Please also share this article with your colleagues, friends, and followers on social media.