Pillowcase pattern designing can be fun. In fact, during your designing career, you would be experimenting with different designing textures and patterns. Some of the patterns and Textures would definitely help in improving the overall depth to the artwork through proper implementation of elements from real world. It all takes placed through digital photographs and scans. The inclusion of textures helps in including a touch of REAL WORLD to the project. There are wide ranges of textures available through the virtual medium, pillowcase Pattern being one of them. There are quite a few methods that could be used for utilizing the textures in the most creative and entertaining way.

61+ Designer Templates in Word, Excel, PSD, Google Docs, InDesign, Apple Pages, HTML5, WordPress, Publisher, Apple Numbers, Illustrator - START DOWNLOADING
>

Using Textures to improvise on the background

Be subtle while trying to use the pillowcase pattern design texture. It is absolutely not recommended to overuse the textures. It must not act as a distraction for the content. Always try to scale down the texture in accordance with the overall image. Once the pillowcase texture is scaled down to match the size of the document while trying to apply subtle gradient and de-saturate the color, the end result would become extremely attractive. While working with Textures and patterns, these things need to be kept in mind. Remember, it would justify the overall quality of the texture.
Collection of Pillowcase Pattern
I-Pin Pillowcase Pattern
Classic Pillowcase Pattern
Emo Pillowcase Pattern
Persons Pillowcase Pattern
Batman pillowcase Pattern
Abstract Vector Pillowcase Pattern
Pastel Heartshape Pillowcase Pattern
Polka Dot Pillowcase Pattern
Reptile Pillowcase Pattern
Floral Pillowcase Pattern
Capricon Pillowcase Pattern
Handmade Pillowcase Pattern
Envelope Pillowcase Pattern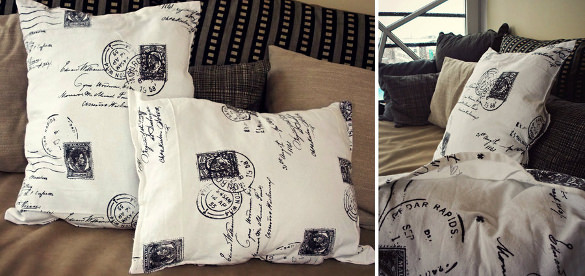 Nature Pillowcase Pattern
Fred Knowlton Pillowcase Pattern
Red Kilim Pillowcase Pattern
Purple Pillowcase Pattern
Flower Granny Pillowcase Pattern
Flower Pillowcase Pattern
Libra Pillowcase Pattern
>

Using Textures for overlaying purpose

There are situations when Textures could be used as overlay for any image to provide it a vintage feel. You simply need to change the layers as well the blending mode. This would allow you a whole lot of options to play with different effects. There are also other interesting things that you can do with the concept of overlaying textures. Use them to experience something really fascinating with fully modified appearance.

>

Textures to compliment mock-ups

There are also scenarios where pillowcase pattern textures would be used for mock-up purpose. The textures are used to mock-up composition for displaying certain categories of artworks like t-shirt graphics and logos.

>

Textures can be used for illustration purpose too

You must keep in mind that the vector Illustrations seen always comes with a sharp and crisp appearance. They have a clear outlook that adds to their charm. However, there are situations when a bit of added texture would create rippling effect to the illustration. It would help in creating that worn out look and delivering a vintage feel.

>

Difference between textures and patterns

Before we get into pillowcase pattern textures in depth, let's distinguish between patterns and textures. Patterns are described as repeating, minute, and tile based elements while on the other hand textures are bigger and never gets repeated. Take for example a Venn Diagram where textures are being represented on the left and patterns on the right. Slight overlapping is acceptable on the middle. This clearly indicates the fact that some textures could well be patterns.

>

Primary function of Textures

The popularity of textures is because of several reasons. Designing should not be done based entirely on the looks. Rather, it should be able to serve the purpose well. Remember, every single decision relating to the texture should be made only after judging on the pros and cons. Some of the key benefits include enhancing the information architecture, developing the right kind of atmosphere while bolstering the identity, and also grabbing the attention using Call to Action button.

>

The utility services offered by Call to Action button

Textures can easily highlight elements like headings, buttons, icons, and titles. It creates an eye to the Calls to Action as well Main Headings. In fact, this is the best way to use the textures. Minimal usage of pillowcase pattern textures allows the content to get separated from the other parts of the site. It redirects the user's sight towards the intended elements. It can surely be a perfect way to create a brand name for the elements. Grabbing the attention could be done in different ways. However, there are a couple of ways that focuses more into the branding aspect:

1. Textured logo against clean background
2. Clean logo against textured background
>

Maintaining the legibility

It would be totally foolishness to sacrifice the legibility factor for a texture. Such a mistake happens often and it keeps getting continued. But you must be careful. Never overlook the importance of Legibility on the digital world. If the user fails to read even a message, then what's the point in texturizing it?

>

More practice leads to improvement

It would be wonderful to experiment more with the designs. Try new patterns and textures. You can easily apply textures in different places. Experimenting would definitely lead to new discovery and giving shapes to innovative ideas.

>

Serving the purpose is what makes sense

It is necessary to refine the Technique before applying it on the client's site. Remember, a sound planning is necessary to make the texture work perfectly on the website. Justify the reasons behind application of the textures. If you fail to do so, then simply take it out. Overdoing the texturing is not recommended. Ensure that the texture being used promises to offer clean and niche layout with contents being easily readable. If the content is unreadable, the website would lose out on the traffic. Nuance and subtlety are also great ways to demonstrate the mastery of the objects.

>

Focusing on the effect that's being worked upon

Since there are loads of textures to make a pick, it would be rather easy to get carried away with the choices. What you want to achieve is all that makes sense. If there is a requirement of subtle textured background, then simply go for it and never look for any other options. Don't get yourself confused while crumbling through plethora of choices. It would delay the scenario.

>

Learn the Masking tricks

It is crucial to adapt to the setting and process to work with the layered masks. This would ultimately help in saving a whole lot of time while being in the long run. It would definitely serve as a very strong tool to work with. In fact, masks are perfectly apt ways to carry out non-destructively experiment with all the designs being worked with.