30+ Zentangle Patterns
Zentangle method is an easy-to-learn art using structured & geometric patterns. Even a layman can achieve perfection within a few drawings with this method and sketch beautiful art. In a way, it is a beautiful and valuable tip to shaping his/her practice. Below we have tried to give you some finer examples of zentangle art.
Monochrome Doodle Zentangle Pattern
This doodle black and white monochrome vector texture background holds some unique and amazing hand drawn artwork with the images of flowers and lines. We know that monochrome is known for its creativity. But this one leaves you speechless.
5 Circle Zentangle
This Circle Zentangle is another superlative pattern which is easy-to-appreciate, but hard to practice. The way the artist interweaved the circles and triangles is simply stupendous. An illustration to practice the perfection.
Seamless Zentangle Pattern
A Geometric artwork that resembles flowers and other patterns similar to kaleidoscope zentangle on white background. The way the artist succeeded in amassing a plethora of designs at one place is amazing. Appreciate the artistic detailing.
Spherical Zentangle Pattern
Here the artist tries to explore the project with a globe-like design and the outcome is a tremendous doodle. The way her linework took shapes is nothing short of excellence.
Hand Drawn Waves Pattern
This Zentangle pattern with some fine hand drawn waves splashed one on another stands for its versatility and impressive swirl work.Worth a buy, especially if it is coming in high-resolution.
Loft Wall Mural Zentangle Pattern
The artist decorated her loft with zentangular art wall mural. Each of its stroke has got the expert's touch. On a whole, the set of patterns takes you to the wonderland.
Floral Zentangle Pattern
A typical zentangle artwork that consists of kaleidoscope pattern and flower like design on white background. Here the black and white combination has done the marvel by giving an eyegasm.
Traditional Zentangle Pattern
The Floral Pattern is filled with beautiful and lovable roses and leaves on a white background. The decent view with a breathing space attracts the onlookers in the first view itself.
Zentangle Paisley Pattern
What a zendoodling! This works as a good practice illustration. Also if you haven't tried certain arrangements before, you can try these new ones.
Abstract Zentangle Pattern
Though the quartet of abstract floral patterns resembles some similar and repeated patterns, they come with some mind boggling designs and other craft vistas. Foursome awesomeness.
Black & White Pattern with Zentangle
Decorative Zentangle Pattern Set
Vector Heart Pattern
Ornate Zentangle Pattern
Copic Zentangle Pattern
6 Zentangle Patterns
Zentangle Digital Pattern
Vector Colorless Pattern
Blue Zentangle Pattern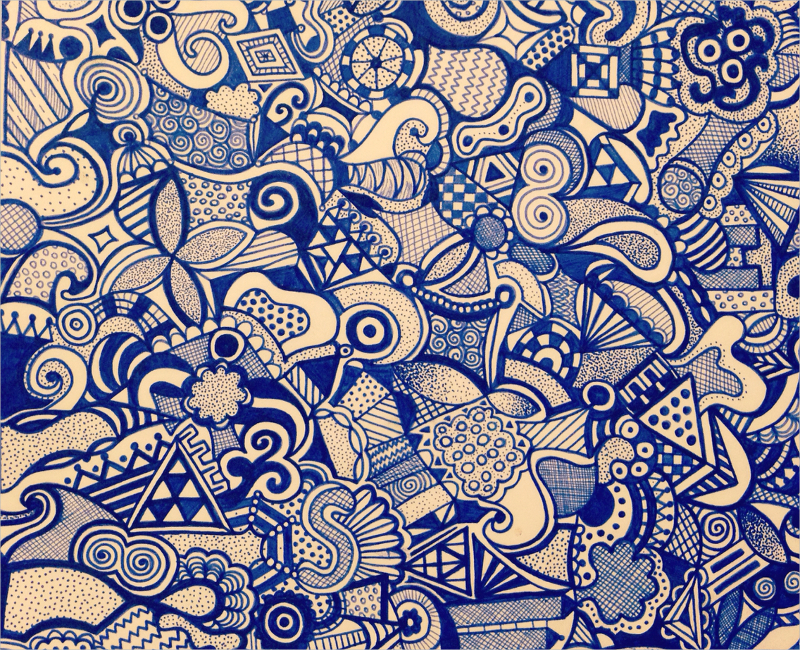 Pattern Drawing with Zentangle
Zentangling is a favorite arena for many craft vistas. Even in today's fast-paced environment, there are many enthusiasts who love to take some time out of their busy schedule to practice this art. This depicts the attention it is drawing even in today's generation. You can also see Paisley Patterns.