Certificate Templates
28+ Certificate of Appreciation Templates
Are you looking for the best free Certificate Templates that you can just download and use without doing a lot of design work? Of course, everyone is always looking for easier ways of creating certificates. Overall, you only have two easy choices: hire someone to do the job for you or customize an existing template. You may also see Certificate Samples.
Modern Appreciation Certificate Template
Certificate of Appreciation for Training Template
Basketball Appreciation Certificate Template
Basketball Coach Appreciation Certificate Template
Certificate of Appreciation for Basketball Tournament Template
The former option means you will be spending some bucks to get the job done. The latter option means you will be getting these files for free by downloading Certificate of Appreciation Templates with a single mouse click. Here is a list of certificates that you can download and customize.
Sports Day Appreciation Certificate Template
Funny Sport Appreciation Certificate Template
Coaching Appreciation Certificate Template
Kids Certificate of Appreciation Template
Taekwondo Coach Appreciation Certificate
Taekwondo Appreciation Certificate Template
Professional Certification of Appreciation Template
Editable Employee Appreciation Certificate
Appreciation Certificate to Employee Template
Certificate of Appreciation Template
Vintage Certificate of Appreciation Template
Appreciation Certificate Template
Army Certificate of Appreciation Template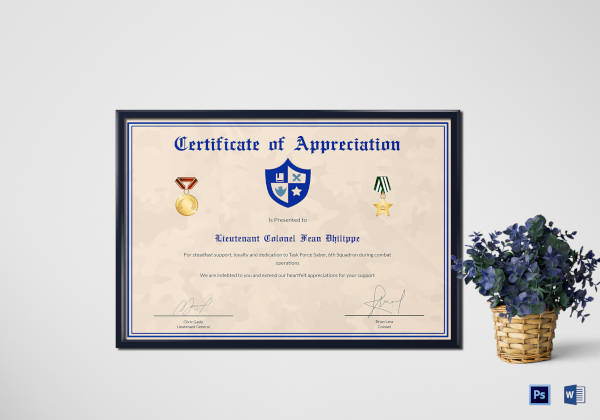 Free Appreciation Certificate Template
Volunteer Appreciation Certificate
upload.wikimedia.org
Someone who has been a volunteer in your institution for a long time deserves to get a certificate of appreciation after finishing his or her term. Therefore, you can download this template and create a sample certificate for them.
Army Certificate Of Appreciation
wehonorveterans.org
People in the army always do the best they can to make sure that safety prevails in every part of the country. If you are an army manager, consider rewarding your teammates with certificates from time to time. Use this sample template for doing that.
Why You Should Download a Certificate Instead of Creating One?
Let's face it; creating a certificate from the ground up is not an easy task at all. Even if designing is your forte, you still want to save time. If you have never created a certificate before, you are likely to spend hours on your computer thinking, tweaking, and designing a model that eventually won't work for you.
Downloading an existing Word Certificate Template is a better option. A template has three advantages. First, it is easy to tweak, so even a person with zero or average design skills can customize the file. Secondly, they come with sample text that you can easily replace. Lastly, they are free.
Teacher Appreciation Certificate
greatschools.org
It is important to remember that teachers are very important people. Thus, they deserve the best certificates of appreciation for the work that they've done overtime. Here is the best template you can use to create teacher certificates.
Retirement Certificate Of Appreciation
A certificate for the retired is always easy to create, but you may not have enough time to do so. As such, the best thing to do would be to use an already existing template to create a custom certificate for the elderly.
Employee Appreciation Certificate
gwu.edu
Giving a certificate to an employee always helps to make sure that the worker in question is appreciated for the good work that they have done over time. Here is the best template to download for the job.
Diploma Appreciation Certificate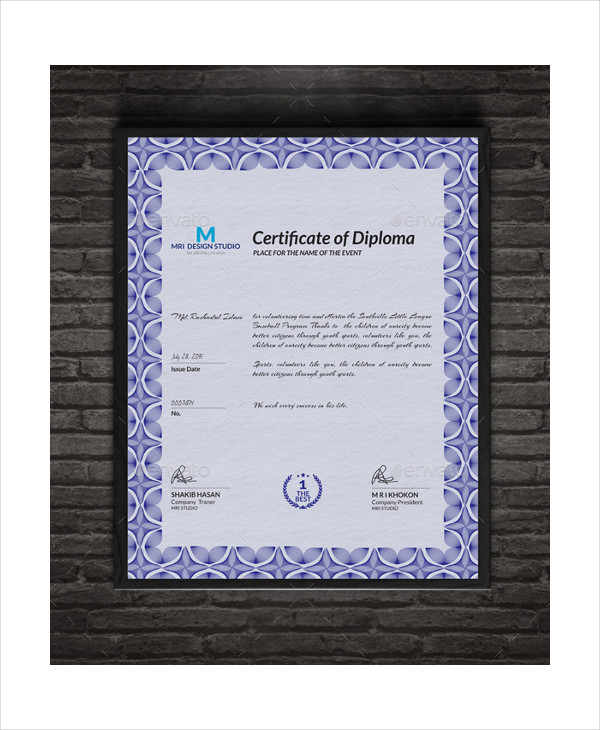 Graduation Certificate Of Appreciation
law.lsu.edu
Completion Certificate Of Appreciation
Sponsor Appreciation Certificate
loffler.com
Charity Certificate Of Appreciation
locksoflove.org
How to customize the Certificate Templates?
There are four steps to getting a sample certificate ready. First, you need to identify what template is suitable for you. There are many options; what you choose depends on the design that pleases your eyes. Secondly, download the file to know the supported format. You can also see Netball Certificate Templates.
Thirdly, determine what text you would like to replace the existing one with. Of course, you cannot print the template with the sample text it comes with. Lastly, it is time to print the text. And you can do that by choosing the right paper for the document.
It is important to remember that the goal of gift certificates is to reward someone for a job well done. Many corporations award their people with unique gift certificates, you can do the same thing if you believe that someone in your team deserves one. All you have to do is download the best template and customize it before issuance.
More in Certificate Templates