Certificate Templates
7+ Donation Certificate Templates
The act of giving is not a lesson learned in religious or secular schools; it is not a form of kindness passed on from generation to generation either. Giving is from the heart, and for some people, doing charity work is the way of life. If you would like to appreciate people for receiving or for giving donations to the non-profit organizations, you can do so using a gift certificate template. You may also see Certificate Templates.
Below is a list of the best donation Certificate Template that you can download for free to either ask for a gift from well-wishers or thank the donors for the good work done.
Donation Certificate Template
Donation Certificate Template
Charity Donation Certificate Template
thebraintumourcharity.org
By reading this document and understanding the good work done to save lives, it should not be difficult understanding why you should give your donations. Download the template for free and support those that don't have enough.
Blood Donation Certificate Template
freepages.genealogy.rootsweb.ancestry.com
You can use this template for recognizing and appreciating the act of kindness of a blood donor. Giving them this certificate will not only make them feel better but also remind them that their acts of kindness are very great.
Memorial Donation Certificate Template
sacvalleymuseum.org
The certificate is for those who would like to ask for donations for memorial services. By using this template, you will be able to reach many people, who will develop the interest to help. You may also see Share Stock Certificate Template.
Auction Donation Certificate Template
googleusercontent.com
Are you looking for the best Auction Donation Certificate Template? You will surely find this model useful for your needs. Moreover, you get the template instantly just with the click of a mouse.
Donation Statement Certificate Template
sipo.gov.ie
If you are looking for the best donation statement, you will find the content of this template useful. You can download this template for free, and then use the statement of the document as you wish.
Woodleaf Camp Donation Certificate Template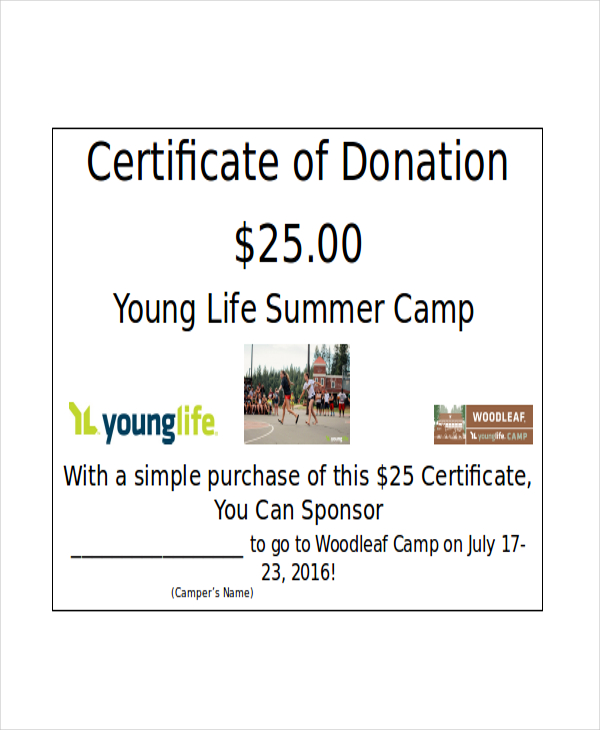 tri-city.younglife.org
> What is a Donation?
The first thing you need to understand is that charity organizations are no-profit bodies. In other words, they always depend on the supports of the well-wishers to run their businesses. Moreover, even the teams that make profits for every service provided, let's say a healthcare facility, also need help because they do not have everything figured out, to say the least. You may also see Medical Certificate Templates.
They, thus, need donations. A donation can be anything, and it often depends on what a helping body craves for as well as what a donor, or a group thereof, can offer. Giving a donation is a work of charity, and therefore you shouldn't expect anything in return.
> What are Advantages of Donation Certificates Templates?
Just with the click of a button, you will be able to download the best donation certificate template without paying even a buck. That you can download the model for free is great news because you never have to spend time on your computer to create the template from scratch.
Moreover, the template is free to use, which means that you have all the right to edit, print, and distribute the template for personal and business use, and no one will take any legal actions against you. Of course, the developers of the templates have already made them available as free templates, so there shouldn't be a problem downloading the model whenever you need to use one. You may also see Word Certificate Template.
> What are the Characteristics of a Good Donation Certificate?
A good donation certificate must have the following characteristics: It must have a clear description; it should say what you need or thank someone for what he or she already offered you.
The Training Certificate Templates must recognize the act of kindness of the donor. Well-wishers don't often expect you to say thank you, but recognizing what they've done and saying thank you can help build a long-lasting friendship and relationship.
Anyone can give a donation. As long as you have the ability to help someone without expecting anything in return, you can always give a little to help make the world a better place. Being a donor is great, but it all comes down to a personal choice.
More in Certificate Templates
| | |
| --- | --- |
| Word Certificate Template - 31+ Free Download Samples, Examples ... | Donation Certificate Template - 6+ Free Word, PDF Documents ... |
| Blank Certificate - 9+ Free Word, PDF Documents Download Free ... | Donation Receipt Template – 9+ Free Word, Excel, PDF Format ... |
| Gift Certificate Template - 42+ Examples in PDF, Word In Design ... | 24+ Certificate of Appreciation Templates - Free Sample, Example ... |
| Gift Certificate Template Word - 8+ Free Word Documents Download ... | 31+ Acknowledgement Letter Templates – Free Samples, Examples ... |
| 41+ Printable Certificate Templates - Free PSD, AI, Vector, EPS ... | Thank You Letter for Donation – 10+ Free Word, Excel, PDF Format ... |