Someone once said that employees are the lifeblood of any company, and they are right. CEO and the Top Management will always advertise employment opportunities for interested candidates because a business cannot function without employees. You can also see Certificate of Completion Templates. 
11 Multipurpose Certificates Template in PSD and Word Format
Employee assessment happens from time to time within an organization or company. This is usually a time when the company CEO and top Management assesses the progress, workforce and conduct of an employee in the company, compares these to their personal description and skills level and make the decision about the employees.
Sample Certificate of Employment Template
Request For Employment Certificate
Intermediary Employment Certificate Template
Full Time Employee Certificate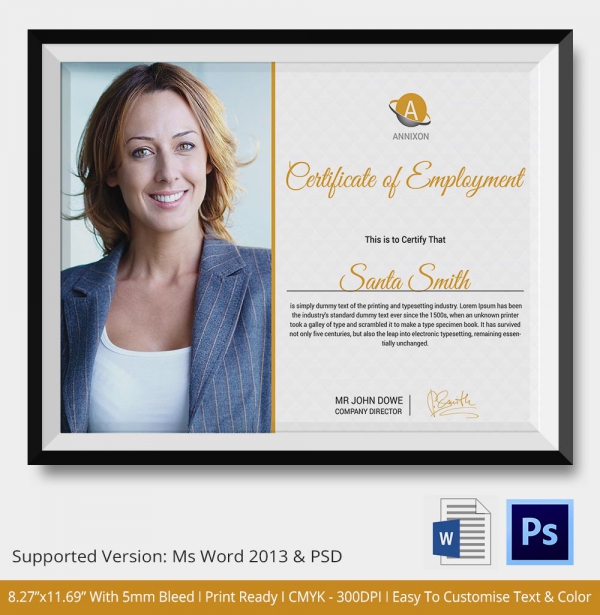 Casual Employment Certificate Template
Certificate of Employment for Fixed Term
Employee Probation Certificate Template
Employment Contracts Certificate Template
Freelance Employee Certificate Template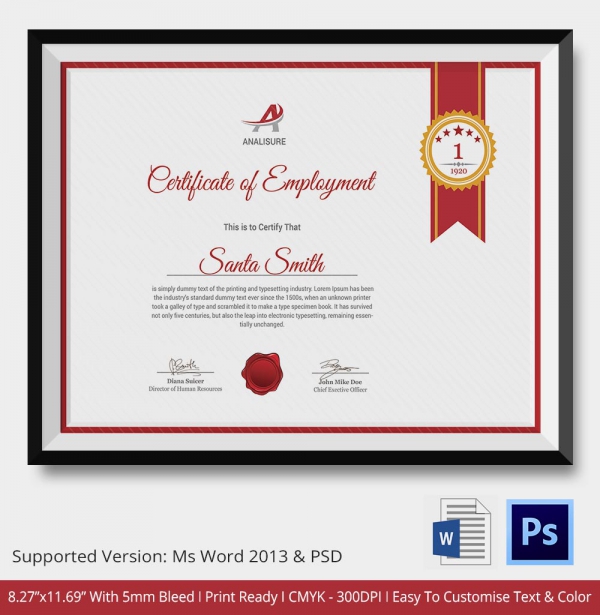 Commission Based Employment Certificate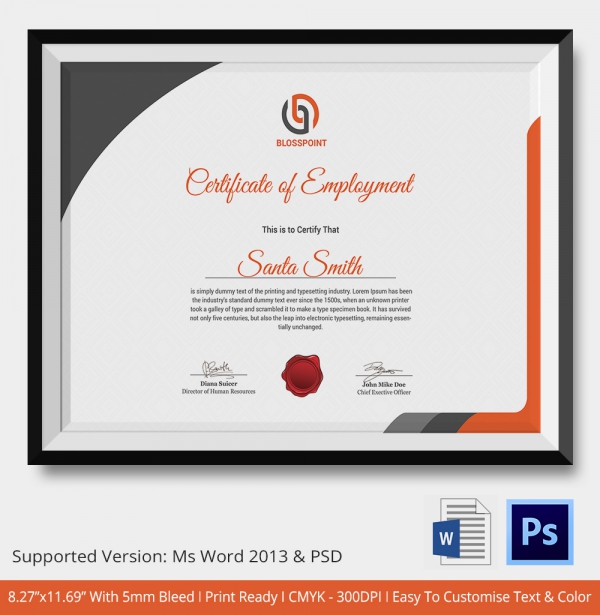 Temporary Employment Certificate Template
Independent Employment Contractor Certificate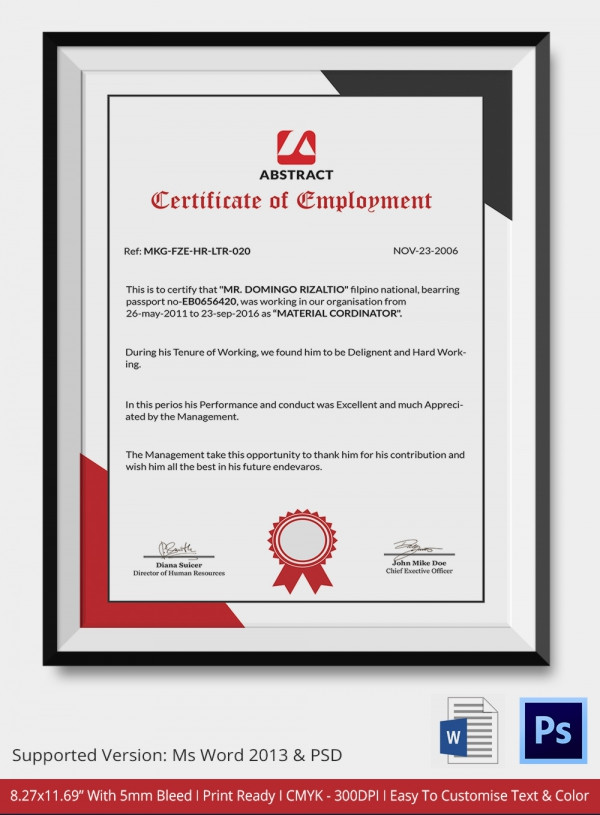 Regular Employment Certificate Template
Guest Employment Certificate
Obviously, the best employees deserve great reward, and nothing can be best like the employment certificate. An printable employment certificate template free will help you create high quality, clean and nice looking employment certificates that you will give as awards to the hard-working employees in you working team. The performance word certificate templates are available for free download on the internet, so you can consider them as freely available resources to help you create the certificates with ease within the shortest time possible.
Free Template Certificate of Employment Sample
beeflambnz.com | If you are looking for a simple employee certificate format, this is the one for you with its concise letter format that recognizes the employment of your employee in your company and his duties.
Sample Certificate of Employment Download
dole.gov.ph This certificate of employment template is for your household maid and recognizes that she has been doing household chores for you. It also states the tenure of her work for you.
Example of Certificate of Employment
hr4free.com If you are looking for an elaborate certificate of employment for one of your chief employees, this template here would be handy. It not only states about the employment of the person but also his operational procedures or strategies.
Sample Employment Certificate from Employer
This employment certificate would be great when your employee is looking for a recommendation letter from you for the new company he is about to join in. It states his responsibilities and that he has been a valuable employee to you.
Free Employment Certificate Template This is to Certify Format
This is a fine example of certificate of employment which you offer as a recommendation letter to your employee who is about to join a new company.
Public Service Loan Forgiveness Employment Certification Form
studentaid.ed.gov | This is a loan forgiveness employment certification form where you have information on borrower, borrower authorization, understandings & certifications. The certificate recognizes that the employee has all qualifications necessary to be eligible for PSLF.
New Jersey Depatment of Education Employment Certificate Form
You are getting a detailed employment certification form of an employee in NJ Education Department and include all the needed sections like employment information, proof of age, school record etc.
Experience Certificate Format
dole.gov.ph | This template here brings you two certificate of employment format letters which is to be issued upon the request of the employee. The letter is for your home maid who helps you in household chores.
Employment Separation Certificate
humanservices.gov.au | You are getting a comprehensive employment separation certificate template here with all the necessary pointers such as personal details of the employee, cause of separation, claim made, his salary etc.
Application for Employment Certificate
p12.nysed.gov | This application of employment certificate is for minor employees and comes with sections on the minor's personal & educational information, employer's details and there is also a separate section for parents.
Permission for Employment
doli.virginia.gov | This job certificate template serves as a permission application for employment of a minor where the parent is offering his/her consent to his child's employment. Added to the minor's personal information, it also states where the child is to be employed at.
Employer Intent to Employ Certificate
doli.virginia.gov | This job certificate template serves as a permission application for employment of a minor where the parent is offering his/her consent to his child's employment. Added to the minor's personal information, it also states where the child is to be employed at.
Annual Employment Certificate Application
oregon.gov | This employment certificate application is an application on part of the business which states the number of minors to be employed, their duties, the machineries to be handled by them etc.
Child Labor Work Permit Certificate
dol.georgia.gov | This child labor work permit certificate is to be filled by the employer and you are getting here complete details on how to access the certificate and how to fill it up.
Certificate of Re-Employment Template
teacherspensions.co.uk | You are getting a certificate of re-employment here if you are planning to take up your old job in your old school. You have to include your personal details, contact details and pension details.
Design Work Certificate Template
building.govt.nz
Work Capacity Certificate
rtwsa.com
Employment Letter Certificate
cpsa.com
Free Employment Certificate Template
dmv.ny.gov
Employment Certification Form
studentaid.ed.gov
Application for Minors Certificate of Employment
labor.hawaii.gov
Work Permit Data Sheet
hr.emory.edu
> Create Legal Employment Proof Easily With Employment Certificate Templates
Your employment is a part of your social identity and from time to time you might be asked for a proof to validate it- and this is where your employment certificate is of utmost importance. As the name suggests, such a work certificate model establishes that you are or have been employed somewhere and that your employer recognizes your contribution to the company. The employment certificate is issued by the company head or HR department upon the request of the employee.
> Uses of Employment Certificates
One of the most common areas where you have to show your proof of employment is while applying for a new job. Moreover, services that require your proof of employment to consider your eligibility to exercise the service, would also call for the employment certificate. Thus, you will need one while opening a bank account or while applying for a loan.
In case, you wish to continue your studies along with the job and have stated your employed status in the application form of the course, you might need to enclose your employment certificate – while submitting the application form.
Another place where you employment certificate is needed is when you are applying for a visa for a foreign tour. The employment certificate signed by your employer would guarantee that you are working with him and won't take up a job in the foreign country.
> How to create?
Have one of your employees just asked for an employment certificate? Well, if you need ideas here, it's best to go for the work certificate template options available today. These templates offer you a readymade employment certificate letter and you would simply have to insert your company data and the specific details of the employee. It's this simple and you will have the employment certification done within minutes.
> Tips for employment certificates
Name, Duration & Duties of the Employee
A standard working certificate example will commence with your company acknowledging that the employee of a particular name has been working at your firm. Additionally, the certificate would mention for how long the employee has been or has worked for you & what duties were handled by him.
Work Performance & Employee Behavior
The employment certificate would state how productive the employee has been at your office. There would be lines on his behavior at your organization as well.
Employer's/Company's Details
The certificate should offer a letter under the name and signature of the employer or company authority. The organization's address & logo must be there as a proof of authenticity of the certificate.
> Dos & Don'ts
Dos
The certificate must be proper with the name, designation & duties of the employee
Both the start & end date of employment should be mentioned
The letter must be done on your company's letterhead
Don'ts
Don't write derogatory words about employee in the certificate
Don't write the cause of termination of the employment
Don't mention the salary unless asked
We are here to help
If you are in need of best employee certificate format templates, our pro-designed templates at template.net
would be handy for you.