Certificate Templates
9+ Volunteer Certificate Templates
The decision to become a volunteer often springs from the heart. It is not easy to find an experienced person who would be willing to provide their expert or professional services without expecting a payment in return. As such, it is important to consider giving an award to the volunteers. You may also see Certificate Templates.
A volunteer certificate is going to make a great difference because it acts as an evidence of proof that the holder in question was indeed a simple volunteer in a company or an organization. The Certificate Templates will help the owner write a compelling resume that will win him/her a dream job.
Volunteer Certificate Template
Elegant Volunteer Service Certificate Template
Volunteer Award Certificate Design Template
Sample Volunteer Appreciation Certificate Template
Civil Diploma Certificate Template
Volunteer Appreciation Certificate Template
class-templates.com
A volunteer certificate is a significant award for someone who has served wholeheartedly, despite not being paid for the work done. Use this template to prepare the best certificate for volunteers. You may also see Medical Certificate Templates.
Volunteer Recognition Certificate Template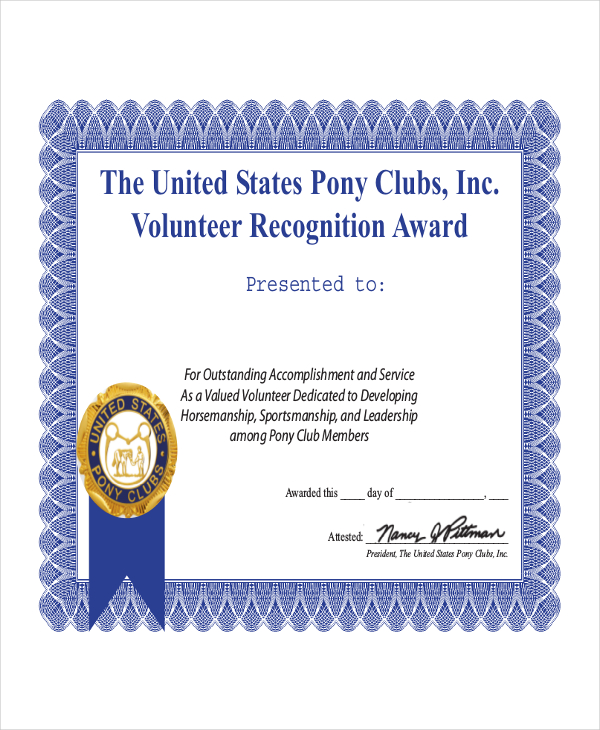 ponyclub.org
Volunteers never expect anything in return, not even a certificate. To them, this document will come as a surprise, but it symbolizes appreciation for the great, hard work done by the non-paid staff.
Parent Volunteer Certificate Template
hcpss.org
The volunteer certificate template is 100% editable and easy to customize. However, you don't have to edit it if you don't have the time to do so. Just replace the text with yours and then print the template.
Cricket Volunteer Certificate Template
static.ecb.co.uk
Volunteer Scholarship Certificate
team.riddell.com
> What are the Benefits of Being a Volunteer?
You can inspire others. A volunteer is a selfless individual. He uses his talents and skills to serve others, without expecting anything in return. The acts of charity, driven by free will, always inspire others to feel great.
For example, a helper who works with physically challenged people is likely to encourage the physically challenged by giving them hope in a way a paid worker never can. You may also see Word Certificate Template.
Moreover, volunteering will help you to build relationships. People who work without expecting something in return learn how to build relationships with individuals in the workplace, making it easy for them to put more value on people and work.
> Five Reasons Why it is Good to Volunteer
People volunteer because they want to make a difference. Making a difference means dedicating yourself to service and help people or someone without expecting them to give you something in return. Working for free not only gives you an opportunity to learn something new, but it is also one of the best ways to give back to the society. You may also see Training Certificate Templates.
It is important to understand that when many volunteers come together, they don't just help each other to learn something new every day, but they also motivate each other so that they develop growth and high self-esteem.
> What are the Significances of Volunteer Certificates?
A certificate for volunteers creates a sense of recognition and belonging. It can act as a professional document which one can use as a job-hunting tool along with the resume. The certificate doesn't abound in a lot of content, but the credentials and appreciation words you write on the template should be good enough to recognize the efforts of the volunteer. You may also see Share Stock Certificate Template.
In a society where people work to earn, it sounds ridiculous to work for free. For some individuals, matters of charity can be a disturbing topic, but others consider the same scenario as an opportunity to learn something new, sharpen personal skills, and prepare for a paid career in the future.
Maybe the thought of volunteering doesn't please many people because there is never an appreciation given to those who dedicate themselves to work without expecting something in return. Therefore, it's time to think different: award a volunteer with the best volunteer certificate.