Letters
22+ Professional Letter Formats
Are you about to write a professional letter and need some help? Well, unlike casual or personal letters, you can't really go carefree with a business letter and you have to maintain a standard format with it. Business letters, no matter how important the message is, would not be eligible unless they comply with the usual professional letter format of each specific business letter. You can take the help of our professional Letter Templates for writing your letter in the correct format. However, if you need some advice, there are readymade professional letter templates for various formal letters for your convenience.
Professional Cover Letter Format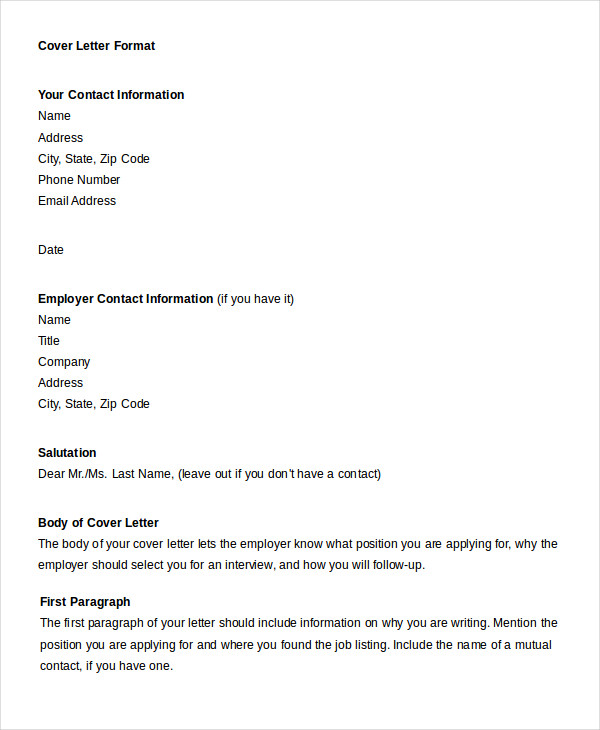 aasd.k12.wi.us
If you need ideas on the professional format of a cover letter, this template here would be handy with its expert instructions on the letter structure and each paragraph.
Professional Resignation Letter Template Format
freechurchforms.com.1.s3.amazonaws.com
If you are in search of professional letter templates for resignation letters, this template here is all you need as it shows how you will state the fact; it also contains the how and why of the letter and how to end it.
> What are the tips for the Best Professional Letter Format?
First of all, you must have your address at top right of the page. The recipient's name and address will be on the next line, but at the left. Always address your letter to some specific person. The date would come just after it. You can also see Professional Word Templates.
In regards to the salutation, in case you are writing to a lady and are not aware of her marital status, go for "Ms.". If you are not exactly aware of the recipient's name, start your professional letter format with "Dear Sir/Madam". Always make sure to talk to the point. Your recipient is a busy person and does not have time for irrelevant details.
Professional Thank You Letter Format
adrian.edu
This professional thank you letter not only helps with a standard example but also provides hints and suggestions on penning that letter and what to write from salutation till the closing line. You can also see Formal Letter Formats.
Professional Recommendation Letter Format
chicago.medicine.uic.edu
You have a professional letter format for a recommendation letter here that shows you what to highlight about the recommended person in the letter and how to do it – so that you can present the person at her or his best.
Professional Letter Format
wou.edu
If you are confused about the structure of a professional letter, this formal letter template here is all you need. It has a pre-designed professional letter arrangement which you simply have to edit with your letter body.
Professional Business Letter Format
unizd.hr
> What are the mistakes to avoid in a Professional Letter Format?
When it comes to a professional letter format, grammatical mistakes, spelling errors, and typo issues are a strict no-no. Such silly mistakes can go a long way in canceling an otherwise excellent resume or a fantastic business proposal. Also, do not make the mistake of not providing a letter subject. It's a packed world today and if you cannot intrigue the recipient with your letter topic, he won't be enthused to read below. Do not use informal or casual fonts- always stick to one kind of formal font. Never use colored lines; a traditional black and white outlook would be the best. You can also see Business Letter Format.
The templates above cover all the major professional letters that one might need to write throughout his career- starting from cover letter to resignation letter to recommendation letter and so on. All these customizable templates have been drafted by experts and hence you can be assured of a standard structure here.