Letters
11+ Cursive Writing Templates – Free Samples, Example Format Download
Cursive writing template is the model you can try when you are making any documents that has italic style of the fonts whenever you are typing any words. With obituary writing template accessible in sample format, you can have the unique way of typing any paragraphs with a refined and medieval in appearance while maintaining the thought of your work. You can also see Book Writing Templates.
You can adjust any font effects, size and color with this template that is suitable for any fonts designing and calligraphy. It will give whatever you need to make your cursive typing comprehendible even if it's elongated or looped. You can also see Writing Templates.
Cursive Writing Chart Example Download
Sample Cursive Writing Practice Upper & Lower Letters
> Getting the Brief Definition of the Cursive Writing
In simple language cursive writing is a handwriting style. Its other names are looped handwriting, joined writing, longhand script writing and so on. The letters are written in a combined or joined manner with Italic fonts. People may say that the importance of cursive writing has declined but it is still taught in the schools and as such is very popular amongst the kids.
It is a unique pattern of writing words or sentences which enhances the beauty of the document. Moreover, it helps a great deal in making the hand writing quicker as you do not have to lift your pen after writing each and every Letter Writing Templates.
Verbalizations for Cursive Letters Template Example
Sample Cursive Writing Lessons for Kids
Example Format Cursive Writing Worksheets for Adults

>

What different types of Cursive Writing you would come across
Usually the Cursive Writing templates are developed or designed according to the categorization of this type of handwriting style. They can be classified as-
Cursive Alphabet Worksheets
Cursive Words Worksheets
Cursive Sentences Worksheets
Cursive Passages Worksheets
> Apart from these four it is further classified into
Formal- In a formal cursive, you are generally not required to lift up your pen while writing the words or sentences. It is written in a flowing manner.
Casual- While attempting the casual, the writer gets the freedom of writing either in a joined manner or by raising the pen.
Italic- This type of writing usually encourages the writers not to make use of the joins while composing the words.However, do not get confused with the Italic Free Fonts present in MS word.
Looped- The letters ascending and descending have loops which helps in joining.
Sample Cursive Writing Instruction for School Children
Lessons for Cursive Handwriting Template Example
>

Why is Cursive Writing Template Designed Today?
Cursive Writing Templates are designed for a variety of reasons. Some of the important ones include-
Cursive Writing Templates look beautiful and Unique- There is no doubt that.
Basic Resume: Also known as entry level resume this resume talk essentially about academic and professional or co-curricular achievements. This resume is effective when you are a fresher for any job.
Career Objective Template: The resume template that has been the most used so far is career objective template. This template highlights critical information about the candidate at the top.
Prof cursive styles have their own unique identity and they can increase the beauty of document.
Templates Designed for Cards- Cursive writing is widely used in birthday or innovation cards. Moreover, you can also use it on your company visiting card and website.
Boosts your creativity- You can showcase your imagination and creativity by designing eye-catching cursive writing templates which is good for the minds according to the researchers. You can also see Resume Writing Templates.
Russian Cursive Writing Worksheet Template Example
Sample Cursive Writing Guide Template
Cursive Writing Practice Template Example Format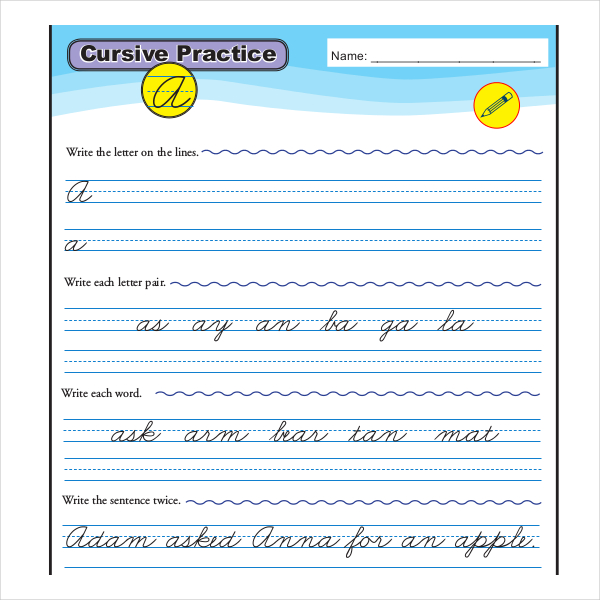 > How to Design a Unique and Eye-Grabbing Cursive Writing Template
You can make a beautiful cursive design on computer with the help of available tools such as Perfect Cursive Technology and Powerful Worksheet options. You will have to learn how to use the tools effectively. Besides that, you can also check different samples on the internet to get an idea before designing one.
> Cursive Writing Templates for Kids can be Fun
Designing Cursive Writing Templates can be fun as well as imparting a lesson. It helps their brain power and also assists to speed up their writing. So many schools have adopted it in their curriculum.