Letters
95+ Best Free Application Letter Templates & Samples – PDF, DOC
An application letter is vital to get that employment or goal you want. You can always use our job templates to apply for any work, business internship, or teaching position in a school. However, if you wish to reuse simple letters for various purposes, we suggest using our best free application letter samples and templates. With multiple formats, from simple to detailed, you are likely to write your goal, intentions, and qualities within minutes! Here are free application letter templates that you can use to write effective application letters for your purpose.
Whether you are applying for a job, wishing for a leave from your employer, or doing any kind of correspondence with any bank or authority, you need to write a PDF application letter first. All the templates have been designed by experienced professionals and are fully equipped to say what you want to. Whether you are a fresh graduate, student, or an experienced professional, you can download samples for scholarships in college, elementary, and high school or level up your sample resume with a job application letter for an accountant, teacher, or nurse vacancy. Discover some of our sample templates below to begin your application letter writing today!
Free Formal Application Letter Format
Free Application Letter Sample
Free Simple Application Letter Template
Uses of an Application Letter Template
To apply for a job or internship
To ask for a leave from school, college, hostel, or office
To ask the utilities to do something you want
Target Audience of an Application Letter Template
Benefits of an Application Letter Template
It helps in creating an impressive application letter for college
Every part of the template is customizable
There are several types of templates available for download
You can choose the type of template you want, and customize it as per your requirements
Free Sample of Application Letter Template
Free Application Letter Format
Free Professional Application Letter Template
Formal Job Application Letter Template
Work Application Letter Template
Employment Application Letter Template
Free Email Application Letter Template
Free College Application Letter
Internship Application Letter Template
Free Business Application Letter Format
Loan Application Letter Template
Application Letter For Any Position Template
Formal Application Letter
uwgb.edu
Writing a formal letter needs some thought and care be it an application of employment letters or any other sample form. But thanks to this formal application letter template in word, you can easily draft a perfect letter without any professional help. With all the essential segments in place, you can draft the letter in a jiffy.
Marketing Application Letter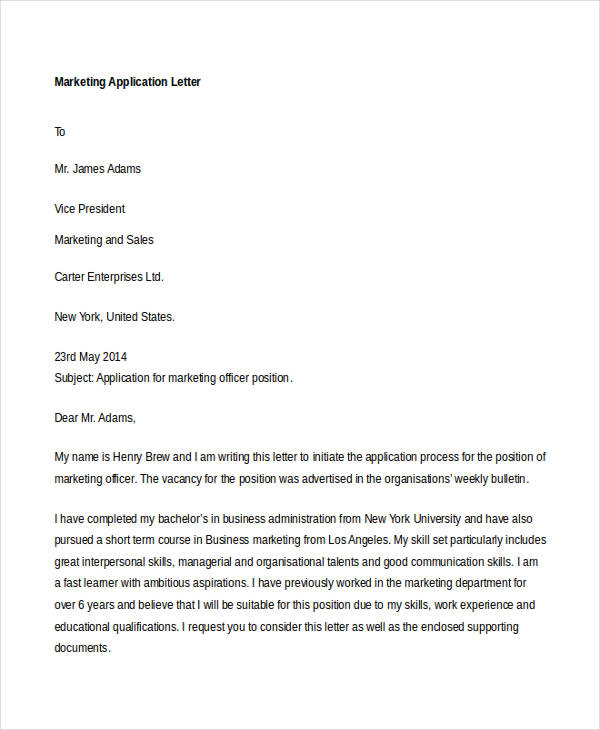 If you are thinking to apply to an opening for a marketing position in a firm, take some cue from this Job Application Letter/ Cover Letter. Drafted by experts, this gives you an idea of how to broach the subject and the information to include in the application printable letter. Not sure how to write an application promotion letter to the higher official? Well, you can find different kinds of application letter templates in Pages online but this is the most popular. With the help of this, you can quickly apply for leave on the grounds of medical conditions.
Resume Application Letter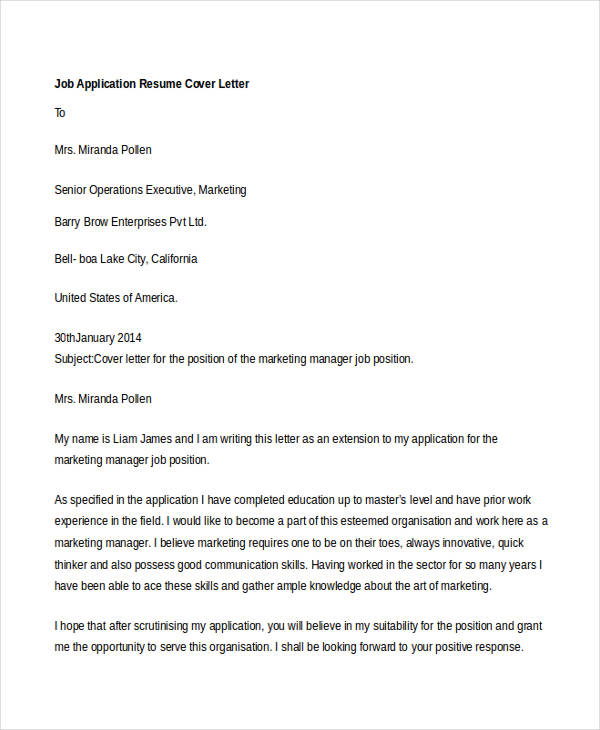 Need some help to write a cover letter in doc for your resume format while applying for a job? Here is a resume cover letter that has been professionally written and is sure to impress the recipient. Download it and then add relevant details to it.
Resignation Application Letter
monster.com
When writing a resignation letter, you should make sure that you do not hurt the feelings of your past employer and that you remain in his good books. Thus, the application letter of resignation PDF you write should be well written and extremely professional. Take some cue from the aforesaid letter to get it right.
High School Application Letter Templates
resumebaking.com
Thinking of writing an application of academic letters to gain admission into a school or educational institute? Make sure to draft an impressive professional letter. In case you need some help, go ahead and check out the aforesaid template. It gives you a clear idea of the format and the sections to be included.
Volunteer Application Letter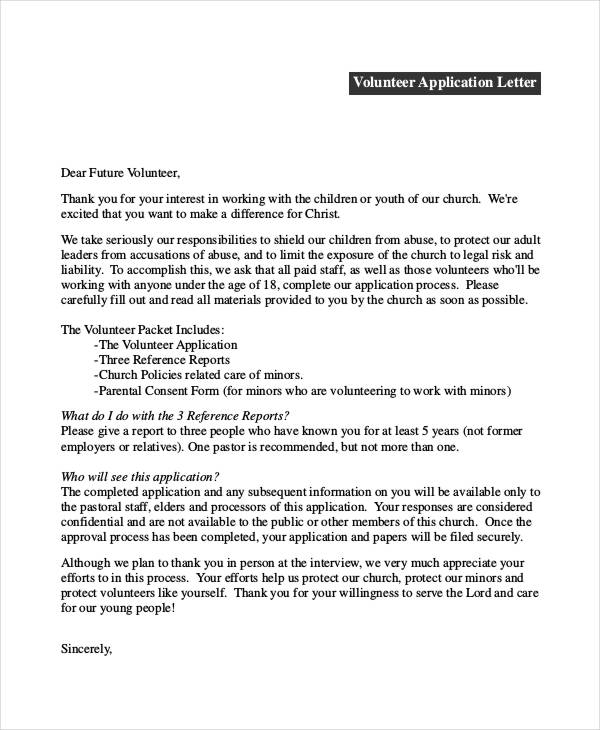 radiantchristianlife.org
If you are thinking of volunteering for a special cause with a social service agency or an NGO, you need to submit an application letter first. The aforesaid reference letter gives you an idea of the format to follow and the right way to broach the topic with the concerned authority.
Fresh Graduate Application Letter Templates
jobstreet.com
Vacation Application Letter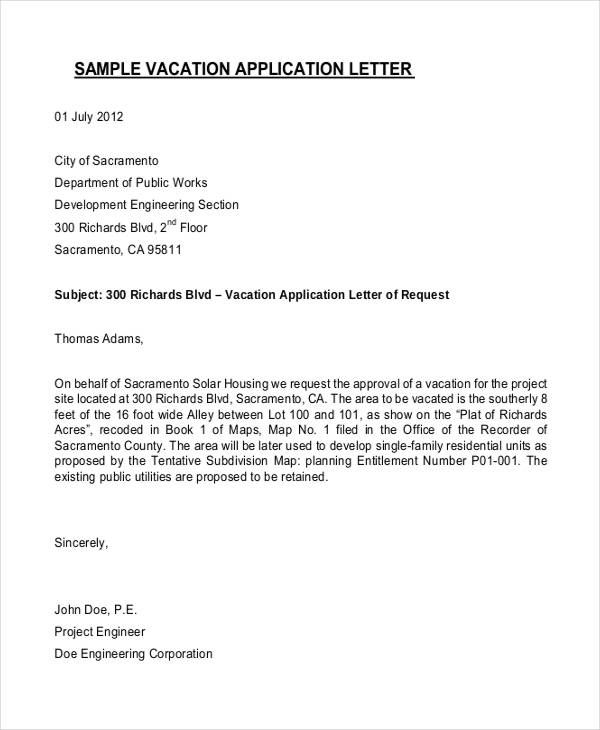 cityofsacramento.org
Vacancy Application Letter Templates
eyrefutures.com
Application Cover Letter
collinsmcnicholas.ie
Personal Application Letter
Application Thank You Letter Templates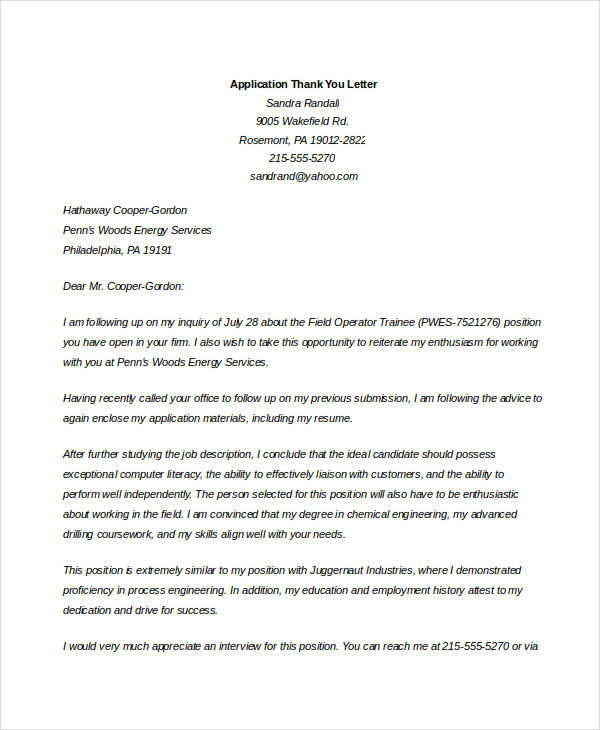 livecareer.com
Manager Application Letter Templates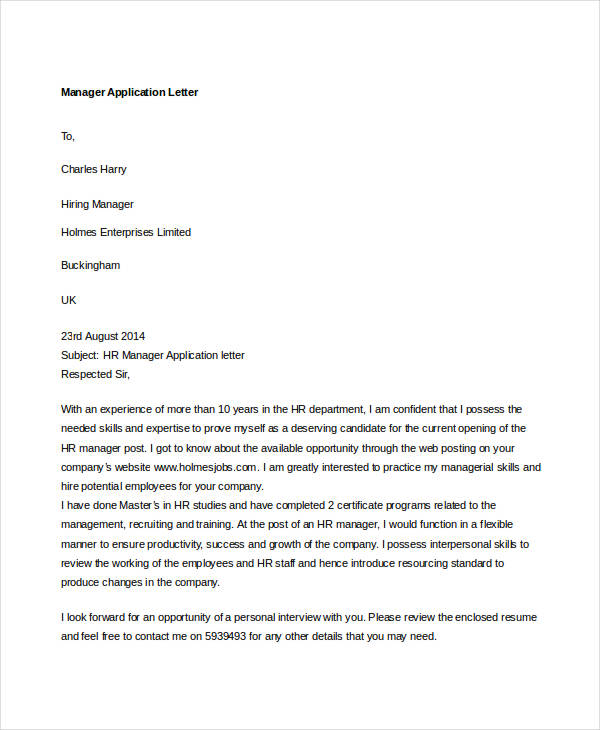 Best Part-Time Job Application Letter Templates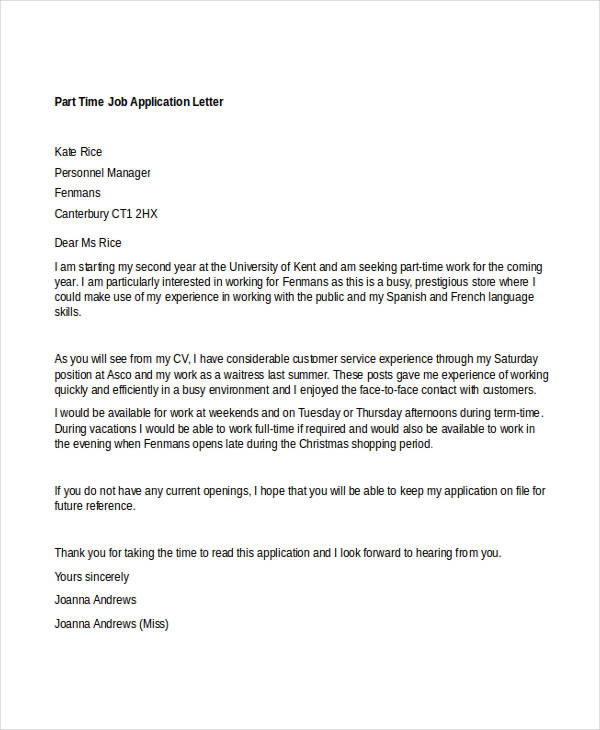 kent.ac.uk
Professional Application Letter Templates
siu.edu
Rental Application Letter Templates
Application Cancellation Letter Templates
international.nd.edu
Application Joining Letter Templates
entelis.net
Application Withdrawal Letter Templates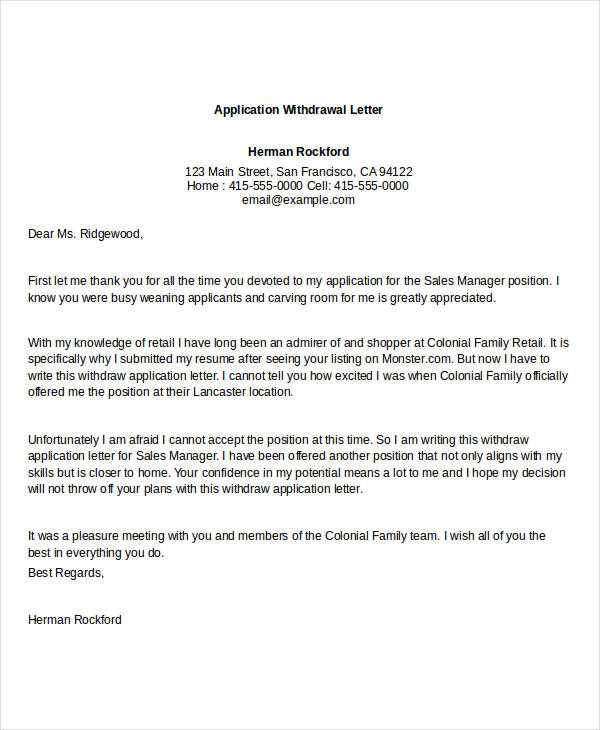 livecareer.com
Application Rejection Letter Templates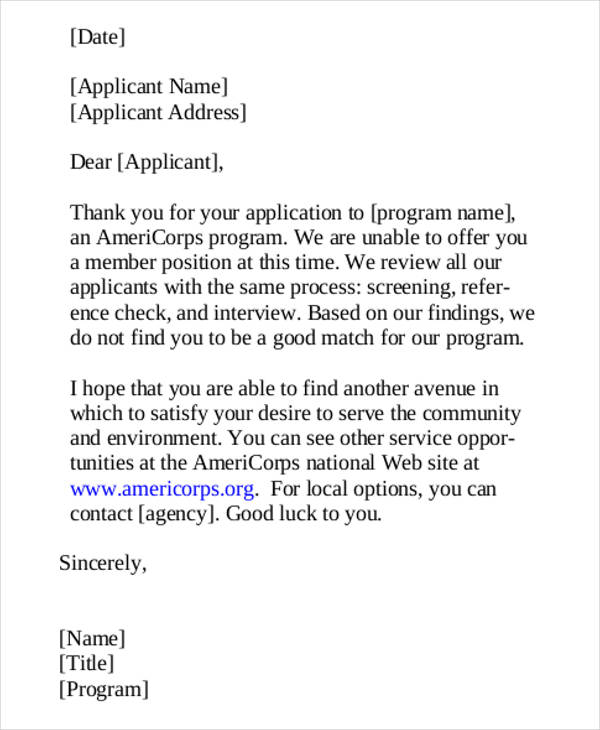 nationalservice.gov
Sample Accountant Application Letter
Sample American Application Letter
Sample Application Confirmation Letter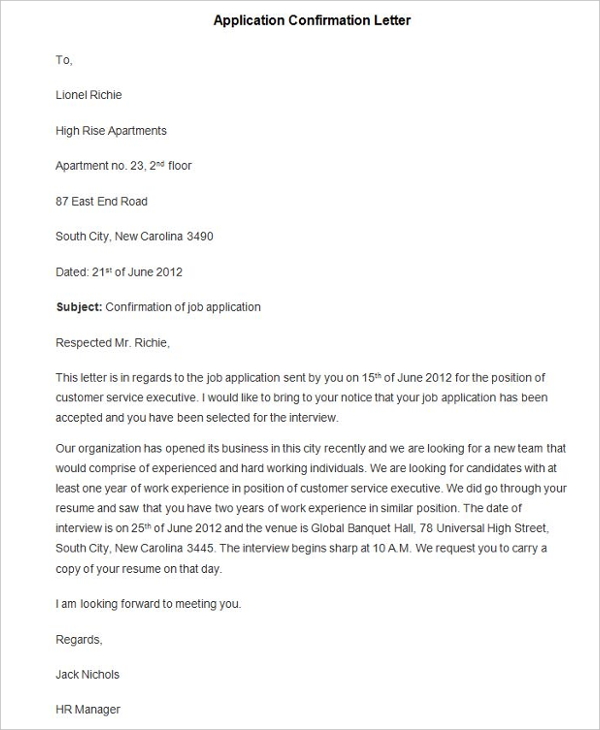 Sample Leave Letter Application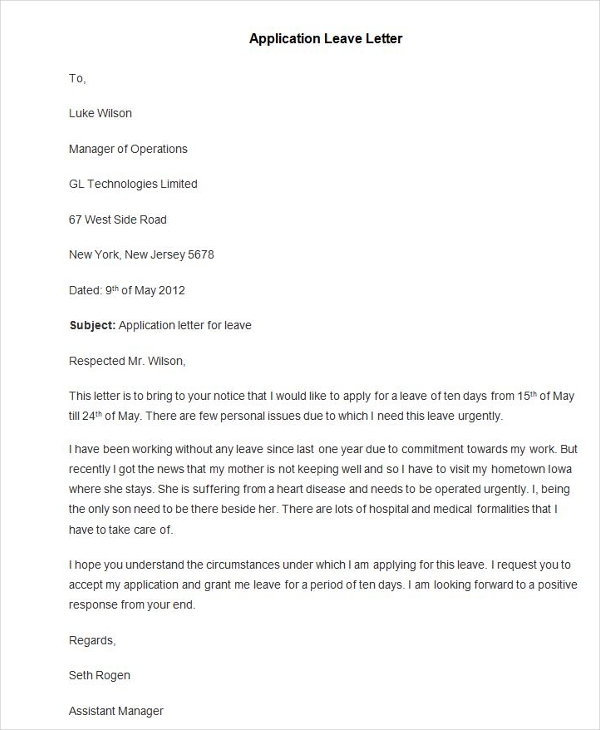 Whether you are a school student, college student, or a working professional, you need to send an application leave letter to your higher authorities to ask for a leave. The leave letter like a vacation leave letter will mention the number of leaves you want and the reason behind it. A nicely written application leave letter PDF will not allow the authorities to deny you a leave. Use a template to create a good leave application letter.
Sample Application Letter by Fresher
Sample Application Letter for Referral
Sample Application Letter for the Post of Lecturer
Sample Application Letter to Bank Manager
Sample Application Request Letter
Sample Business Application Letter
Sample Credit Application Letter
Sample Editor Application Letter
Sample Federal Application Letter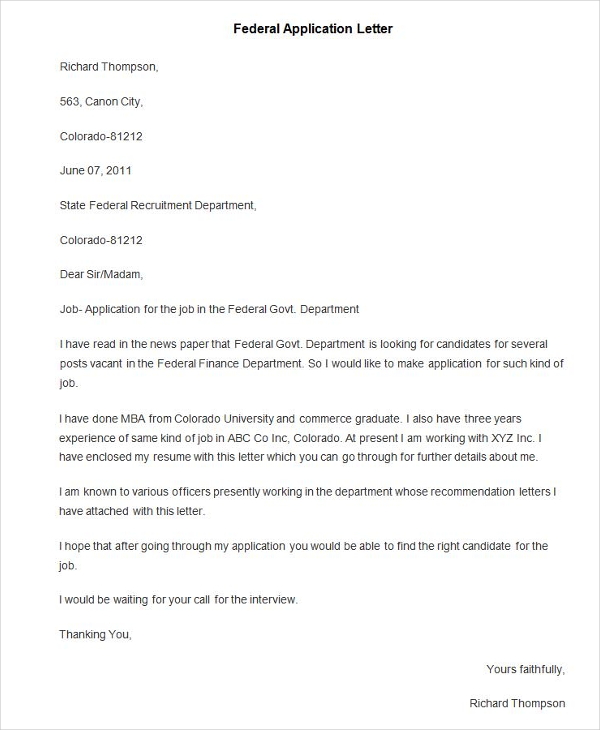 Sample Franchise Application Letter
General Manager Job Application Letter Sample DOC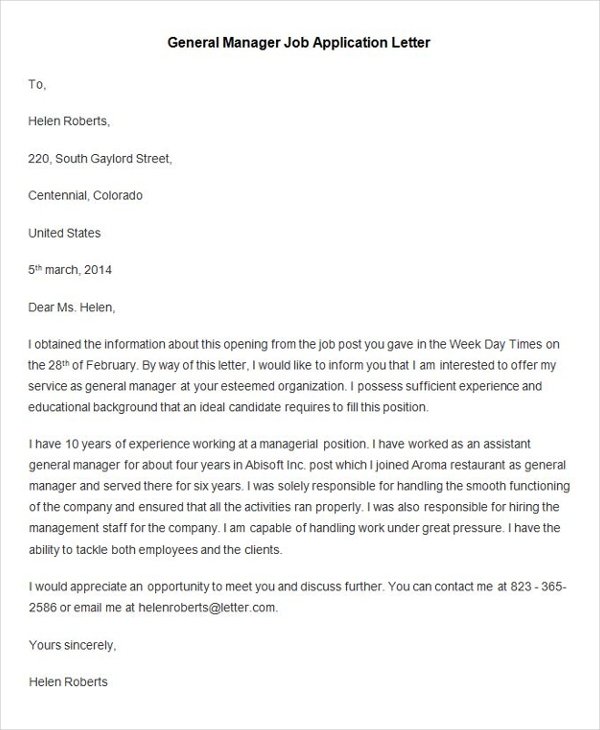 Sample Grant Application Letter
Sample Help Desk Job Application Letter
Sample Internship Application Letter
Now that you have finished your studies, it is better to work as an intern before actually applying for a responsible job. For that, you need to send application of internship letters to several companies that might be willing to hire you as an intern. You can use an application of internship letter template in DOC to convince the companies how beneficial you can be for them as an intern.
Sample Job Application Letter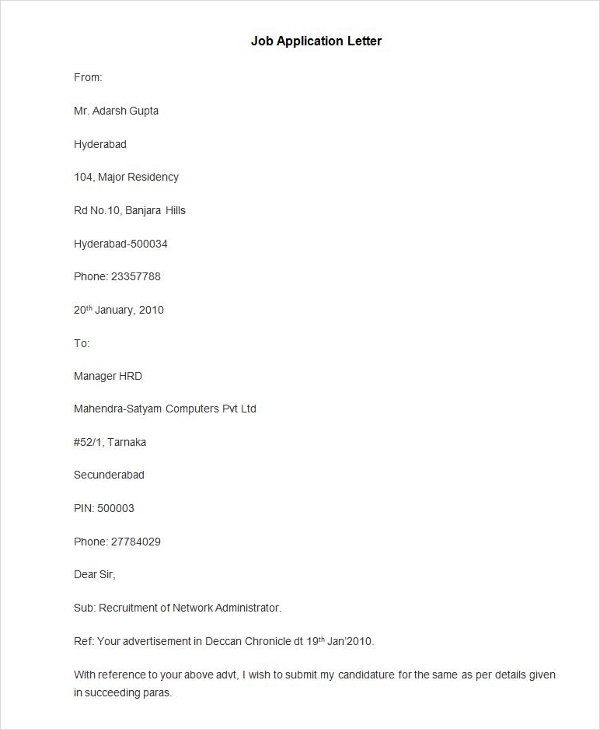 Sample Letter of Intent Application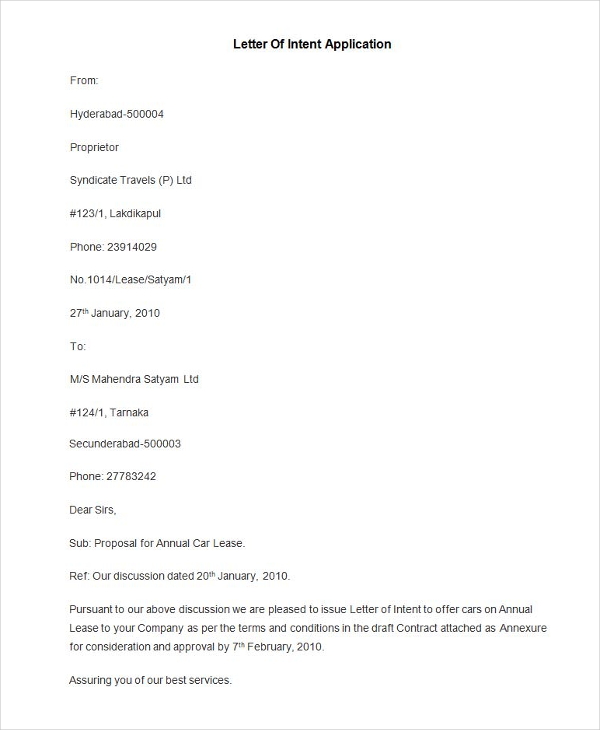 Sample Librarian Application Letter
Sample Marketing Job Application Letter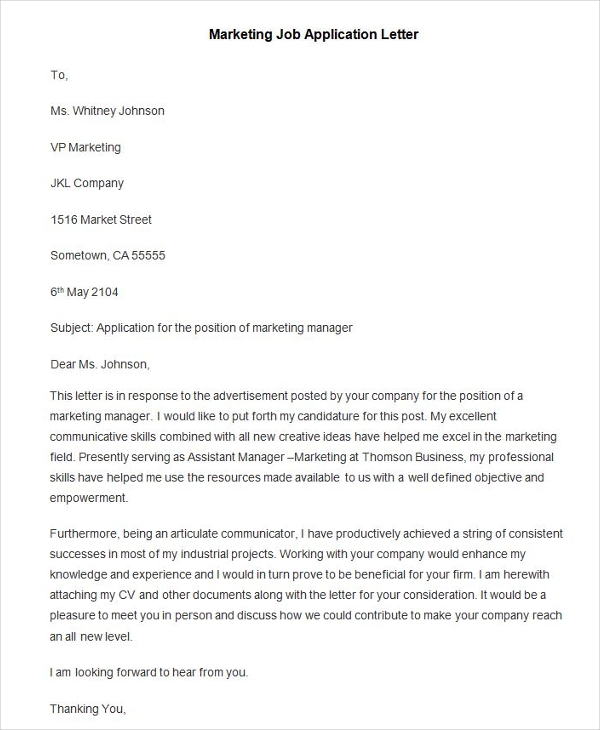 Sample Newspaper Correspondent Application Letter
Sample Nurse Application Letter
Sample Organization Application Letter
Sample Receptionist Application Letter
Sample Reporter Application Letter
Sample Branch Manager Application Letter
Sample Branch Transfer Application Letter
Sample Business Analyst Application Letter
Sample Business Loan Application Letter
Sample College Application Letter
Sample Employment Application letter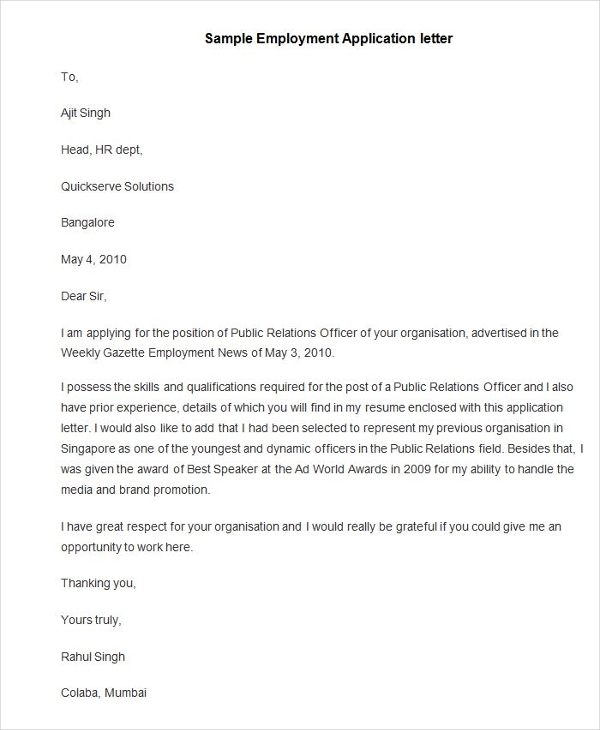 Sample General Application Letter
Sample Graduation School Application Letter
Sample Loan Application Letter
Sample Marriage Leave Application
Sample of Customer Service Application Letter
Sample Rental Application Reference Letter
Sample Scholarship Application Letter
Sample Summer Job Application letter
Sample Withdraw Application Letter
Sample School Physician Application Letter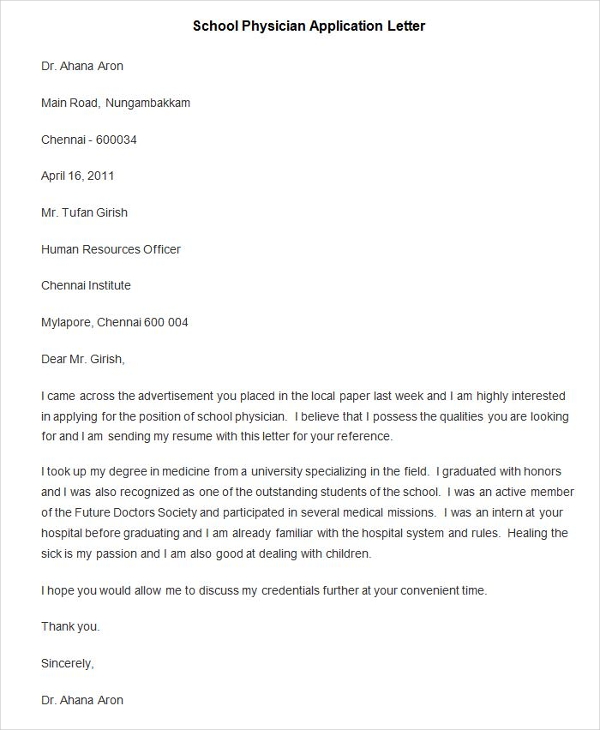 Sample Science Teacher Application Letter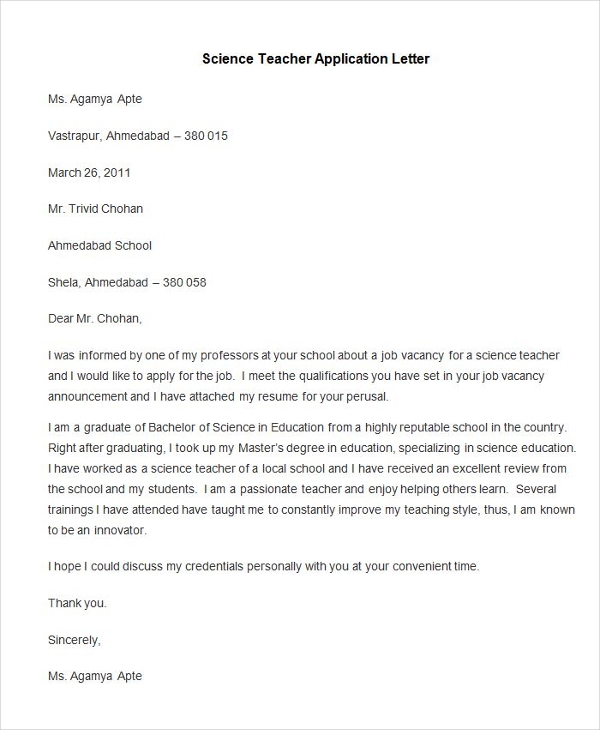 Sample Solicited Application Letter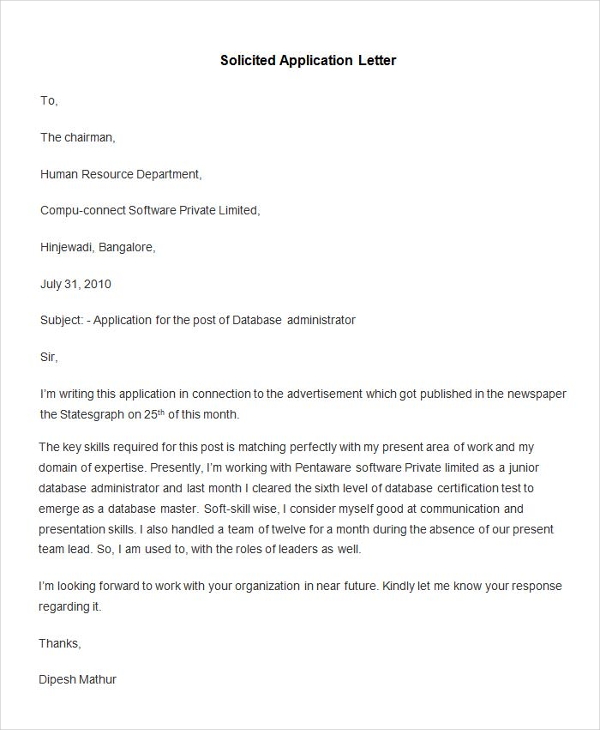 Simple State Application Letter
Sample Teacher Application Letter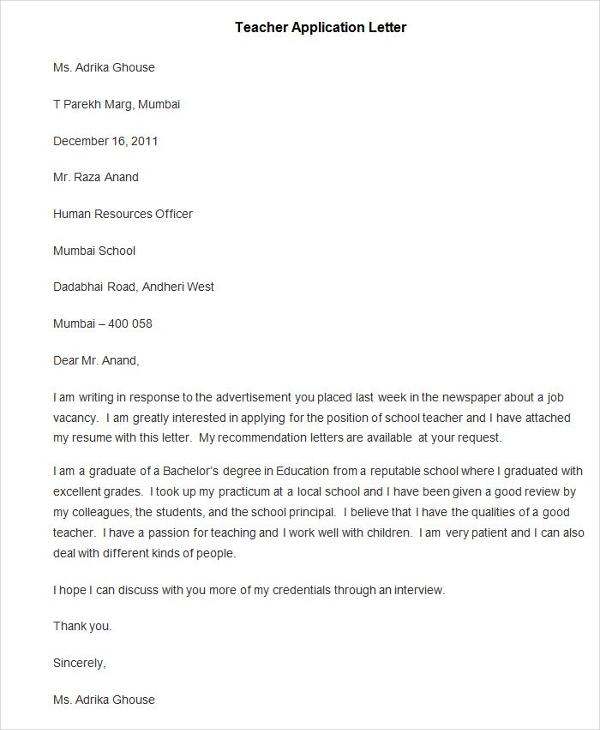 Sample Teaching Postion Assistant Application Letter
Sample Transfer Application Letter
Sample University Application Letter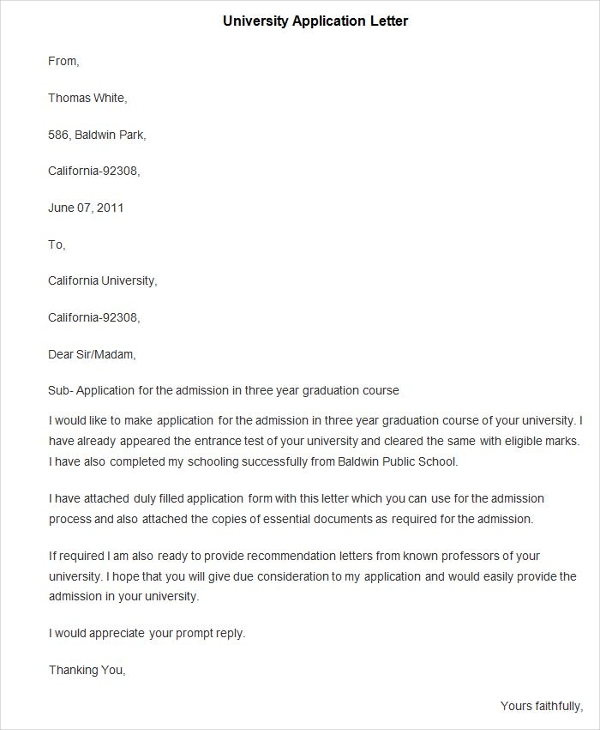 Application Cover Letter Format Template
clas.uiowa.edu
Example of Letter of Application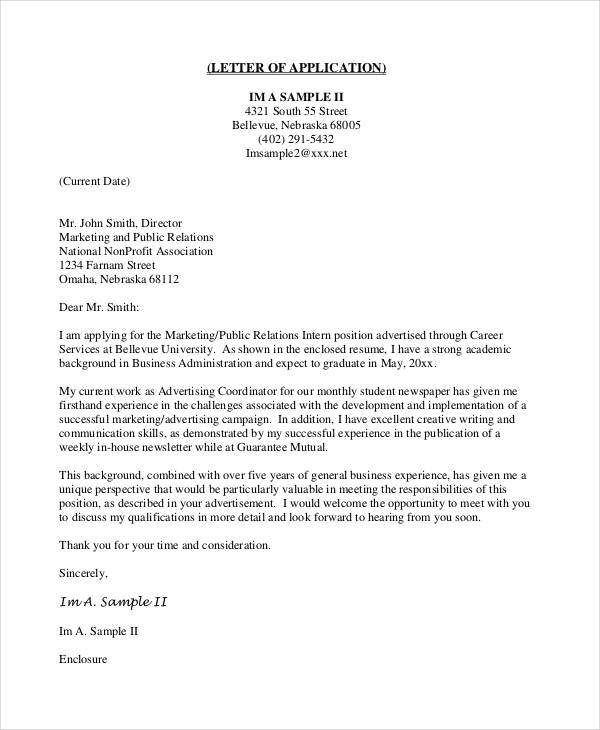 bellevue.edu
Application Cover Letter for Job in Company
cenhd.ro
Best Official Application Letter Format
fnu.ac.fj
Letter of Recommendation Application for Graduate Admission
bu.edu
Basic Student Short Letter Application Form
monash.edu.my
Education Loan Application Cover Letter Download Free
indiastudychannel.com
Effective Letter of Application Sample Layout PDF
msl-sr-exp-2016-17.wikispaces.com
Parts of Application Letter Template
eoioviedo.org
Draft Letter of Application in PDF Format
eastportlandactionplan.org
Elementary Secondary School Application Letter
marketrasen.lincs.sch.uk
Clarity and specificity are important components for a successful job application. The persons reading your personnel letter need to get the point that you are posing without having you reread the academic letter. Since the same firm may advertise several positions at the same time, it is important to quote the specific vacancy you have interest in along with the reference on the advertisement.
Any employer is watching out for the keenness of the applicants. Some conditions and requirements need to be adequately responded to in any images of the application letter in Word. Go through the job requirements and ensure you supply adequate and appropriate information for each of the raised concerns in your letter template in outlook.
How to Create an Application Letter Template
A job application letters for volunteers need to be impressive, attractive, and convincing. As you are asking someone to do something for you, you need to use language that makes a lasting impression on the readers. The application letter should contain the date of the application, the name, and address of the addressee, subject, content, and your name and signature at the end.
How to Write an Application Letter for Employment?
When looking for a job, the companies will inevitably expect you to attach an application letter with your printable resume. Remember that this letter would be the first impression you make on your prospective employer. Thus, you need to make sure that the letter is perfect. Here is how you can write an application letter for employment. Begin with your contact information. You can also see job application letters.
Next write the name, designation, and address of the recipient. This should be followed by an application cover letter salutation that ought to be a formal one. In the first paragraph itself, you need to talk about your interest in the post that is vacant in the company. Follow this with a summary report of your qualifications, strengths, and experiences. Go on to give a concise account as to why you are fit for the post. Conclude it with your name and signature.
How to Write an Application Letter for Job Vacancy?
When approaching a company for a job vacancy, you must write an impressive and to-the-point application letter. You can take some cues from loan application letters. However, the content will change. Here are some tips to write an application letter for a job vacancy. Instead of beating around the bush, be concise and to the point. Since you will be attaching your resume to the cover letter, make sure not to mention the same things that are already there in the professional resume. Think out of the box. Make sure to mention that you are ready for interview questions and follow-up calls. Give a sneak peek into your achievements and past experiences.
Explain Different Types of Application Letters
Application letters are used for varied reasons like Sample Work Application Letters, vacancy application letters, etc. Thus, there are many different types of application letters based on the purpose for which they are written. Here are some of these. academic application letters, Cover Letters for Job Applications.
When should you follow up on a Job Application Letter?
Once you send the job application letter be it using job application letters for internship template PDF or some other template, it is imperative that you may have to follow it up. However, you need to find the right time to do this. An early follow up would portray you as desperate while a late follow-up will lead the company to consider you as callous. The best thing is to wait for a week after sending the job application letter. In case you do not hear anything from the company and you are interested in the job, go ahead and send them a follow-up mail or request letter.
What are the Parts of an Application Letter?
Irrespective of whether you are using an application of email letters or a leave application letter, you should remember that a well-written application company letter comprises various parts. Let us take a look at what these are.
1. Your contact details
2. Date of application
3. Recipient's name, designation, address, contact details
4. Subject
5. A formal salutation
6. Paragraphs with precise information and conclusion
7. Signing off with signature and your name
Purpose of Letter of Application
Depending upon the reason for which an application letter is used, it has various purposes.
To send an application to the firm seeking a job
To request a leave of absence
To request admission to an educational institution
To volunteer your services in an NGO To give in your resignation letter
To make the company consider you for a promotion
To request a sponsorship
To request a change in a scholarship simple program
All the job application letters format for any vacant position templates available here are 100% customization and are all ready to download. Just download the appropriate one as per your requirements, fill in the required details, make the necessary changes and print it out. If not, you can even directly send it to the recipients via email.
More in Letters