It is difficult to get clients for your gym, especially if your business is new and you have a lot of competitors in the area. We are committed to helping you conquer the tough competition by introducing the perfect tool that you should use in introducing your business to the public. We offer beautifully made, 100% customizable, and professionally written Gym Flyer Templates that are made available in 8.5 by 11 inches (US) and 8.27 by 11.69 inches (A4) + bleed print sizes. These high-quality flyer templates will help you save time and excel among competitors. Don't let this rare opportunity slip through your hands. Download and subscribe now!
What Is a Gym Flyer?
A flyer is a tool used by marketing specialists in introducing their products and services to the general public. A gym flyer, on the other hand, is a paper advertisement designed to introduce a gym business and are intended for wide distribution—typically handed out to individuals, posted, or distributed in a public place or sent through email ads.
How to Make a Great Gym Flyer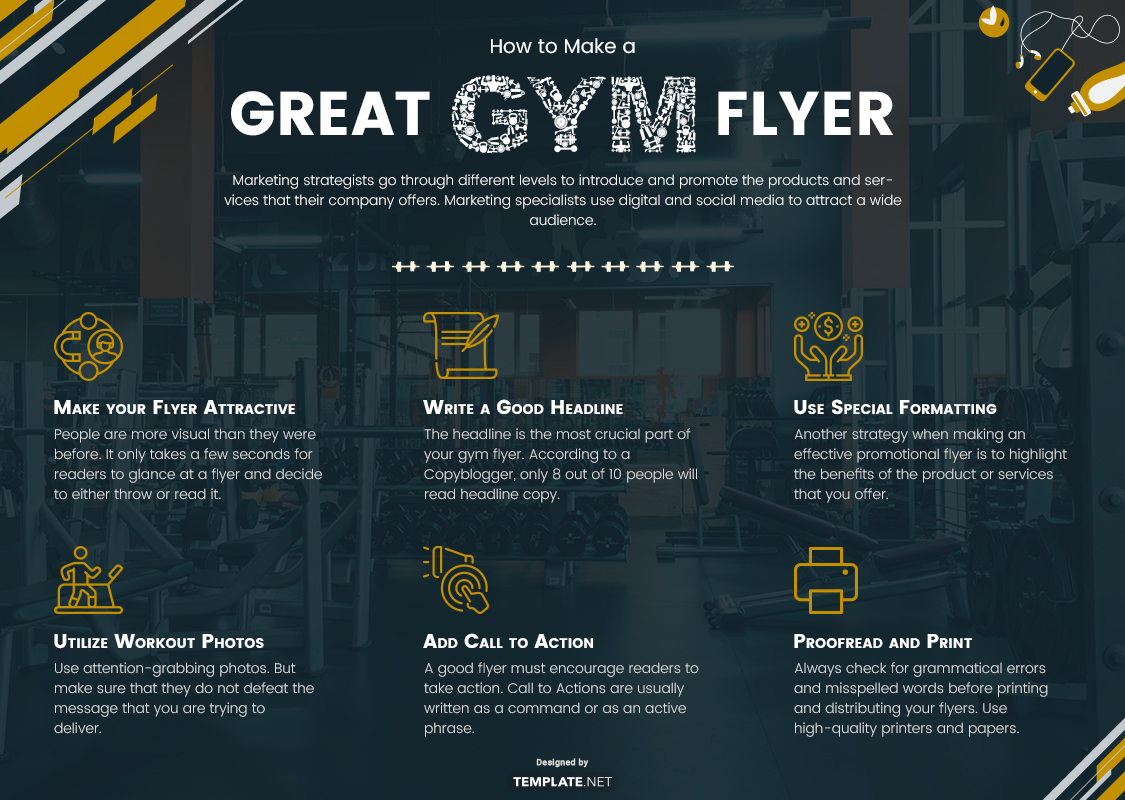 Marketing strategists go through different levels to introduce and promote the products and services that their company offers. Marketing specialists use digital and social media to attract a wide audience. However, if you want to focus on specific business locations such as gyms, fitness centers, wellness clinics, and promoting them, then you can distribute flyers. Here are a few guidelines that you can use to make an effective gym flyer.
1. Make your Flyer Attractive
People are more visual than they were before. It only takes a few seconds for readers to glance at a flyer and decide to either throw or read it. And one way to make your fitness flyer effective is to make it eye-catching and engaging at first glance.
You can utilize bright colors with simple yet attractive flyer designs to conquer stereotyping. The main goal of your simple flyer is to draw the reader to your message. Go directly to the point by delivering clear and concise statements and by avoiding descriptive texts.
2. Write a Good Headline
The headline is the most crucial part of your gym flyer. According to a Copyblogger, only 8 out of 10 people will read headline copy, but only 2 out of 10 people continue to read the rest. If you want to be successful in any marketing strategy that you chose, you need to put a strong headline that will grab the readers' attention and interest. A good headline tells the reader that the message of the flyer is for them. It also encourages the reader to read the entire content.
3. Use Special Formatting for Emphasis
Another strategy when making an effective promotional flyer is to highlight the benefits of the product or services that you offer. Most people are skeptical when it comes to gym workouts or memberships because there are a lot of ways to maintain their health and fitness. Do not dwell too much on features because you will have practical readers who prefer benefits. Use special formattings such as bullet points in highlighting the benefits of your product or services. Doing so allows better readability for your audience.
4. Utilize Engaging Workout Photos
You must determine your target market first before putting a photo in your creative flyer. For example, if you are targeting men or women in their forties, then you must choose a picture that corresponds to the age of your prospect clients. Use attention-grabbing photos. But make sure that they do not defeat the message that you are trying to deliver.
5. Add Call to Action
A good flyer must encourage readers to take action. Call to Actions are usually written as a command or as an active phrase such as "What are you waiting for?" or "Enroll now!". They are subject to change when you are using different platforms in your promotion or advertisement.
6. Proofread and Print
The final touches in making a flyer are as important as planning its entire content. You should be keen on your content if you don't want your sample flyers to be judged based on your mistakes. Always check for grammatical errors and misspelled words before printing and distributing your flyers. Use high-quality printers and papers.
Read More
Earn 20% commission on every sale from your Share
Bloggers: Publish/Mention Template.net products on your website, blog, Social Media or Via Email & Earn affiliate commission of 20% for every sale