Are you stuck in a situation where you want to share valuable information and knowledge, but doesn't know where to start? Well, why don't you start off by making an invitation for your own business or educational seminar. Everything is possible with our high-quality seminar invitation templates. With these templates you can save up time because of the 100% customizable and fully editable features. Pick out the best and quickly download through the compatible file formats Illustrator, Publisher, Photoshop, MS Word, and Pages. Start making your invitation and start sharing your information.
What is an Invitation?
An invitation is a written or a verbal request from a person who entices someone to do a certain task or to attend an event or gathering. Written invitations are usually written in cards, but with the advancement of technology, invitations can now be sent digitally through email and social media.
How to Create a Modern Seminar Invitation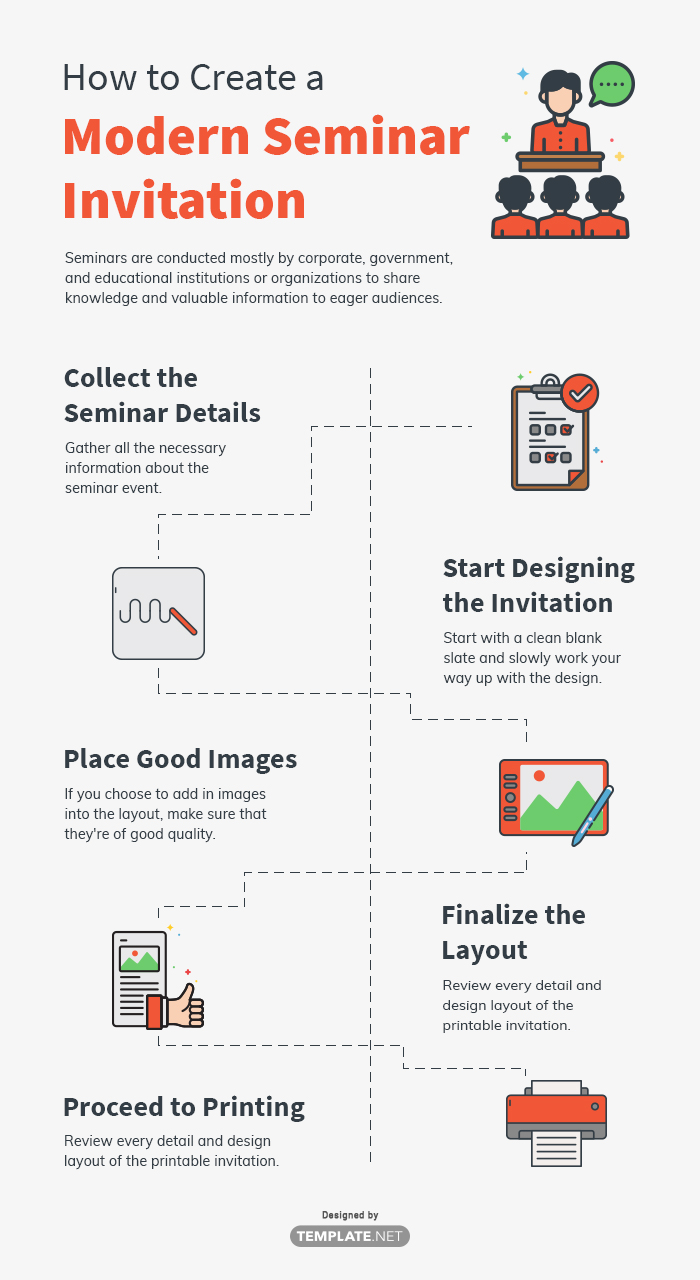 Seminars are conducted mostly by corporate, government, and educational institutions or organizations to share knowledge and valuable information to eager audiences. Business seminars usually tackle about the ways and means on how to conduct or improve business activities. Educational seminars cover topics about science, technology, languages, and more. Whenever certain sectors and organizations of the society conduct seminars, careful preparation and planning must be laid out first to execute everything accordingly.
One of the first tasks in organizing a seminar event is creating and designing an enticing seminar invitation. The simple invitation must be professionally written and designed to establish credibility and trust. The invitation will serve as the deciding factor of the guests, whether they will accept the invite or decline it. If your goal is to make your own seminar invitation design, read through the items below and study them carefully.
1. Collect the Seminar Details
Gather all the necessary information about the seminar event. As the designer, you should start familiarizing the seminar's theme and purpose allowing you to pick out the most suitable design elements. Then, list the seminar specifics like when and where the event would take place. It's also good that you indicate in the creative invitation rules about the dress code, corresponding fees, and even the parking mechanics. In a formal event like a seminar, every detail is important.
2. Start Designing the Invitation
Start with a clean blank slate and slowly work your way up with the design. Seminar invitations are mostly designed in a straightforward manner. Since it's a formal event, the color scheme should be modern invitation and professional looking. Make use of colors that aren't so bright and glaring. Add in neat backgrounds and borders to arrive at an attractive result. Moreover, choose the most fitting font for the content details. Lastly, the size of the card and the envelope must coincide and match perfectly with the theme and nature of the event.
3. Place Good Images
If you choose to add in images into the layout, make sure that they're of good quality. The images must be pleasing so that it coincides with your beautiful design. You may hire professional photographers to capture these images. But, you can still do it on your own, just use a good camera and angle the subject perfectly.
4. Finalize the Layout
Review every detail and design layout of the printable invitation. It's also better if you seek suggestions and points for improvement from other people so that you'll know the lacking elements. Finalize everything and get the approval of key people so that you can proceed to the next task.
5. Proceed to Printing
Complete the overall task by printing out the seminar invitation card design. Upon printing, use high-quality paper stocks to arrive at pleasing results. After you have printed out everything, it's time to send the sample invitations and disseminate the information.
Read More
Earn 20% commission on every sale from your Share
Bloggers: Publish/Mention Template.net products on your website, blog, Social Media or Via Email & Earn affiliate commission of 20% for every sale