Email
27+ Best Responsive Email Templates
Online marketing has always intrigued us, regardless of the rates and the mode of initiation. As the desktops and PCs were invaded the focus is readily shifting towards the smaller screens and this justifies the inclusion of the responsive email templates which are compatible with the mobile devices. The modern trends focus on the mobile marketing strategy as we do open and view most of our emails on the mobiles and tablets. These top class templates thus deal with all the aspects of mobile marketing as they use codes which keep the essence intact and only change the viewing experience. You may also see Best Outlook Email Templates.
Compose Responsive Email Template

Use this Compose Responsive Email Template to easily create a responsive email for your individual or commercial promotional purpose. Change its colors, customize its fonts, modify its header and footer and do a lot more with just a few clicks of the mouse. Use this ready-made template to create an email easily and quickly.
Responsive Email Template
Cite Magazine Responsive Email Template

This one is a responsive email template with a cool style. It is a professional yet simple email template suitable for different kinds of businesses, like corporate business, agency, retail, artist, freelancer, blog, magazine etc. If you want a clean yet gorgeous solution to your email marketing needs, this template is the right choice for you.
MetroMail Responsive Email Template

MetroMail is a responsive email template suitable for multi-purpose email marketing use. It comes with a flexible module that you can use to create your own customized layout. It is mobile friendly, and compatible with almost all major email clients. Packed with a bunch of tools and features, you can easily use it to build a tailor-made email.
Chendam Responsive Email Templates

Chendam is an email template that works equally well on different email clients. It opens well on any kind of screen size too, including desktop computer, laptop, tablet and smartphone. Make your email marketing campaign noticeable with this template's colorful and good design. It will work wonders for your marketing strategy.
Elena Responsive Email Template

Elena is a modern and responsive email template with extremely useful and powerful features. Listed among some of the most awesome and elegant email templates, it is structured with fascinating yet incomparable tools and features. Clean design, supreme layout and user-friendly interface make this email template a perfect fit for your marketing strategy.
Compose Responsive Email Template
Responsive Email Suite

Multi-purpose, responsive email suite is a clean, professional and appealing email template that you can efficiently use to serve a variety of purposes, like blogging, e-commerce, gallery, corporate, portfolio and more. This elegant email template is mobile friendly, and is 100% customizable as per your requirements and preferences.
Quinn Responsive Email Template

Quinn is a responsible email template that is clean and professional on the looks, and highly advanced on the technology. Businesses can effectively use it to serve multiple jobs like blogging, portfolio, ecommerce etc. Being responsive, it opens perfectly well on different mobile devices and screen sizes.
Photography Responsive Email Template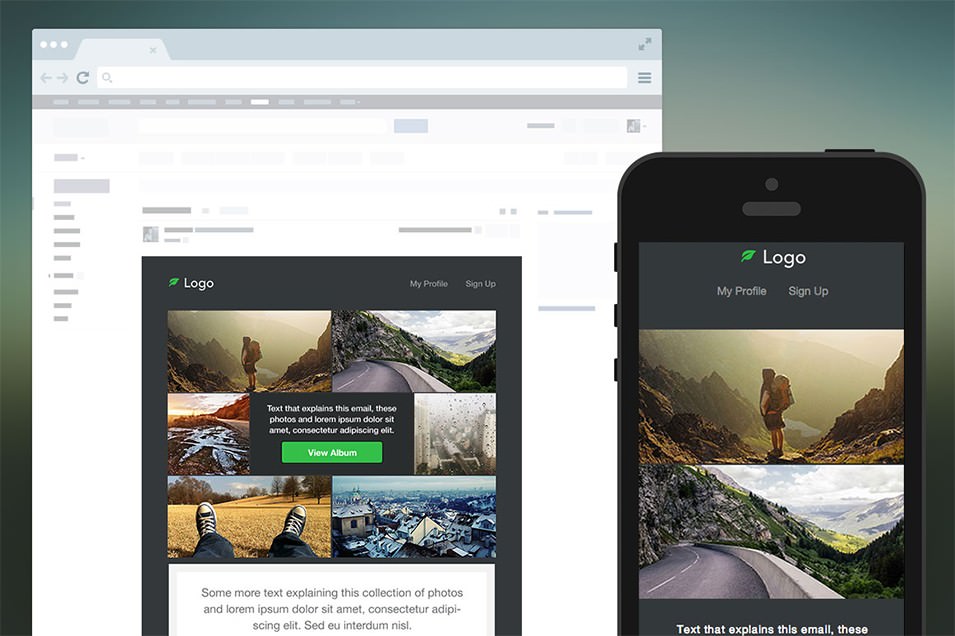 This is an email template specifically built for businesses, freelancers, enterprises and companies related to photography and art. It is a clean and beautiful solution to all your email marketing needs. With so many tools at your disposal, you can choose the design that best suits your company and your marketing needs.
Responsive Email Template With Builder

This one is a responsive and multi-purpose email template with builder. You can easily use this template to edit, customize, change images and text, duplicate and export your marketing content via this template. As it is mobile friendly, you and your users can easily access it on mobile devices while on the go.
Blogger Responsive Email Template
Curtin Uni Responsive Email Campaigns
Responsive Email Template for App Promo
Design Shop Responsive Email
Responsive Email Template
Metro Flat Responsive Email Template
Newsletter Responsive Email Template
Casa Responsive Email Template
Pixlr Responsive Email Template
Welkom Responsive Email Template
Mailo Responsive Email Template
Resalto – Responsive Email
FancyMail Responsive Email Template
Flat Responsive Email Template
Responsive Email with Template Editor

This one is a module based email template with template editor. With so many color variations and design elements, you can create a marketing email that best suits your product or service. The best thing is that it is mobile friendly, due to which it can be accessed from a variety of devices.
Campaigner Responsive Email Template

Campaigner is a beautiful looking template that you can use to create a professional looking email for your marketing needs. Its beautiful design is sure to attract your customers' attention and stimulate their curiosity. Being mobile friendly, it opens equally beautifully on a variety of screen sizes.
Optimization is initiated well in advance and regardless of the browser the recipient is using to view the mails in. Most of these premium templates can be industry specific and include standard menu layouts for the professionals to make use of. Promo style emails and MailChimp supporter make the backbone of these gorgeous and resourceful templates besides the availability of free color variations. You may also see Email Marketing Templates. One can include these multipurpose templates for general and commercial use as sliced PSD elements and individual page layouts constitute the best available feature set. Include these strategic email templates for lending a professional look to the entire marketing campaign.