Email
19+ Christmas Newsletter Templates – Free Sample, Example, Format Download!
Christmas newsletter is a favorite for every store that is looking forward to the holiday season to spread the word about the deals and promotions it gives exclusively during the season. These newsletters are sent to customers to attract huge sales in the festive season. Apart from stores, many newsletter templates are available on the internet that can also be used by you to design Christmas newsletters to be sent to your close family and friends as a part of the holiday greetings.
Christmas Newsletter Template
Want to send out your regular newsletter but want to make it special for the holiday season? Then you'll love this Christmas newsletter template! It allows any user to create a newsletter with designs, graphics, and images that are Christmas-inspired, along with some Christmas messages meant for your avid readers. This is highly easy to customize, even beginner users can do so with ease. Just use any of the file formats this is compatible with and you are ready to have this printed or shared through electronic means. You can also download the template with ease on any electronic device as it is not just limited to the computer. Check it out now!
Christmas Sale Newsletter Template
When you make use of this Christmas sale newsletter template, you get your hands on a product that allows you to send a newsletter to your company's subscribers detailing the generous sales and promos you are having in-store and/or at your website. This comes with suggestive content, images, graphics, and designs that are Christmas-inspired and can be easily edited to make it fit your own needs. Let everyone know about the deals you are having by downloading this template now!
Free Retro Christmas Email Newsletter Template
The sample newsletter templates in Word are the best ones. They are designed in different colors, to show the merry of the festival. It also depicts with its graphics the onset of the festivities and celebrations of Christmas. But, unlike Santa, your store's sale for the holiday season needs to be announced. What better way to do that than by sending out Christmas offer email newsletters? Check it out now!
Christmas Offer Email Newsletter Template
If you want to incorporate an old-school vibe to your Christmas greetings this year, this retro Christmas email newsletter is the perfect choice for you. It uses standard Google fonts along with its customizable layout, making it perfect for either personal or commercial needs. All you would have to do is download the template, edit and customize it as per your needs and requirements. Save a lot of time and effort as you do not have to make a newsletter from scratch. Make Christmas extra special this year with the help of this template. Download this template now and make the needed email newsletter you wish!
Free Creative Christmas Email Newsletter Template
Christmas Newsletter Template
Free Restaurant Christmas Newsletter Template
Free Modern Christmas Email Newsletter Template
Free Vintage Christmas Email Newsletter Template
Free Christmas Sale Email Newsletter Template
Free Christmas Promotion Newsletter Template
Free Simple Christmas Email Newsletter Template
Sample Apartment Christmas Newsletter Template

helloresident.com
Sample apartment Christmas newsletter template comes with proper instructions along with examples that will help you create your own community newsletter for informing all the members about Christmas planning, events, and gathering. Check the Christmas sale newsletter template for more designed on how you can make the right sale needed for the promotion of your festive season in your store.
Business Christmas Newsletter Example

gh-a.com
Business Christmas newsletter example has a very neat and yet catchy look with a funny snowman picture, header design with small white Christmas trees in red background. You can use it for notifying employees of your establishment during the season.
Free Church Christmas Newsletter Template

earshambenefice.org.uk
Free church Christmas newsletter template can be easily used by any church with little edition and customizations of the pre-included example content to invite everyone to the church and also mention important dates and events.
Daycare Christmas Newsletter Download for Free

salvos.org.au
Daycare Christmas newsletter template is designed with ultimate care to woo the viewers with the amazing snowfall background and other graphics. The example content can be easily edited according to your preference.
Sample Employee Christmas Newsletter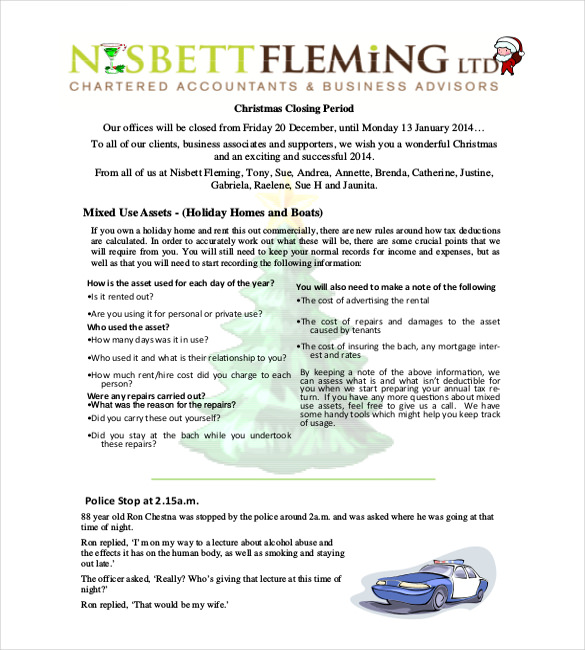 nisbettfleming.co.nz
The employee Christmas newsletter that is mentioned above will give you useful ideas for informing your employees about the closing period of Christmas, the holiday offers, etc. This elegant design suits the merry mood of the December season of Christmas. This template can also be downloaded with ease on any electronic device. Check it out now!
Family Christmas Newsletter Template

stjohnswoodbridge.org.uk
This above-mentioned newsletter template has a very basic, neat and simple format that has a different style, especially its presentation with blue headings. Download now to include contents from the bible for the whole family to read it during the festive season.
Free kindergarten Christmas Newsletter Download

spev.ca
Printable Real Estate Christmas Newsletter Template

remaxstjohnrealestate.com
The printable real estate Christmas newsletter template is designed with sample contents and graphics to wish employees of a particular real estate company for the festive season and also encouraging them to work harder for the coming year. Download now!
Sample Christmas Newsletter Template Free Download

worddraw.com
Wrapping Up:
There are many sample Christmas newsletter templates that can be of great help to you in making catch designs with graphics. They describe the mood of the festival perfectly. You can customize this easy to add your content in the spaces provided with descriptive pre-included examples. Take a look at modern newsletter templates that are available online for more. You can also use any of the templates that are mentioned in the article for ease.
Sample email newsletter templates that are available online can be of great help to you as they can be shared digitally on many social media platforms like Instagram, Email, Facebook, Messenger, etc. with ease. All you would have to do is download the template, edit and modify as per your needs. Add the details you need to add and you are good to go.
If you have any DMCA issues on this post, please contact us!