Christmas newsletters are a favorite of every store looking to spread the word about the exclusive holiday deals and promotional offers. These newsletters are sent to customers to attract massive sales in the holiday season. Apart from the store, there are email newsletter templates that also allow you to create Christmas newsletters to be sent to family & friends as part of holiday greetings. The newsletter templates Word are usually gorgeous ones, designed in vibrant red, green or the pristine white & blue -to depict the merry mood, the Christmas tree & the chill weather that sets the onset of the festivity & celebrations.
Sample Apartment Christmas Newsletter Template
helloresident.com | Sample apartment Christmas newsletter template comes with proper instructions along with examples that will help you create your own community newsletter for informing all the members about Christmas planning, events and gathering.
Business Christmas Newsletter Example
gh-a.com | Business Christmas newsletter example has a very neat and yet catchy look with funny snowman picture, header design with small white Christmas trees in red background. You can use it for notifying employees of your establishment during the season.
Free Church Christmas Newsletter Template
earshambenefice.org.uk | Free church Christmas newsletter template can be easily used by any church with little edition and customizations of the pre-included example content to invite everyone to the church and also mention important dates and events.
Daycare Christmas Newsletter Download for Free
salvos.org.au | Daycare Christmas newsletter template is designed with ultimate care to woo the viewers with the amazing snowfall background and other graphics. The example content can be easily edited according to your preference.
Sample Employee Christmas Newsletter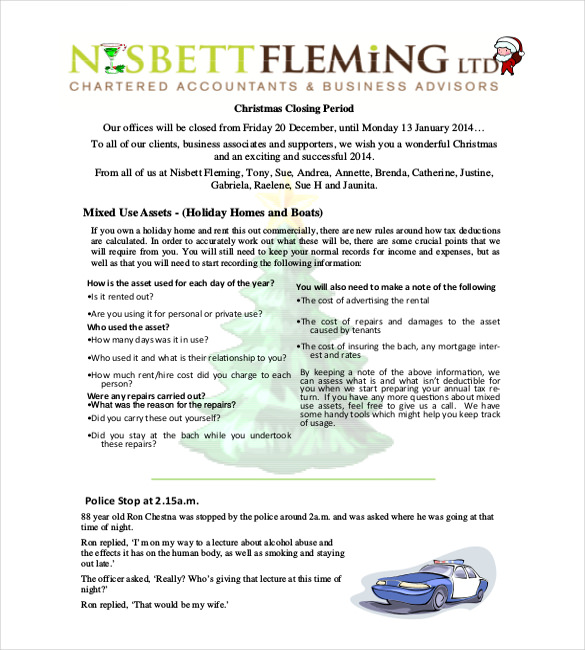 nisbettfleming.co.nz | Sample Employee Christmas Newsletter template will give you useful ideas for notifying the employees about Christmas closing period, holiday offers and much more in a very elegant design that suits the merry mood of the season.
Family Christmas Newsletter Template
stjohnswoodbridge.org.uk | Family Christmas newsletter template has a very basic, neat and simple format that has paragraph style presentation with blue headings. Download now to include contents from the bible for the whole family to read it during the festive season.
Free kindergarten Christmas Newsletter Download
spev.ca | Free kindergarten Christmas newsletter template comes with adorable graphics and sample content that recaps the activities of kids during particular month of the session to end the year on the notes of sweet memories.
Printable Real Estate Christmas Newsletter Template
remaxstjohnrealestate.com | Printable real estate Christmas newsletter template is designed with sample contents and graphics to wish employees of particular real estate company for the festive season and also encouraging them to work harder for the coming year. Download now!
Sample Christmas Newsletter Template Free Download
worddraw.com | Sample Christmas newsletter template free has an amazingly catchy design with graphics and red, green blocks to describe the mood of the festival. You can customize this easily to add your own content in the spaces provided with descriptive pre-included examples.
If you have any DMCA issues on this post, please contact us!