Email
32+ Gmail Signature Templates – Samples, Examples & Format!
Irrespective of the nature of your work, adding a professional or a personal touch to your emails sometimes goes a long way in establishing relationships with your existing or potential clients. At this digital age of marketing and advertising, the importance of good representation can hardly be underplayed. Allow us to help you out by going through our best collection of email signature templates.
Email Signature for Marketing Template
Formal Email Signature Template
Creative Email Signature Template
Gmail Email Signature Template
Download this really smart and professional email signature that can be used for your Gmail in order to promote your services. Using HTML and Photoshop, you can edit the contents of this email signature such as your name, profession, address and contact details in a way that suits your business requirements. You can also add your social media links so it's easier for people to reach out to you on other platforms.
Education Email Signature
Display your professionalism by using this educational email signature that allows you to enter your educational profession details in a classy and sophisticated manner. You can add your image that will be displayed in a circular frame and apart from that details such as your name, address, profession title, institution logo, and social media can also be edited conveniently.
Gmail Signature Templates
If you are holding a position in the field of business, you need to have a proper Gmail signature. You can create your name using a signature generator. A signature generator will allow you to enter your name, profession, and the company. The generator will automatically design your email signature according to your needs. Generally, these generators have different signature designs to choose from. You can select the ones you like and create your email signature. You can include your contact number, address, and website of your business. Try to make the content as minimal as possible. This will make it look sharp and professional.
Simple Real Estate Email Signature
Are you in the real estate business? Well then here's really cool and simple Gmail email signature template for you. Download and enter your name, designation, email, weblink, contact and address details. Towards the right side of the signature, you can also insert your slogan. Finally, add your best picture and you now have a professional email signature is ready!
How Can One Create a Gmail Signature or Google Mail Signature?
Our email signature collections cater to a wide range of needs ranging from strictly formal business email signatures to personal email signatures. This wide range of different PSD email signatures will have something that suits your needs. That apart, all of these sample templates come in vibrant and appealing backgrounds which help make your information eye-catching and candid. As pictures and templates speak a thousand words, irrespective of the type of your job, your choice in selecting a template can go a long way in building a good professional relationship in business front with your clients. This is an era of marketing and advertising and therefore if the marketing skills are good then better it is for your business. Based on this context, we present to you our collection of Gmail signature templates that can help you maximize your business. You may also Email signature generators.
Printable Dental Care Email Signature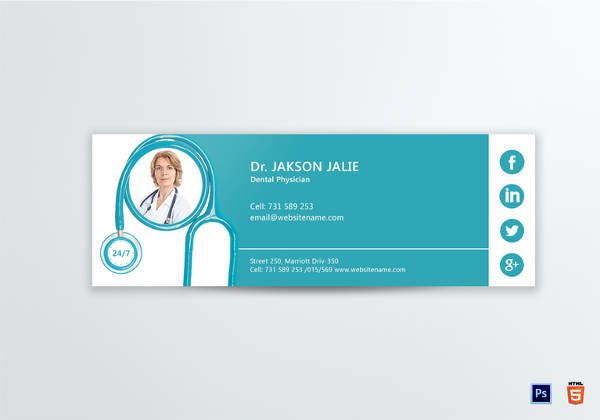 Do you often stay in touch with your dental patients or clients via emails? Then you must check out this amazing and creative printable dental care email signature that is designed in a beautiful turquoise color. It has a stethoscope shaped frame in which you can add your image. Enter basic information related to your profession along with your social media links and you're good to go!
CEO Email Signature in PSD
Designing a CEO email signature is no more a tricky thing to do, thanks to the above-shown email signature template that can be customized and edited in PSD. It looks simple and minimal allowing the reader to focus on the highlighted information. Just add your best picture along with your essential details and you're all set.
Sample Business Manager Email Signature
Enjoy this smart business manager email signature that you can use to promote and enhance your relationship with existing as well as potential clients. You can enter a gist about the company you're working for along with your image, address, and social media links.
Easy to Edit Developers Email Signature
Take a look at this stunning developer email signature template that is bound to leave everyone impressed. Use it to display your name, profession, company name, and contact details. You can easily edit and customize this email signature via HTML and Photoshop. Place your picture towards the right side of the signature and social media links towards the left.
Standard Email Signature Template
Use this simple and versatile email signature template for your emails. Anyone belonging to any profession can make use of this template by simply editing details such as their name, designation and company name. It is uniquely designed to adjust all of your information appropriately.
Professional Footballer Email Signature Template
Are you a footballer who likes to connect and respond to clients via email? Then this professional footballer email signature is for you. Download it now to come up with a simple yet impressive email signature that shows your basic details in a suitable fashion.
Modern Email Signature Template
Looking for a conveniently designed email signature? Check out this modern email signature template that will help you display your information in a unique and simplistic manner. It can be instantly downloaded and customized with your own details.
The Significance of the Gmail Signature Templates
These templates, when used for business purposes, take business relations to the next levels. We have a wide collection of email signature templates that are not just restricted to business purposes but also for personal purposes.
How to Create the Google-Mail Signatures?
By using a wide range of the different PSD signatures you can have something that fits your needs, requirements. The sample templates are available in an attractive, appealing background. And that makes the information candid and eye-catching.
200 Gmail Email Signature PSD Download

This 200 Gmail Email Signature PSD is available for instant and easy download. The signatures are available in the PSD format and this fits the user's requirements. In this, the user can store more than one style of Gmail signatures, for use, using this template.
Gmail Signature for Businessman

From the list of different types of Gmail email signature available, this Gmail-Signature for Businessman is meant for those individuals who have businesses. It helps business persons to communicate using customizable templates.
Lumber Jack Email Signature Template Download

In this template, there is given the first name, last name, together with email, mobile phone, phone numbers, and the business web page as links. This template is used by professionals in the logging industry, the lumberjacks, as signature templates.
Business Gmail Email Signature Template Download

The Business Gmail Email Signature Template is meant for the individuals who are entrepreneurs, business persons, graphic designers, designers. Attractive, customizable, templates are available on the web, which the buyers can download and use whenever they like.
Understated Email Gmail Signature Template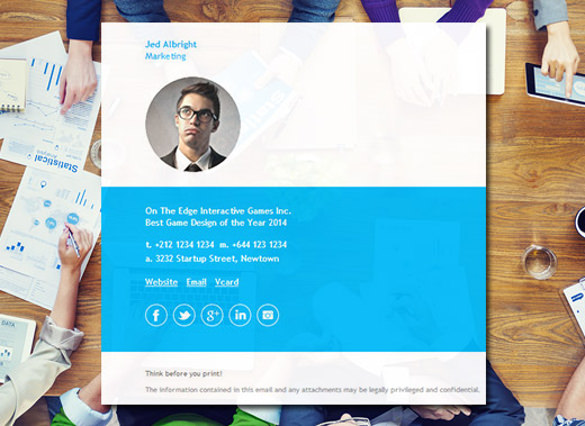 The Understated Email Gmail signature template can be used by professionals like those that specialize in marketing. The template can be downloaded and used. Some users can choose to customize the design if they prefer to do so.
Creative Email Signatures
Professional Email Signature Template Download

There is the professional email signature template that is meant only for the professionals. These templates are customizable and they can be made attractive by providing links to the different social networking websites of the user.
Abstract Green Gmail Signature Template Download

Upon downloading this Abstract Green Gmail Signature Template, you see in the format, places where you can place the first and last names, email, mobile, phone, web page link, company, and its address.
Company Sig Gmail Signature Template

The Company Sig Gmail Signature Template is an attractive signature-template used for communicating for business purposes. It offers email users a good way to impress other clients. The template is fully customizable.
Corporate Navy Blue Gmail Email Signature Template Download

This template is used in corporate houses. The template has an impressive corporate look. The users can place their photos, first and last name, title, email address, mobile phone number, and any business web links they use, the office address.
Free Email Signature Template

If you use Gmail a lot and don't have your own signature as yet, download and use this custom tags Gmail email signature template that will allow you to create a simple yet impactful email signature for all your communications.
Gmail Email Signature Example

Most working professionals make extended use of LinkedIn, so there's no reason why you shouldn't use this Gmail LinkedIn email signature template that allows you to create a LinkedIn-themed email signature.
Gmail EMail Signature Format

Use this email signature design format template that allows you to create highly-personalized and detailed email signatures for yourself. Include every detail right from your full name to your postal address.
Gmail Signature for Game Architect

Many game architects prefer using templates that highlight their profession. The Gmail signature for game Architects is attractive, the architects can not only mention their email address, website, and office address, they also provide useful links to the social networking websites.
HTML Gmail Signature Template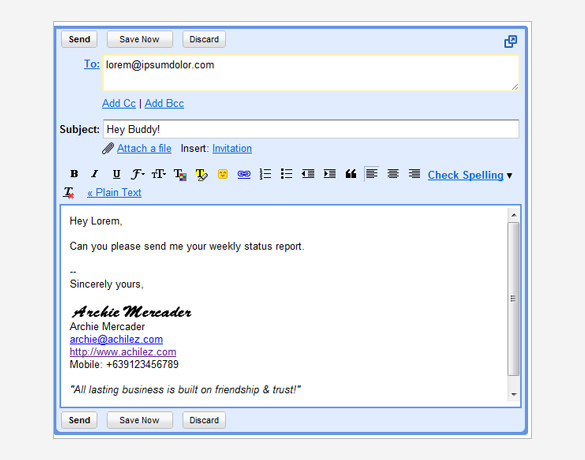 This above shown HTML Gmail signature template has a complete design interface. As the name suggests, the formatting is in HTML. The Gmail user uses this template when they want to add a signature to Gmail. In this context, it is important to say that there is a Gmail signature creator, but adding a signature to Gmail can also be done manually.
Sample Gmail Email Signature Template

Make use of this sample Gmail email signature template that lets you create professional-grade email signatures that emphasize only the most essential information including your company, designation and contact details.
Email Signature Design Template

The Email signature design template is for professionals, where they can provide information like their name, company name, mobile phone number, office address. The user can link the template with social networking websites.
Gmail LinkedIn Email Signatures

In order to use such email signatures in Gmail, the users can create a number of HTML based email signatures, which contains website address, contact information, the user's image as well as the company logo.
The Uses of the Email-Signature
The mail signature format entirely depends on you. So design it in an attractive and careful manner so as to make it beneficial for your business. The usefulness of an email signature is many. Some of them are enlisted as follows:-
A well-chosen signature template allows you to communicate in a sounder way for business purposes.
If the email-signature is created correctly, then it conveys professionalism via emails in an efficient way.
The goal of the email-signature is to promote a business, website, blog, or any social cause.
The email-signature also behaves as a social networking tool which is quite similar to that of a business card.
There are many Gmail signature samples available online. There are websites, which sell the templates in context to potential buyers. Investing in the best signature for Gmail requires the customers to analyze their needs, requirements and then make the purchases on the basis of that. If you are on a lookout for signature in Gmail examples, browse online and review relevant websites where examples are provided. Sometimes, Gmail electronic signature is helpful for business reasons as well as security reasons. It is because of which business persons, as well as certain private individuals, prefer maintaining an electronic signature for professional reasons.
You may also see HTML email signatures Creating personal Gmail-signature is easy. If you want to create it with the Gmail account then you do not require the aid of Gmail signature creator, instead of doing it manually from your Gmail account, it's simple. If you choose to use templates for this purpose then you can download the same, place them in Google drive, and use their links.