If your personal business is your only source of income, then branding becomes a high priority. So is the case with real estate business as well where the email signature has to be turned into a lead generating machines. Want to create a successful email signature for your real estate business?! Read ahead to understand the best practices of creating these documents, and check out some swashbuckling templates for inspiration.
5 Steps to Create Real Estate Email Signatures Templates
Step 1: Creating a Clean and Simple Layout
Your selection of template will decide whether your email signature will be a professional-visual delight or not. Remember to use mobile friendly images, graphics and logos for your real estate email signatures as almost 70% of emails are opened on mobile devices.
Step 2: Using Professional Title and Photo
Well, we shouldn't be telling you this but do not forget to mention your professional title beside your name which will specify your niche and specialty. You may have a plethora of photos from your Instagram profile but for the email-signature use a formal photo.
Step 3: Including Social Media Icons
75% of the buyers and sellers look for real estate agents online. Include your social media icons and links to provide a trusted presence to your customers. Use the references, ratings, and reviews on your social media profiles to make you look genuinely professional.
Step 4: Providing 3 Contact Mediums
Have a mobile number, a home number and an email address on your real estate email signature. Have no more than 3 methods of contact to avoid confusion. The numbers and email address should be in a click to dial/email format keeping the majority of mobile phone users in mind.
Step 5: Adding a Banner and a Logo
Adding a logo to your email signature is a great way to set your real estate business apart from all your competitors. Including a banner in the email, the signature can be used for promoting your brand, declaring new offers, discounts and the recent real estate you've sold.
10+ Real Estate Email Signature Templates
1. Real Estate Consultant Email Signature Template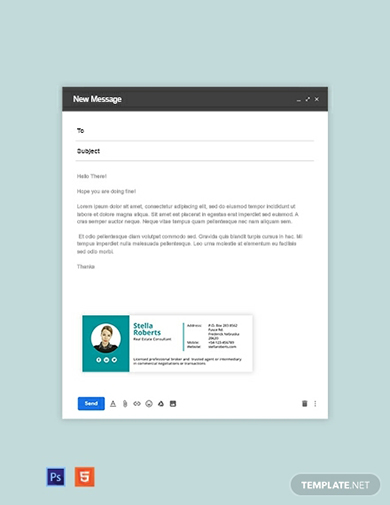 A subtle but stylish real estate consultant email signature template for your real estate business in RGB 72 DPI resolution that imparts class and professional look to your email. The wide compatibility, multiple formats and multiple colors of this email signature template are the key factors that are suitable for real estate consultants. Expect this template to add a sense of professionalism to all your digital communications.
2. Real Estate Broker Email Signature Template
Multi-layered, customizable and editable real estate broker email signature template that is perfect for use by a professional broker. The well organized and fully editable layout that includes high-quality images on a mild white background. Compatible with all the major email service providers like Google, MailChimp, Yahoo, and Outlook.
3. Standard Real Estate Email Signature Template
As a busy real estate agent allow this email signature template to save your precious time by its simple and easy editable features like images, graphics, fonts, style & text. Create an impact with the royalty-free and high definition graphics. Never be boring with this fuss-free and alluring email signature template.
4. Minimal Real Estate Email Signature Template
The ease of editing, flexible layouts, vector images, multiple fonts, and high-resolution graphics makes this real estate email signature template a must for your real estate company. Insert captions, logos, and taglines of your company to create a lasting impact and brand your company in a subtly professional way.
5. Professional Realtor Email Signature Template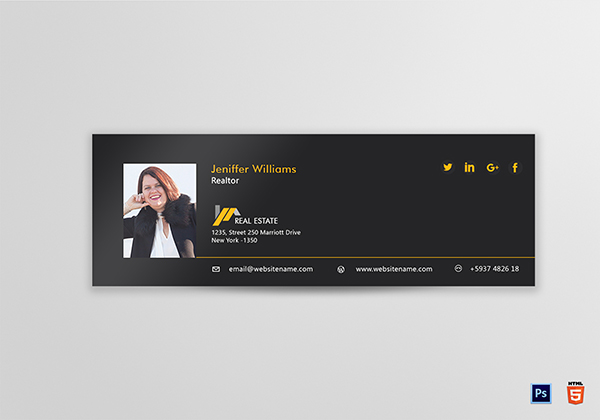 The realtor real estate email signature template that has an elegant look with a contrasting black background and layered content. Use the free standard fonts, logos, and images to create an amazing email signature for your real estate business. Supported by software like Adobe's Illustrator and Photoshop CS5 & above.
6. Modern Real Estate Email Signature Template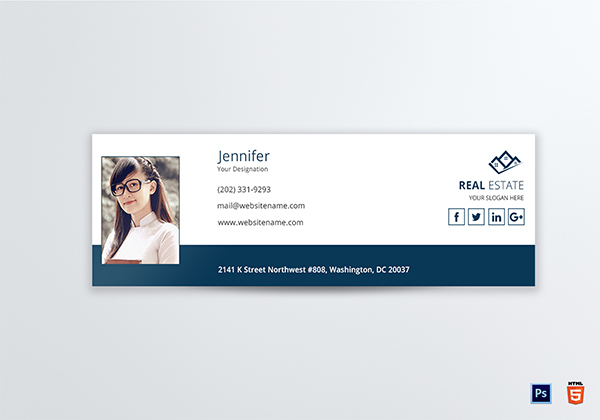 Powered by an outlined house logo, 3 essential contact methods, pleasant white background, social media icons and a slogan, this email signature template is a must. The free fonts, styles and layered vector images make editing this template a cake-walk. Supported by both mobile devices and computers.
8. General Real Estate Email Signature Template
Download
Choose from a variety of company logos, taglines, and pictures to form the ideal real estate broker email signature for your real estate company. The smart art and high-resolution graphics add to the overall appeal of this template. The clean and professional look of the horizontal email signature accommodates all the important information.
9. General Real Estate Email Signature Template
Download
An all-in-one package of templates for an email signature, social media signatures, company signatures, and digital stamps. For new prospecting real estate businesses that want to widen their reachability in the market. An elegant and neat looking template for the ideal real estate email signature and beyond.
9. Simple Real Estate Email Signature Template
Download
Customize the look of your real estate agent email signature with the easy to edit the layout of this template. Alet with Photoshop or Illustrator by resizing the vector images, inserting logos and taglines of your company. Highly recommended for professional real estate agents, brokers, dealers, and companies.
10. New Real Estate Email Signature Template
Download
A mammoth pack of 138 different real estate email signature templates with 23 variations in styles, fonts, layouts, vector images, and icons. This template gives you an option of using a different styled email signature for every purpose all around the year by choosing a different color and fonts on a variety of background.
11. Basic Real Estate Email Signature Template
Download
A simple but attractively designed email signature template that can be edited by you easily without any guidance. The free pdf manual will make the editing and customization an easy task. Insert the necessary details, company logos & taglines and you have yourself an unbeatable real estate email signature that looks elegant.