Christmas is the time when markets are abuzz with action; marketers can give a massive push to their businesses by riding on the joy wave that Christmas brings with itself. Marketing your websites and attracting some eyeballs in the Christmas seasons is made manageable with Christmas Templates, email and newsletter templates.
Christmas Party Newsletter Template
Christmas Tutorial Email Newsletter Template
Restaurant Delight Christmas Newsletter Template
Comprehensive Christmas Email Newsletter Template
Merry Christmas Email Newsletter Template
Christmas Holiday Special Newsletter Template
Festive Spirit Christmas Newsletter Template
Colorful Christmas Newsletter Template Download
Elegant Christmas Email Newsletter Template
Christmas Gift Sale Email Newsletter
Christmas Special Email Newsletter Template
Christmas Discounts Newsletter Template
Adorable Christmas Email Newsletter Template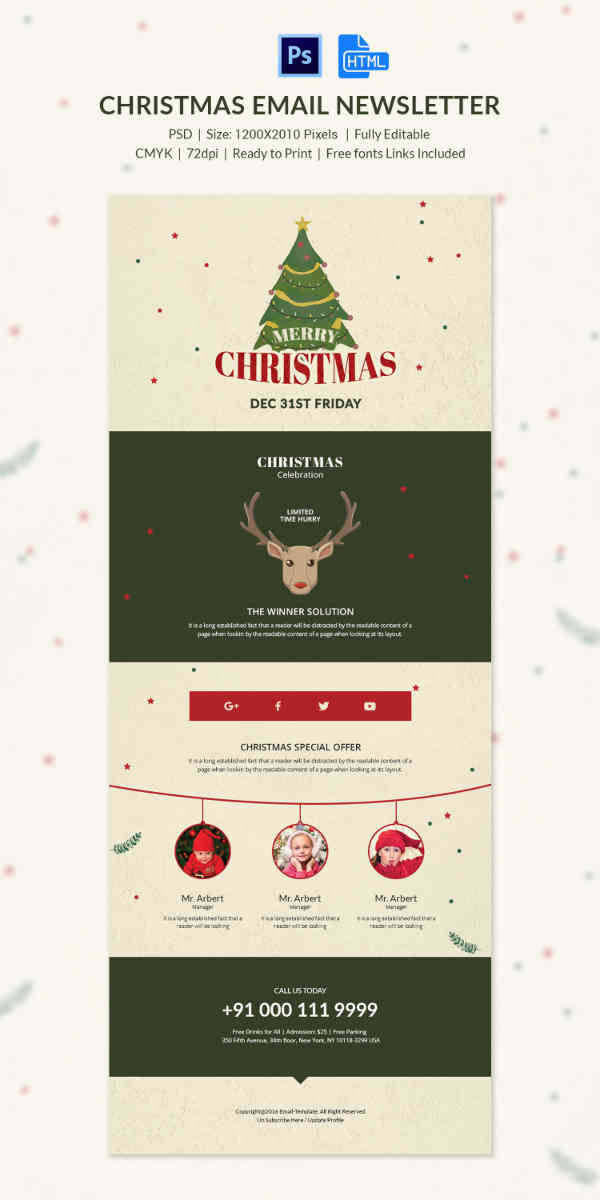 Modern Christmas Email Newsletter
Special Christmas Party Newsletter Template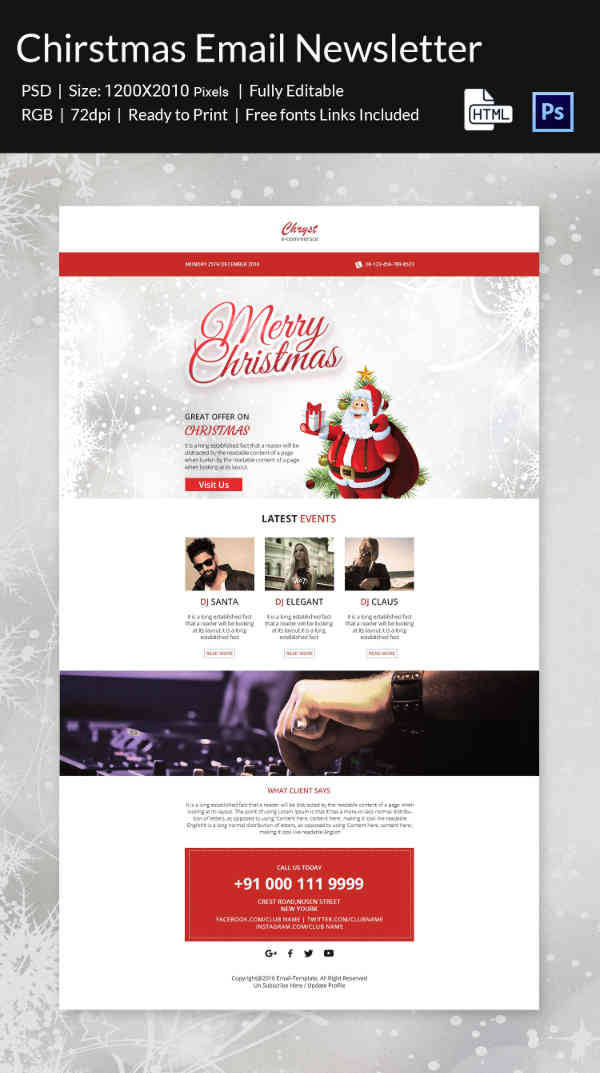 Christmas Email Newsletter Template Free Download
Simple Christmas Email Newsletter Template
2 Christmas Email Newsletter Photoshop PSD Design-$4
This 2 Christmas email newsletter Photoshop gives you two different templates you can use as a newsletter to promote your business this festive season to clients at very affordable rate.
Christmas Shopping Offers e-Commerce Newsletter PSD Format-$6
If you want to promote your business online, Christmas shopping offers e-commerce newsletter will come of great use to you. It's vibrant and eye catchy to serve your promotional purpose.
2 Christmas Snow Email Newsletter Photoshop PSD-$4
This Christmas snow email newsletter allows you to send the details of your latest brands and offers to all your customers to lure them o buy your products this season.
Exclusive Christmas Newsletter Template HTML Format-$18
If you have an e-commerce business and want to promote new offers online, use this exclusive Christmas newsletter template html format to make your offers livelier and attractive during Christmas.
Christmas E-commerce Newsletter Template PSD Design-$4
Christmas e-commerce newsletter template allows you to wish your customers and also inform them about your products and at affordable cost. Its red and white combination is totally Christmas perfect.
Christmas Email Newsletter Templates for Free Download
This Christmas email newsletter template can be downloaded for free and sent across to your customers wishing them this season and also promoting your offers online to attract their attention.
Christmas E-commerce Responsive Email Template CSS Format Download
Christmas Fever E-Newsletter Template PSD Format-$4
Xmas Responsive Email Template Layered PSD Format-$19
Christmas Offers E-commerce E-Newsletter Photoshop PSD Template -$4
Festive Mail Responsive Christmas Newsletter -$16
2 Christmas Multipurpose Newsletter Template Transparent PNG-$5
2 Xmas Christmas Responsive Email Template in HTML-$19
3 Exclusive Christmas and New Year Newsletter PSD Download-$17
Free Download Christmas Email Responsive Template
Free Christmas Family Newsletter Template Download
3 FeastMail Christmas Email Template Layered PSD-$15
3 Download FeastMail Christmas Email Template HTML Files-$19
12 X-Must Christmas E-Mail Templates HTML Format – $15
Responsive Christmas Email Newsletter Template-$19
9 Christmas Card Email eCard HTML Format-$19
SantaMail – Christmas Newsletter Template PSD -$8
These templates come to you with the design themes that are perfectly reflective of the festivities of the Christmas season, and offer you pre-populated content that you can fine tune to make your newsletters stand out. Be prepared to come across some really smart themes, ranging from the basic Christmas party and Santa Clause designs to the more complex business specific blends of Christmas label design artifacts. With neat and classy borders, bundled packages of icons and free fonts, stock images, and multiple formats including PSD for easy design makeovers, these Christmas letter templates are your complete newsletter solutions this Christmas. Personalize them with images of your intended recipients, and play around with included images and layout options to create a great library of newsletter assets. Adding HTML links inside the newsletter content is easy enough, and you can even embed an Unsubscribe button in there to comply with the accepted best practices. Marketers can even bundle coupon codes inside newsletter pages and can also add QR codes to provide easy transitions from the newsletter to the website being marketed. These templates are all set to make your Christmas marketing exercises more fun and effective than you could have asked Santa for