Email
11+ Payroll Calendar Templates
Employers generally pay their employees monthly, weekly, biweekly, or semimonthly. State laws dictate the time frame that employees need to be paid by. Large organizations must pay employees at the right time else there is a risk of an employee quitting the organization. Payroll Templates are of great use to employers as they mention all fiscal year pay dates which simplify the payment processing and also reduce employee confusion. We have different types of payroll calendar templates from the 12 month salary to the semi monthly paychecks, which you can use to craft and use t keep track of your employee's pay.
12 Months / Yearly Payroll Calendar Template
finance.caltech.edu
Payroll Yearly calendar template provides you with fiscal payment dates of the complete year. It mentions all holidays of the year including special days announced for the year. The Payroll Templates mention pay period for bi-weekly and monthly payments
Biweekly Payroll Pay Period Calendar Template
hr.tcu.edu
Bi-weekly payment happens every two weeks. The payroll calendar template in pdf mentions detailed pay dates for all bi-weekly pay cycles for the complete year. It mentions the pay period start date and pay period end date for every bi-weekly pay cycle.
Biweekly Payroll Schedule Calendar Template
ok.gov
It mentions bi-weekly pay sample schedules for all months in the current fiscal year. The payroll calendar mentions holidays for each month with details and bi-weekly pay dates in week format for each month.
Semi-Monthly Payments Payroll Calendar Template
uottawa.ca
Semi-monthly payments occur twice each month. The payroll schedule calendar template mentions all paydays for the complete fiscal year. It mentions the submission deadline for Payroll paper forms for every payment cycle along with the approval deadline for approval of electronic payroll forms.
US and Qatar Payroll Calendar Template
cmu.edu
It is a combined payroll calendar template in docs mentioning pay dates for a complete fiscal period for different payroll simple schedules—monthly, biweekly, and semimonthly. The templates mention the start and end date for every payroll schedule along with the Retro and Oracle LD printable Schedule deadline. The payroll template is also ideal for small business organizations in Qatar and California which follow monthly payroll schedules.
State Salary Payroll Calendar Template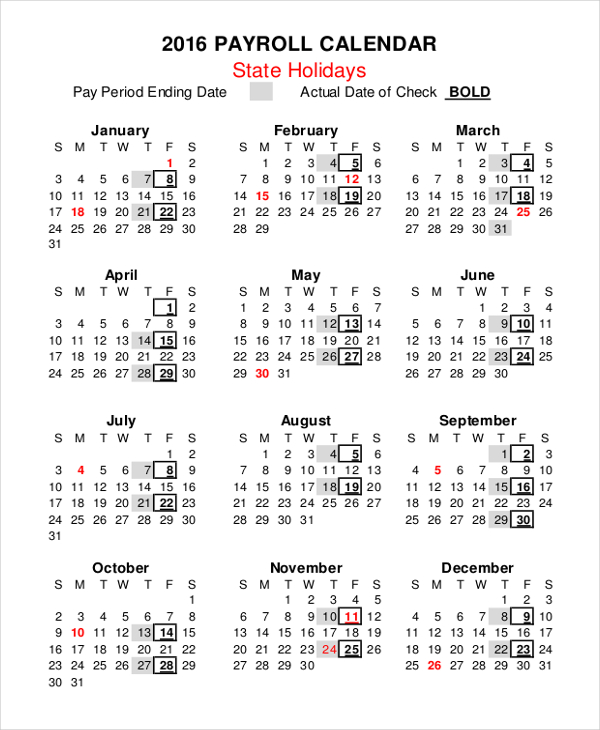 payroll.uconn.edu
Client Payroll Calendar Template
maap.co.uk
Employee Timesheet with Payroll Calendar
chugachmiut.org
Intuit Payroll Holiday Calendar Template
download.intuit.com
Paycheck Payroll Calendar Template
pages.paychex.com
> Why Are Payroll Calendar Templates Useful?
A payroll Sample Calendar template makes the payment process simple and transparent for organizations and employees. We generally see payroll departments stressed due to tight work schedules. Any delay in the information from Payroll Templates feeders can lead to a delay in payments which can cause dissatisfaction in employees.
> How Payroll Calendar Templates Help in Timely Payment?
Payroll academic calendar templates outline the important activities related to paying schedule where employees and the Payroll department have to just stick to a framework to ensure timely processing of the payments. The calendar includes pay schedules for all stages in biweekly, semimonthly, and monthly payments. It helps in collaborating with various payroll feeders to ascertain timely transfer of all payment updates by the cut-off deadline. You may also see Planning Calendar Templates.
> How Payroll Calendar Templates are Helpful to Employees?
Payroll Simple calendar templates mention details of every pay cycle, including the start date, end date, and the number of working days. The clear and concise information takes out any confusion related to payments. The payroll templates also mention submission deadlines that employees need to adhere to for ensuring the timely processing of payments.
Payroll printable calendar templates are available in PDF and Word document formats. They are 100% customizable and present users with a 99.99% success rate. Our Payroll Calendar templates allow payroll departments to sample plan ahead to ensure that payments are processed on time. If you need, we would be glad to customize the payroll editable calendar templates as per your instructions