Keeping a professional signature design on your emails is a necessity. Now with the many free email signature designs available online you can create the perfect html signature design template for yourself. Do not feel satisfied with boring signatures; create one which will reflect your company's professional image.
These templates offer unique designs and are pre designed but are fully customizable. You can download a template and then edit it to put in whatever details you wish to. These awesome signature design templates for students can be downloaded for free from numerous sites. They are the best option for your email signatures. Use classy fonts and put in the details you wish to like company name or contact number.
Email Signature Design
Creative Email Signature Example
Advertising Consultant Email Signature
SEO Email Signature Template
Advertising Agency Email Signature
Agency Email Signature Template
Resort Email Signature Template
Makeup Artist Email Signature Template
Spa Email Signature Template
Modern Email Signature Template in PSD
CEO Email Signature Template
A job as the CEO is never a bed of roses and your email signature that you use for operational emails must display your prestige. Therefore without further ado let's meet the email signature template of choice for CEOs the world over. This is a easy to use and highly editable template.
Business Consultancy General Manager Email Signature
Create a great template by choosing one from a bundle that hosts a large collection. The template is easily downloadable and quite editable and has been designed by professionals for professionals.
Corporate Marketing Manager Email Signature
Printable Carpet Cleaning Email Signature Template
Assert your authority with an email signature that oozes out power. This is now possible by using a highly editable and easily downloadable template that has been designed especially for managers and which is the preferred template for making email signatures by managers.
Pub And Restaurant Email Signature Template
Add flamboyance to your emails by creating an email signature that is completely in tune with your profession in the music industry. Choose the right template, one which is easy to use and highly editable and are come preloaded with lots of designs.
Hotel Manager Email Signature
Use a template from the given bundle to create an hotel restaurant manager email signature that is in sync with your status as a hotel or restaurant manager. The template is highly editable and also allows you to incorporate to you hotel logo in the signature as well.
Beautician & Beauty Specialist Email Signature
Express the skills that make you shine in your profession as a beautician and lavish them in crating the most beautiful email signature. Choose the most adequate user friendly template and create yur very own signature.
Charity Founder & Director Email Signature
The charity email signature template is very user friendly and is perfect to be used in tandem with house rent receipt, room rent receipt format, rent bill format and room rent slip.
Architect Email Signature in PSD Format
Design an amazing email signature that is complimentary to the amazing buildings you have designed. Use any template to make your signature. The templates are all highly editable.
Gardening Email Signature
An email signature is attractive and should not be ignored. Make a perfect email signature using the proper template from a large collection. Make a crisp and clean email signature using a user friendly and editable template from the bundle.
Email Signature for Gym Instructor
Craft an amazing gym instructor email signature just as you craft your body. Pick a template that is highly editable and comes with lots of preloaded designs that enable you to create an email signature that reflects your personality.
Standard Business Email Signature for $3
This standard email signature for business with a pro look has all the details of the sender like company name on top left and employee name with the designation beside it followed by address with phone and email contacts below.
Email Signature Design for Google Gmail
This email signature template for google gmail provides a space for name, designation, address, website URL, contact number along with all social media links like twitter, Facebook, LinkedIn etc.
E-Mail Signature for Interactive Manager
This free template for an email signature is of standard quality with the name of the sender, his/her job designation, company name, website URL all listed beside the profile picture of the person with name and designation.
Elegant Email Signature Template
This elegant email signature template is very simple yet effective with the person's image on the right with company name below it and the name, designation, social media contacts and link to blog on the left.
Liquor Designer Email Signature Template
This email signature template for liquor designer comes with options to view vCard, website, email, map, and name in a sleek background with company name, designation, address and contacts below it with the image on the left.
Sample Signature Template for Email
Senior Content Writer Email Signature
This email signature template for a senior content writer is a pack of 20 email signatures that provides not only office contact, name and job designation options but social media links to your personal profile as well.
Managing Director Email signature Format
Email Signature for New York City Wardrobe Stylist
Sample Business Email Signature Design
UI Designer Email Signature Template
Defense Officer Email Signature
Email Signature for Music Composer
Mail Signature Template
Personal Signature Template
Company Signature Template
Artist Signature Template
Classic Company Signature Template
Email Signature Template for Marketing Director
Email Signature for Game Architect
Sample CEO / President Email Signature
Email Signature for Chief Marketing Officer
Email Signature for Business Marketing Director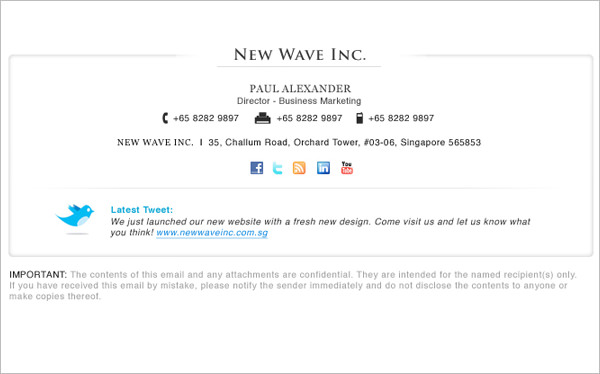 Sample Director Email Signature Template
Email Signature for Director
Sample University Email Signature Design
Everything is possible with these top class templates. You can also include the link to your company's website and the company's social network links life Facebook and Twitter. Adding a picture to your signature is also a good choice. With these premium features your free email signature design templates will always create newer and better email signatures which will maintain your company's professional outlook.
> Getting that Perfect Signature – with Email Signature Templates
Every schoolchild knows that a letter is accompanied by a signature. The signature is a very important section of a letter; it not only carries with it a sense of authority but also helps the receiver feel a sort of personal connection to the sender. A flamboyantly looped signature also heightens the visual appeal of the letter. Getting the perfect signature is therefore of paramount importance. Nearly everyone in their youth spends hundreds of hours scribbling out their signature so that they can get it to look just perfect. In the modern age of computers, not only handwritten but also, electronic letters also need a signature.
> How to Get an Email Signature?
The easiest way to create an email signature is to use email clients such as Outlook Express, Windows Mail or Windows Live Mail. These email clients have built in options that help you in creating an email signature of your choice. However you can custom design your very own email signature by using a wide range of templates that are available on the web. These are exquisitely designed bundle of templates for nearly every kind of job out there. Find a template that matches your requirements and get down to designing. Since there are no hard and fast rules about what email signatures contain do not and I repeat do not be afraid to let your imagination run wild. Just remember to follow the few basic rules, simple as they come. Be sure to include your name and the email address where you can be reached. For business email signatures never fail to include the logo of your company in the email signature. Keep your email signatures short and to the point.
> Getting the Perfect Email Signature with Template.net
Design the email signature of your dreams by putting the vast range of templates to good work. Templates included range from simple HTML email signatures to HTML email signature for musicians. The templates have been designed to cater to everyone's taste. From those who prefer a simple and elegant email signature to those who prefer to conclude with a closing statement or funny one liner. Once you have finished writing your email it's time to choose a template, you can easily mix and match between various templates included in the bundle and create one which suits you best.
> A Good Signature Makes the Email Attractive too
In today's world people have become shallow and look beauty in only form but not content. Therefore it is all about how you present and its own inert visual appeal. You wish to impress those who look upon your corporate email signature and this can only be achieved with effective presentation and engaging design. Now you too can do that by using templates from template.net to boost the design of your email signature exponentially.
> Separating the GREAT from the Rest
Hunt for an email signature template that is perfect for your industry, trust classic and sombre templates for old established ones and try your hand with quirky ones for new start-ups.