There are a variety of designer job positions that are open for employment in different industries. The job functions of designers vary on their field of expertise and the kind of design projects that they can handle for their clients. If you want to apply for a designer work post, writing an effective cover letter is essential for your application processes.
This article is a collection of designer cover letter templates and samples in word and PDF. Download and use our Cover Letter Example templates in creating the specific designer cover letter that is applicable for your designer qualifications and competencies.
Graphic Designer Resume Cover Letter Template
Graphic Design Resume Cover Letter Template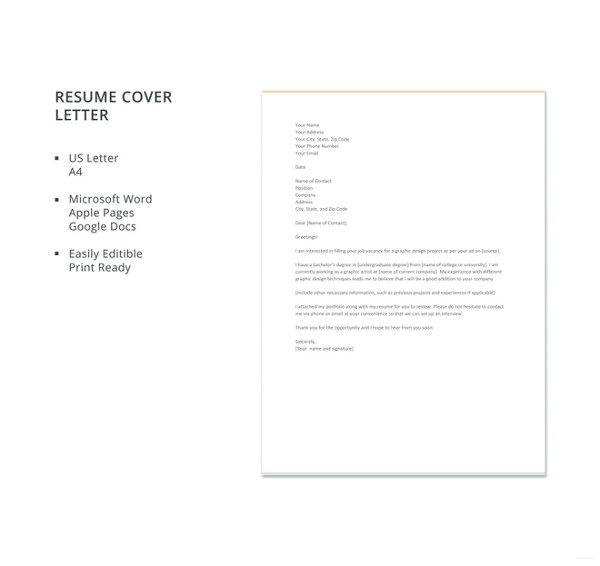 Senior Graphic Designer
Sample Cover Letter for Web Designer
Fashion Designer
Mechanical Designer
Sound Designer
Designer Work Positions
Employment Cover Letter Templates serve as your support in terms of the items that are presented in your resume. Creating a designer Job Cover Letter Format greatly depends on the specific designer work position that you are applying for, and there are several.
A graphic designer create designs usable for different platforms. Graphic designs are very essential to the beautification of a variety of items and merchandise as well as for digital and electronic mediums. The expertise of a graphic designer can provide the branding that the company needs to showcase its output.
A web designer is responsible for designing the interface of websites. This particular designer position requires applicants to have an in-depth knowledge of the systems, codes, and processes that are involved in web page systems.
Fashion designers are designers whose main line of expertise is designing and making clothes for their clients and customers. Fashion designers can build their own atelier or fashion house. However, they can also work for clothing establishments if they like to or if they are still neophytes in the industry and have no funds to start their own business.
Other than our designer cover letter samples and templates available for download, we can also provide you with Free Cover Letter Template samples and other kinds of Simple Cover Letter Templates.
Graphic Designer Cover Letter for Applicants with Experience
Interior Designer
Freelance Cover Letter
Designer and Developer
6 Tips To Create An Effective Designer Cover Letter
Designer cover letters can help a lot in the application processes where a designer applicant is currently involved in. We have listed six tips that you may follow in creating an effective designer cover letter. These tips are as follows:
Make sure to provide your technical skills, knowledge areas, professional work experiences, abilities and talents that are related to the designer job position that you are applying for.
List your experiences and cite instances in which your expertise greatly contributed to the success of a certain project.
Do not repeat the items that you have already discussed in your designer resume. Make sure that your designer cover letter opens another area of discussion.
Use professional language in stating the items that you want to present.
Identify a few items about your prospective employer that you are aware of. This will give them an idea that you know something of the brand and exactly the type of work they are looking for.
If you want something a bit more general, take a look see at our General Cover Letter Templates. If you want to work for fashion brands as a sales rep, then our Sales Cover Letter Templates would be perfect for you.