Letters
24+ Letter of Intent Templates Download
A letter of intent outlines the interest of one party to another. These letters samples can be used for various purposes such as to eke out the fundamental terms and conditions in a real quick manner, job applications, and to crosscheck particular affairs regarding payments made for someone, etc; An LOI even replaces the cover letter in the job search.
Letter of Intent Template
Letter of Intent Acquisition of Business
Restaurant Letter of Intent Template
Restaurant Non-Binding Letter of Intent Template
Restaurant Letter of Intent for Transaction Template
Letter Template of Intent for School
Letter Template of Intent for Business
Sample Letter of Intent
Letter Template of Intent for Job
Letter Template of Intent for Purchase
Letter Template of Intent for Real Estate
Letter of Intent Template
3 Letter of Intent Bundle Download
Assurance Letters of Intent Template
marquette.edu
These are used with a serious intention to sped up the negotiation part. An assurance letter of intent can be intended to either place an order or to form a joint bidding. Other instances, where an assurance letter of intent becomes handy is while to inscribe that the progress being made towards a mutually beneficially end.
Framework Letters of Intent Template
tka.hu
This sets the reminders for future negotiations and clear the air about the responsibilities for various aspects of the negotiation process. It also marks the milestones in the process and define the issues that can be exposed to negotiations.
Publicity Letters of Intent Template
ec.europa.eu
Publicity Letters of Intent announces the anticipation of the merging of the organization, much before of it's action. This helps for the negotiations benefiting the parties.
Memorialization Letters of Intent Template
kentlaw.edu
Memorialization Letters of Intent helps to bring down the partial or preliminary agreements and to identify areas subject to negotiation. In business, it helps to strengthen the bondage between both parties. Instead of talking in the air, it is always better to do the talk on a common ground, so that both parties have no misconceptions.
Real Estate Letter of Intent Template
wkblaw.com
Your Real Estate Letter of Intent explain the topics such as what drives you to team up with the other party, the future interests, and negotiations you have in mind, and why you should be awarded the opportunity. These can be used by service providing companies and potential clients during the negotiation stages. The letter of intent also easily be sent to be completed and signed.
Purchase Letter of Intent Template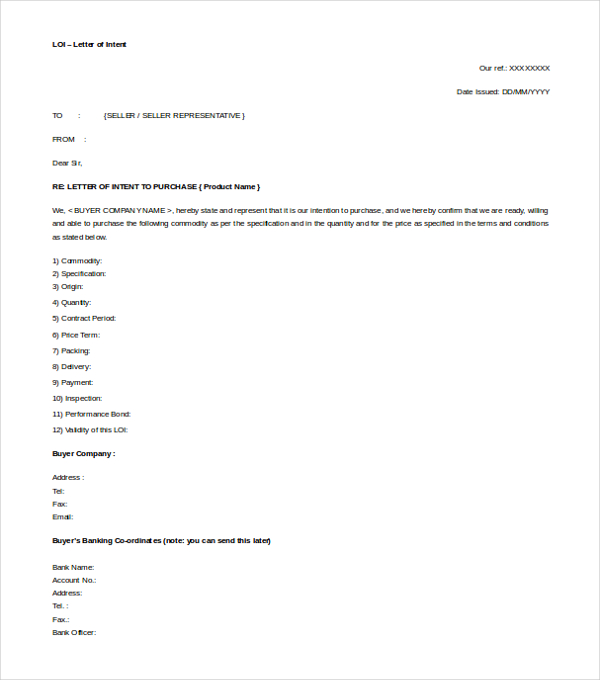 oliveoilmarket.eu
Purchase Letters of Intent are generally signed and scanned originally. We have numerous purchase Letters of intent templates used by companies that got verbal agreements from potential clients to receive services. The documents provide you the sample templates for drafting a letter and may be customized to fit the specific needs of the parties.
Employment Letter of Intent Template
unomaha.edu
The collection of letter of intent template which you see on display on this page is in fact, authentic legal paperwork which has been prepared by renowned law outlets for their clients. You can use them for a variety of purposes including competitive intelligence, documentation or procuring information about dealings with an industry or company.
School Letter of Intent Template
School Letter of Intent expresses your intent to join in a reputed Grad School or in a Ivy League University, or any other institute. Our School Letters of Intent are a (if not the) great way to express the gratitude towards the educational firm. You have copious varieties to choose from.
wuhsd.org
Free Letter of Intent Template
dbhids.org
Our free Letters of Intent confirm the parties' commitment to work together and can be useful in outlining early on the key contract terms and/or commercial, financial, and legal principles upon which the final agreement will be based and may form the framework within which the contract negotiations will take place.
When to use a Letter of Intent?
Use a Letter of Intent if you are ready to enter serious negotiations with a company regarding buying and selling a company or corporation and you would like to define your intentions formally in writing. Letter of intent is very useful and helpful for school applications, particularly graduate school, and other business, professional, and personal purposes.
Academic Letter of Intent Template
system.suny.edu
Why is a Letter of Intent?
It permits the candidate to exhibit, identity additionally relational abilities. A fruitful letter of the plan will be educational, insightful or proficient, and influential. It is essential to remember the finished objective, whether that is admission to class, a business association, or great lawful decision.
College Letter of Intent Template
naac.gov.in
Tips
There is a wide range of sources to inspire you on the letter of intention. It is very hard to write a professional letter of intent without the help of professionals. We provide designs more than one for the letters of intent. However, all of them have one criteria in common, i.e; the standardness. Apart from that, every letter differs in its own aspect right from the introduction.
The letter seek response and makes an attempt to express the desire for an interview. A thorough follow up is very much needed upon submitting letter of intent. The template we're providing can be used as a best prototype you establish with your client. Our sample includes sections that cover:
A summary of the project.
The length of time the project is expected to demand.
When the service will begin (with an estimated completion date).
Terms of payment.
Contact information.