How do we begin? Having a hard time looking for the right way to say thank you? What you need is a stellar, creative, and artistic thank-you letter template. For some, the most challenging part of writing a thank-you letter is how to start it. Some people gets mental blocks and would consider it burdensome.
To help you ease the pressure, you can freely scroll through our Thank-you letter templates that are beautifully made and written. The designs and sample content are truly magical. Take your time and find inspiration from our list of templates.
Interview Thank-You Letters
Free Thank You Letter after Interview Template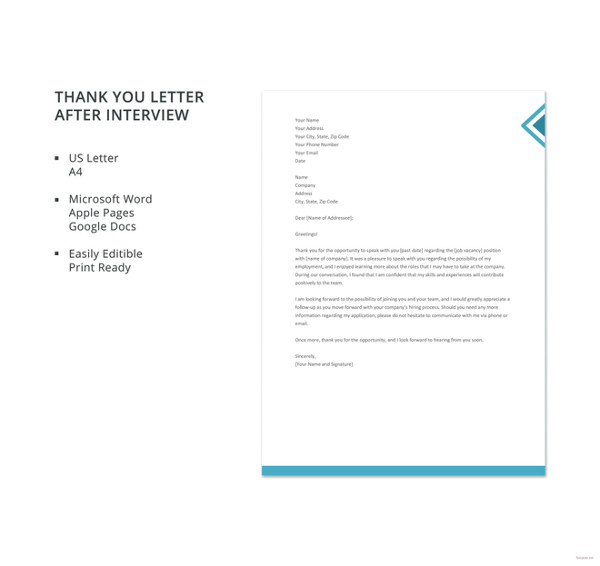 Free Thank You Letter after Phone Interview Template
Post Second Interview
Post Phone Interview
Post Interview Rejection
Business Thank-You Letters
Free Business Thank You Letter Template
Free Business Thank-You Letter
Business Interview Letter
Email Thank-You Letters
Post Interview Thank-You Email
Thank-You Email Letter for Meeting
Personal Thank-You Letters
Letter to Thank Post Personal Interview
Personal meeting Interview Thank-You Letter
Thank-You Letters after Interview
Letter to Thank after Phone Interview
Thank-You Letter for a Job Interview
Letter to Thank after an Interview
All You Need to Know About Thank-You Letters
Since the beginning of time, people have their own share of experiences when it comes to how they want to express their gratitude and sincere thank-yous to their friends, acquaintances and loved ones. One way of effectively channeling one's gratitude to particular persons or group of persons is through sending them thank-you letters.
According to experts, a thank-you letter is considered as the second most frequent type of correspondence. It is mostly used for a variety of purposes. Depending on the situation and the contact to which you write the letter, a thank-you letter is generally written when a party desires to express his or her appreciation to another person. Most people create and sign their thank-you letters while the gift or event is still fresh in the guests' minds. According to surveys, three days can suffice. For business purposes, twenty-four hours is also considered timely. Ultimately, your thank-you letter will be well-appreciated regardless of when or how you send them.
Purpose of Thank-You Letters
A thank-you letter is not just an ordinary letter. It is also vested with utmost significance not just in realm of personal relationships but also in your career and professional relationships. It is one manifestation of professionalism. Here are some areas of interest that uses thank-you letters:
Business. There are several situations in the realm of business that warrants a thank-you letter. Examples of such situations are when customers are given thank-you notes as a sign of gratitude for their loyalty in continually availing your products and services, a way of showing your appreciation to your top-performing employees for their diligent efforts and service, as a way of showing one's gratitude to honorary guest speakers in a business conference or meeting, and a recognition for the special consideration extended by another business entity or organization to your business. Hence, they make your employees, customers, clients, and partners feel more valued and appreciated.
Personal. Aside from the business-related purpose of a thank-you letter, it is originally and historically used as a means of building, strengthening, and maintaining one's interpersonal relationships. You actually need a thank-you letter for most aspects and undertakings in your daily life. It is a way of reinforcing your dearest love and gratitude to your family, friends, and mentors for their never-ending support. It is also a way of thanking your interviewer after a job interview or use them in specified social occasions such as weddings, bridal showers, birthdays, anniversaries, and baptism ceremonies.
These are just some of the pertinent purposes and occasions that warrants a thank-you letter. It is indeed a letter of gratitude and appreciation. A letter that channels positivity, motivation, and inspiration.
Award Thank-You Letters
Scholarship Award Letter
Simple Award Thank-You Letter
Appreciation Thank-You Letters
Free Appreciation Thank You Letter Template
Customer Appreciation Letter
Donation Thank-You Letters
Free Thank You Letter for Donation Template
Organization Donation Letter
Donation Pledge Letter
Letter to Thank a Friend for Donation
Fundraising Thank-You Letters
Basic Fundraising Program Letter
Fundraising Donation Letter
Fundraising Event Letter
Graduation Thank-You Letters
Project Graduation Letter
Job Offer Thank-You Letters
Job Offer Acceptance Letter
Nursing Job Offer Letter
Job Offer Rejection Letter
Nurse Thank-You Letters
Nurse Job Thank-You Letter
Nurse Interview Letter
Key Features of a Business Thank-You Letter
Like any other cards and letters, thank-you letters comes in various form, formats, designs, and styles. In a personal and informal level, you can freely structure your thank-you letter as you wish. On one hand, formal and business thank-you letters have prescribed formats that you can refer in order to make the letter more professional and relevant. Here are some key features of a business thank-you letter:
Short and concise. A business thank-you letter follows a formal letter in terms of formatting. They are direct to the point and straightforward. It is recommended that the letter is composed of 2 to 3 paragraphs.
Specific Date Identification. The right corner on top of the page is intended for the date when the letter was written.
Address. Aside from the date of writing the letter, you also need to make sure that the correct address of the letter recipient is identified so that the letter will be delivered accordingly.
Salutation. Your salutation is one of the features of a business letter that can showcase formality and professionalism.
Introduction. Like any other letter, a thank-you letter must have an engaging introduction. In here, you can express your gratitude and appreciation to the kind gesture and time allotted for your appointment. Don't forget to include the time and place where you spoke or interacted with the addressee. For example, you can express here how happy and thankful you are for the time spent by the interviewer in a job application setting.
Body. This is where you substantiate and breakdown the reasons why you appreciate the addressee. You can reiterate here certain points discussed by the person or cite relevant lines that made you appreciate him or her more.
Closing and ending note. It would be best to reiterate and say again your sincere thanks and gratitude to the person. You'll never go wrong with bombarding your addressee with lots of thank-yous. After all, they deserved it.
Just remember that business thank-you letters are not necessarily long. For the reader to appreciate it more, you must take into account that he or she has a busy schedule and thus say your thank-yous in a short and sweetest way possible.
How about for Informal and Personal Thank-You Letters?
As you know, informal and personal thank-you letters have similarities with the formal ones. The difference lies on the way the letter is strategically formatted, the language used, the tenor of the letter, and the size of the letter. You can also refer to our informal letter templates for further details.
A Variety of Thank-You Letters Templates 
As you can see, we have here an array of templates, samples, and guides that you can download and use. Let's examine some of our featured templates:
Interview Thank-You Letter Templates. In here, you can thank the interviewer or the employer for his or her time and for considering your application. You can identify the specific position for which you were interviewed, together with the date and place of the interview. You can also reinforce your interest in the position. And lastly, you can end the letter with your phone number and email address.
Business Thank-You Letter Templates. It is a recommended way to maintain a sound relationship with your clients, customers, and employees. You can thank them for their business, time, and consideration. It is also of way of promoting your products and company as a whole.
Resignation Thank-You Letter Templates. In here, you can convey your sincerest gratitude and appreciation to your company for the career and professional opportunities they've provided you. This is a professional way of saying your farewell to your company or organization.
Email Thank-You Letter Templates. Some thank you letters are sent through e-mail for a variety of reasons. it can be done for the convenience of the letter sender or it can also be based on the processes followed and implemented by an organization where the letter will be sent. Ensure that you proofread your letter because even letters sent via email requires a formal format.
These are just some of our featured thank-you letter templates that can serve as your inspiration and reference. By using them, you can save your precious time and effort.
Professional Thank-You Letters
Professional Letter Post Interview
Professional Job Thank-You Letter
Promotion Thank-You Letters
Job Promotion Letter
Executive Promotion Letter
Promotion Acceptance Letter
Resignation Thank-You Letter
Free Thank You Letter to Boss after Resignation Template
Job Resignation Thank-You Letter
Rejection Thank-You Letters
Job Rejection Letter
Rejection Interview Letter
Grant Rejection Letter
Reference Thank-You Letters
Request Reference Letter
Job Reference Letter to Thank
Reference Letter Format to Thank
Scholarship Thank-You Letters
Free Scholarship Thank You Letter Template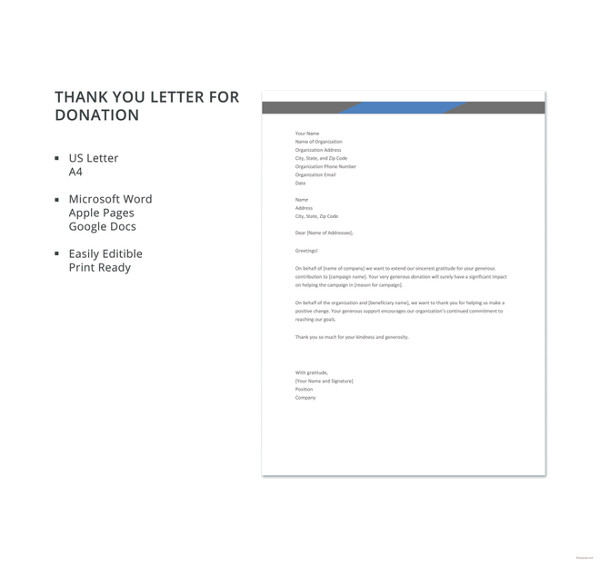 Nursing Scholarship Letter
Scholarship Donor Letter
Scholarship Letter Format to Thank
Free Thank You Letter for Teacher Template

Student Teacher Thank-You Letter
Teacher Interview Letter
Volunteer Thank-You Letters
Church Volunteer Letter
Clinic Volunteer Letter
How to Write a Thank-You Letter
There is no hard and fast rule when it comes to writing a thank-you letter. What is important is that you address your letter warmly and in a professional manner. For starters, below is a list of steps that you may consider in writing a thank-you letter.
Choose an appropriate salutation. Begin your letter with an engaging salutation depending on the context behind a thank-you letter. Generally, starting with "Dear [person's name]" is deemed appropriate. You can also make your own specifically for personal letters.
Write the reasons why you are grateful. Be brief and direct to the point.
Write a few lines that express how much you care and value that person. Aside from saying your thanks, you can also inquire about how the addressee is doing and share a relevant news.
Finish it with warm regards. Close the letter with a heartwarming line. In here, it depends upon the kind of relationship that you and the addressee has.
These are just some steps that you can consider in writing a simple yet professional thank-you letter.
How to Send a Thank-You Letter
There are various ways of sending or delivering a thank-you letter. The two commonly used modes are emailing and mailing them. In the course of deciding what mode you need to adopt, consider what the addressee prefers to receive or what mode makes it more convenient to him. For business letters specifically employers, consider what the employer has told you about their recruitment timeline.
Choosing a Thank-You Letter Format
In terms of actually executing and making your thank-you letter, you have to decide whether you prefer a handwritten letter or a electronically typed one. For personal letters, it depends on your preference and what is more convenient to you. For business thank-you letterers, it depends on the addressee and what is required or convenient for them. In the end of the day, the letter will be of less value if your customers and clients have a hard time accessing or reading them. Here are some points to consider:
Manually written letter. Handwritten letter is more personalized in nature. For some, it is a manifestation one's effort. But that is not really the case at all times. There are also typed letters that are a product of hard work and sleepless nights. In here, you need to consider your type of penmanship, specifically whether or not it is legible enough.
Electronically typed letter. Using this type of format is more convenient for you. You can look for templates and designs such as our provided templates here to serve as your reference. You can customize them in order to put a touch of you in it. You can also timely make necessary edits and changes. Ensure that you use a font type that is legible and easy to read.
These are just some points to consider in the course of actually writing your letter after composing the content.
Choose a Thank-You Letter to Download
Our samples and templates here can help you kick start your thank-you letter production. They can serve as your reference and inspiration. To do this, follow the simple steps below:
Choose your needed template.
Take note of ideas and tips that can help you create a professional thank-you letter.
Click on the green Download button below the chosen template in order to start downloading your chosen template.
Edit the template to customize and suit your interests.
Make the final touches and then you're good to go.
Template.net offers a variety of templates for you. Have fun perusing through our business and design archives!