Menu
Menu Templates
A menu is the key to a successful restaurant, and you have to admit that. As a restaurant, you are likely to be judged on the basis of how you present you menu. After all, it is the first thing your customers will be seeing, and that sets the tone for the rest of the evening. If they don't like the menu, they certainly won't like the food. If you are not very sure as to how to come up with a great design for your menu. You need to look up menu templates online today.
> Free Menu Templates
We all know how important a menu is to a restaurant. What is equally important is how your menu looks. Is it gorgeous and well designed, or is it shabby and clumsy? All these do play a key role in the success of a restaurant. If you do not want to spend too much money on the menu design, you can do it yourself by downloading one of the many free menu templates available online.
> Restaurant Menu Templates
The menu of a restaurant will decide how diners perceive your restaurant. It should go with the theme and ambiance of your restaurant; that way, your diners will be left with a lasting impression on their minds. If you've just started a restaurant, you could try to come up with innovative menus with the help of restaurant menu templates.
> Weekly Menu Templates
Restaurants often organize a weekly special menu. They change their menu every alternate week, allowing them to take their customers by surprise with the weekly specials. Every week, while updating your menu, you could even change the look of it. Download a few of the weekly menu templates available, and use one for each week.
> Menu Planner Templates
Creating a good menu is a lot of responsibility! After all, it plays a key role in forming an impression in the diners' minds. To come up with a good menu, you need to first plan how to go about it. Your first step should be to look up menu planner templates online. Once you select the theme and template, the rest will follow.
> Wedding Menu Templates
If you are having a big, grand wedding ceremony then you must have chosen the best caterers for the party. At dinner time, you do not want you guests to be confused about what they're going to have, do you? For that, you need to create an elegant, refined wedding menu. In order to do so, you could look up some wedding menu templates online and customize them.
> Thanksgiving Menu Templates
Some restaurants make it a point to have special buffets and menus during occasions like Thanksgiving. If that is the case, you will be required to come up with a splendid Thanksgiving styled menu in a short span of time. You can use some Thanksgiving menu templates to do that. If you're having a grand dinner party on Thanksgiving, you could create a fun menu with the help of these templates.
> Dinner Menu Templates
Any kind of dinner, be it a buffet at a large restaurant, or a grand dinner party, calls for a great dinner menu. Your menu needs to be well designed, smart in appearance, attractive and have a formal tone. If that's the kind of menu you want, you could look up some of the dinner menu templates which have these essential qualities.
> Catering Menu Templates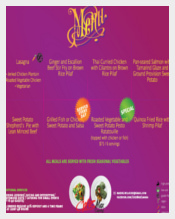 The catering business is a hectic one, you will be put in charge of feeding hundreds of people at special occasions, and you will expected to put your best foot forward at all times. Most catering businesses usually come up with their own menus. The menu you create must go along with the occasion you're supposed to be catering, be it a birthday, a wedding or any other conference. For that, you could look up catering menu templates.
> Menu Design Templates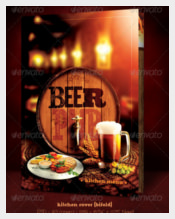 When you talk about a good menu or a bad menu, you are usually referring to the design or the layout of a menu. If it looks clumsy or cluttered, you immediately decide that you don't like it. However, if it appears refined and polished, you tend to warm up to the restaurant. That is why you need to be extra cautious while picking the menu design template.
> Drink Menu Templates
Most restaurants usually have a separate menu for drinks like liquor, and cocktails. There you need to make a list of all the liquor you serve, and the prices against them. After going through your menu, the customer will be able to place his or her order. Hence, you need to look up drink menu templates today!
> Food Menu Templates
A food menu is the one you commonly see in a restaurant. It can be of different kinds, but the purpose of each of these kinds is the same – to let the customers know about what choices lie front of them. After going through them, he or she might place the order. To come up with a great menu, you must check out the food menu templates online.
> Blank Menu Templates
If you want to explore your creative side when it comes to designing the menu for your restaurant , you should go for blank menu templates. It gives you complete freedom to design the template just the way you please. You won't have to stick to the conventional menu patterns anymore.
> Menu Card Templates
A menu card is the first thing your diners are going to see when they come in to your restaurant. If they don't like what they see, they might walk out as well. So you see how important the menu card really is? That is why you need to stop what you're doing, and look up some impressive menu card templates online now.
> Christmas Menu Templates
An occasion like Christmas definitely calls for a special dinner menu. Eating out on Christmas is a tradition for most families, and you could create a Christmas ambiance in your restaurant with the help of a Christmas themed menu. A conventional green and red menu would certainly add to the Christmas spirit.
> Bar Menu Templates
Restaurants are not the only ones who require a menu, bars need a menu just as much as ordinary cafes and diners. A bar menu however is slightly different, for obvious reasons. It will contain a list of all the drinks that the bar serves, along with some snacks and meals offered by them. To create a bar menu, all you have to do is look up bar menu templates online.
> Chalkboard Menu Templates
A chalkboard menu, as the name suggests appears to have been written in chalk. Usually coloured chalk is used to give it a different touch. This style of menu would be perfect for a cafe or diner with a fun, light hearted ambience. All you have to do is download the template, edit and customize it to fill in the blanks.
> Monthly Menu Templates
It would benefit the restaurant if they were to change the menu once every month. That keeps a bit of suspense, and compels your customers to come back once again. If you don't want your menu to become boring and monotonous, you could keep updating it and also changing the theme. To do that, you could download the monthly menu templates available online.
> Lunch Menu Templates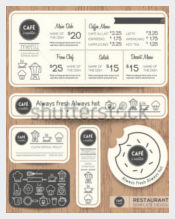 A special lunch buffet calls for a special lunch menu. It would consist of only the food items being served during lunch, and would set the tone for your lunch buffet or party. If you've been wondering how to design a lunch menu, you must look up some of the lunch menu templates found online.
> Kids Menu Templates
Kids have a shorter attention span, which means unless they find something attractive, they won't give it a second look. If you're designing a menu template simply for kids, then you need to make it catchy, fun and appealing. That way, they will be attracted towards it. To create a menu for kids, you can try the kids menu templates available online.
> Cocktail Menu Templates
Who doesn't enjoy a round of amazing cocktails? You can show your customers your good taste in cocktails by creating a separate menu for it. This particular menu would contain lists of different kinds of cocktails offered by you, and your customer is sure to spoilt for choice. To create it, you can take the help of some cocktail menu templates.
> Tri Fold Menu Templates
A tri fold menu allows you to accommodate all your various food items without it appearing cramped for space and clumsy. You can just download the tri fold menu brochure templates available online, and customize each page just the way you want it. It is sure to impress your customers!
> Pizza Menu Templates
Have you ever come across a person who doesn't enjoy a good slice of pizza? Well, that is why pizzerias have become so popular now. If you run a pizzeria, you must choose an appropriate menu as well. You could even go for pizza menu template with an Italian theme!
> Cafe Menu Templates
A cafe or a cafeteria allows you to hang out with your buddies in a light hearted, casual carefree environment. And that is exactly what the menu of the cafeteria must express. To get hold of fantastic and cute menu designs, you must check out the menu templates specially designed for cafes.
> French Menu Templates
A classic French restaurant requires a beautiful, elegant and refined menu to go with the ambiance. What would be appropriate for an ordinary diner, would certainly not go with the extravagant atmosphere at a posh French restaurant. For this, you might want to look up some French menu templates that have been specifically designed.
> Dessert Menu Templates
A round of desserts is a must after every meal to leave you feeling satisfied and happy. Most restaurants have a separate menu for desserts, that gives the diners an impression that they have a lot of options to choose from. You can customize the dessert menu template you choose by adding lovely pictures of pastries and sundaes on the pages.
> Menu Board Templates
Some restaurants prefer to save paper by opting for a menu board. This menu board is big, bright board where all the food items along with the prices are mentioned. There is no chance that your customers will miss it, for this is the first thing that will catch their eye. You might take the help of some menu board templates to give an idea of what they should look like.
> Bakery Menu Templates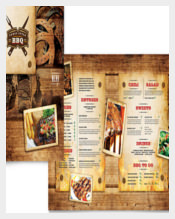 The very first thing that a bakery menu should bring to mind is beautiful cakes, lovely cupcakes and gorgeous pastries. If your menu card isn't doing that, then what is the purpose behind having a menu anyway? You need to look up some bakery menu templates today, and choose the one that suits your bakery.
> Take Out Menu Templates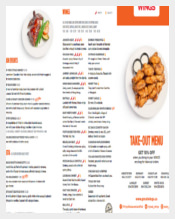 Restaurants having separate take out counters usually have distinct take out menus. It differs from the mainstream menu in design, content and not to mention, purpose. Some restaurants often allow the customers to take the menu along with them, in hope that they'll come back. For that, you could take the help of take out menu templates.
> Wine Menu Templates
Chardonnay. Sauvignon Blanc. Merlot. Cabernet Sauvignon. Pinot Noir. There are so many different kinds of wine! That means you need to get a special menu just for your wines. Flaunt your exclusive wine collection, and your knowledge of wines with the help of an amazing and elegant wine menu template.
> Beer Menu Templates
Did you know that there are many varieties of beer? If you serve beer at your bar or restaurant, or are known for your collection of beers, then you need to impress your customers with an exclusive beer menu. That will surely take them by surprise and create a good impression. Use beer menu templates to design the menu.
> Daycare Menu Templates
Running a daycare is a Herculean task and that means you have to be on high alert at all times. When it comes to children, you cannot take any risks. That is precisely why you need to fix a day care menu at the very beginning. In order to create a daycare menu, you must look up templates designed specifically for this purpose.
> School Menu Templates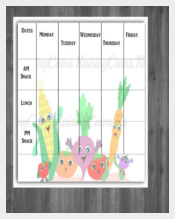 A school canteen too requires a menu listing all the items available for the kids to choose from. A school canteen should be fun and appealing, it must be good enough to impress the students. In order to create an amazing school canteen menu, you should definitely take the help of school menu templates.
> Menu Calendar Templates
For both homemakers and working mothers, the nutrition of their kids come first. In order to make sure your kid gets the nutrition he deserves, you could come up with a menu chart or a menu calendar containing his diet in the upcoming days. A menu calendar template will help you work in an organized manner, and ensure that you complete your work faster.
> Spa Menu Templates
Not only restaurants and bars, even spas need menus. A spa menu must how with the overall ambience of the place. It must be well designed, neat and to the point. There is no point in beating about the bush in the spa menu. If you've been struggling to find great designs for your spa menu, then you could take the help of templates found online.
> BBQ Menu Templates
A bbq joint or a bbq themed restaurant calls for an appropriate menu. It serves the same purpose as an ordinary menu, but it is the appearance that makes all the difference. For a bbq joint, you could look up bbq themed menu templates, and use them to come up with your own exclusive and innovative menu.
> Coffee Menu Templates
A cup of coffee would be the perfect way to lift the moods of your customers. With the help of a great menu, you could offer your customers a range of coffees to choose from, be it the traditional cappuccino or a frappe! In order to do that, you must look up some coffee menu templates which you can choose from.
> Holiday Menu Templates
While on holiday, your customers are going to expect nothing but the best from you. A holiday is a time to unwind, relax and enjoy. And your menu should contribute to that. To get the perfect menu for this, you must search for holiday menu templates which would suit your needs and that of your customers.
> Price Menu Templates
The whole purpose of having a menu is to show your customers the various items you provide and the prices. Based on that, they can make an informed decision. If that's what you've been looking for, then you need to try out price list or price menu templates today. All you have to do is download them!
>

Breakfast Menu Templates
Some restaurants and cafés have special breakfast menus. Be it a classic English breakfast, or an American one, a good menu is of the utmost importance. Your breakfast menu will differ from the other menus that you have for lunch and dinner, and needs to have something special. Thus, you need to try out breakfast menu templates today!