Preschool menus may be used in daycare centers, the homes of the preschoolers, or in educational institutions that provide play-school programs and services to toddlers. There are many ways that a preschool menu can be helpful especially in terms of providing awareness to the toddlers about what they eat and the proper eating guidelines that they need to follow.
We can give you samples of preschool menu templates if you want to create a menu that you can incorporate to the eating habits and schedule of a preschooler. Moreover, we also have other samples of Daycare Menu Templates, which you may be interested to download as well.
220+ School Templates in PDF, Word, Excel, PSD, Google Docs, WordPress, InDesign, Apple Pages, HTML5, Google Sheets, Publisher, Apple Numbers, Illustrator - START DOWNLOADING
Preschool Menu Template
Simple Preschool Menu Template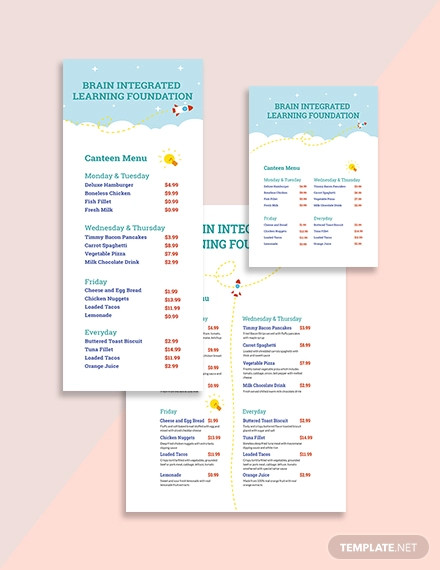 Preschool Food Menu Template
Preschool Canteen Menu Template
Preschool Snack Menu Template
Download
Preschool Lunch Menu Design
Download
Preschool Weekly Menu Template
Download
Preschool Monthly Menu Template
Download
Preschool Food Menu Template
Download
Kinds of Preschool Menus and Food Scheduling
A preschool menu may be done and structured as follows:
It can be a simple preschool snack menu where the food items that can be eaten by a child are listed to assure that his or her proper nutrition is being taken into consideration when feeding him or her during different time frames.
A preschool lunch menu is commonly used to provide the options that a child can select from for the meal that he or she wants to have in between preschool activities and learning schedules.
Preschool menus can be scheduled daily, weekly, or monthly. These schedules include the following information:
The main or the selection of food items that will be served to the preschoolers
The snacks and sides, like fruits and vegetables, that are also available for serving
The food menu on a particular day
A short description of the food items that are found in the preschool menu
The Preschool Menu Design
In designing a preschool menu, here are a few suggestions that you may follow:
Assure that the design of the preschool menu is appropriate to the age of the preschooler.
Create a preschool menu design that will attract the attention of the preschoolers. You can select from a variety of bright colors and characters that can be identified by the preschoolers.
Select a theme or any overall design outputs that you want to incorporate to the preschool menu so that the preschoolers will enjoy looking at it.
Aside from our preschool menu samples and templates, our other School Menu Templates are also available for download.
Preschool Kid's Menu Template
Download
Preschool Menu Planner Template
Download
Preschool Summer Menu Design
Download
Preschool Blank Menu Design
Download
Importance of a Preschool Menu
Creating and following a preschool menu is important for the following reasons:
Preschool menus can take note of the nutritional needs of the preschoolers. Before finally implementing a preschool menu, they may be researches that can be done to assure that the meals that will be served to the kids are both delicious and healthy.
Preschool menus will allow the kids to have an idea about following schedules. It also enables them to practice their individual decisions regarding the process of selection.
Preschool menus can also be used to provide information about food which is beneficial for the preschoolers to know the importance of consuming a balanced meal.
Moreover, a preschool menu serves as the list of the food items that can be given to the preschoolers. It may include nutritional facts, the ingredients used to create a specific food item and the intervals in which particular food items are available for serving.
Other than our samples of preschool menu templates, you may also be interested to browse through our samples of Preschool Lesson Plan Templates.