Menu
Monthly Menu
In order to survive in the highly competitive business of restaurants and cafés, you need to keep coming up with ways that will give you an edge over others. One such way is to update your menu frequently. If doing it every week is a hassle, you could change your menu every month. That would certainly keep your customers hooked to your restaurant.
Table of Content
For that you could look up menu planner templates. You can also see Weekly Menu Templates. A monthly menu template sample would do wonders for your business. It is up to you if you want to change the theme of your menu every month. You could either download one template, and just alter the details every month, or download a few Menu Templates and keep one for each month.
Monthly Design Menu Template Download
Monthly Menu Gluten in PDF Format Download

squarespace.com | In order to keep to a gluten free menu for the month, this sample template can be used. It has a carefully organized layout to make the menu plan easy.
Sample Monthly Meal Menu Plan Template Download

homeschoolcreations.com | With this wonderfully designed menu plan you can work out the menu for whole month on a single sheet of paper. This example makes it possible, just download it and begin planning.
Basic Multi Course French Menu Example Template

healthmonitor.com | In order to create a multi course French menu effectively, this sample can be referred to. It guides you on how to organize the menu in terms of first course, main course and dessert.
Printable Monthly Menu Planner Notepad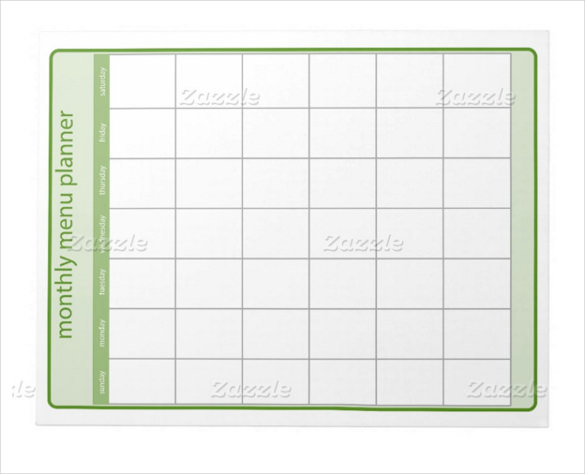 If you want to create a simple monthly menu plan, this example template can do. It is available in a notepad plan making it an easy task creating the menu.