A lavish and grand wedding means amazing catering and scrumptious food. At dinner time, you want to avoid confusion and chaos, don't you? That is why a dinner menu is important at a wedding ceremony. Most catering companies come with their own menus. However if you want to save on money, you could simply design your own. Look up wedding menu templates for that. You can also see Restaurant Menu Templates. A wedding menu template example would allow you to have the dream wedding you always wanted. You can download the Menu Templates, and even add a short description of the ceremony on to the menu. That way, you can hand it over to your guests as they arrive!
202+ Wedding Templates in Word, Google Docs, Apple Pages, PSD, InDesign, Publisher, Illustrator, Google Sheets - START DOWNLOADING
Wedding Planners Menu Template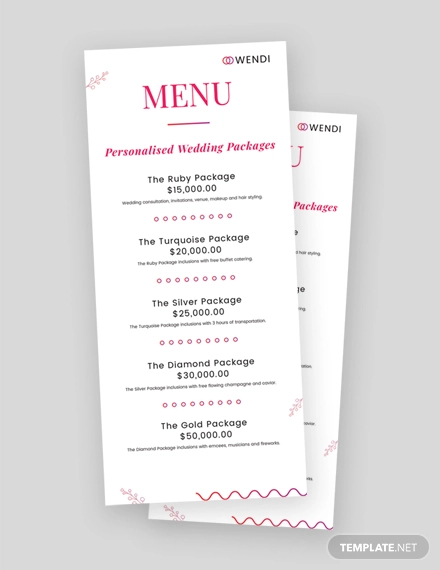 [37+ Wedding Menu Templates – Free Sample, Example Format Download!
ns_col class="col-sm-4 button-grid-two"]
Details
File Format
Illustrator
InDesign
MS Word
Pages
Photoshop
Publisher
Size: A4, US
Download[/ns_col]
Chalkboard Wedding Menu Template
Wedding Menu Template
Simple Wedding Menu Template
Wedding Menu Card Template
Vintage Wedding Menu Card Template
Rustic Wedding Menu Template in PSD
Floral Wedding Menu Template Sample Download
When planning a wedding reception, it is good to plan for the menu too. This sample wedding menu template has the categories including salad, entree and dessert. It is available for free download.
Example Lovely Floral Wedding Menu Template
With this beautiful sample wedding menu template, you can create your menu plan. It folds into three with many categories of food to choose from. It is designed in a very impressive colourful look.
Printable Wedding Menu Template Sample Download
In order to make a lovely wedding menu, this example menu template is what you need. It is professionally designed to give you the best and presentable layout for the menu.
Classic Wedding Menu Format Template
If you want to make your wedding planned adequately, this wedding menu sample template cannot go unused. It helps showcase to guests what you have planned for the meals for the day.
Example Botanical Wedding Menu Template
Use this artistically designed wedding menu template to make your meals plan presentable. The example here covers all the meals from the starters to the main course to the salad and dessert.
Sample Vintage Wedding Menu Template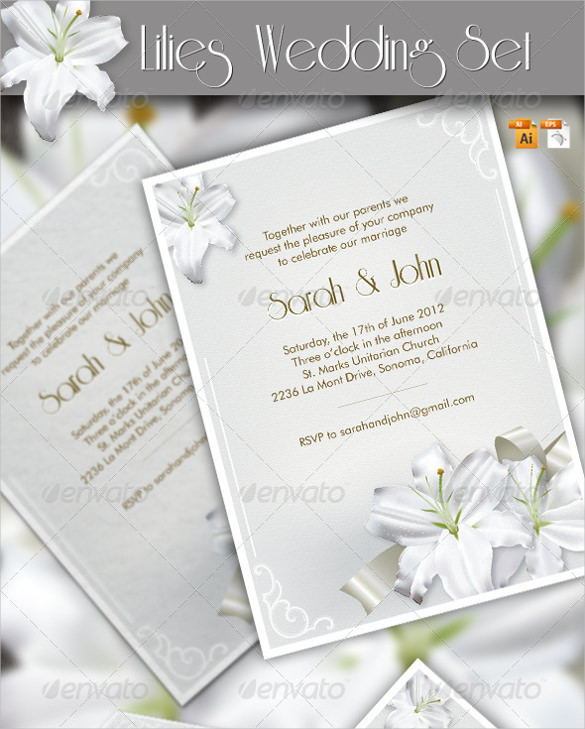 This wedding menu has a classic design that is inviting to the eye. The sample is available for download free of charge and includes all the meals available for the wedding.
Example Wedding Menu Template
If you reckon tri-fold wedding menu is what works best for you, this tri-fold template qualifies a consideration. It has got the art and design elements and besides, the important bit is that you can customize it to bring it up to your taste. This template is easy to download.
Flower Wedding Set Vector EPS Format Template
In order to effectively plan for a wedding reception, this wedding menu template can be used. It helps plan the seating and shows the menu for the event. Download the sample in EPS format.
Wedding Menu Design Format in Watercolour Template
This a wonderfully designed wedding invitation in impressive color. The example template is available in six pieces including the envelop, invitation, seating table, RSVP, program and a thank you note.
Example Trifold Wedding Set Menu Package Template
Wedding Menu Design Format Template
Wedding Invitation & Menu Cards Template Sample Download
Wedding Programs & Menu Template Sample Download
Wedding Invitation & Menu Card AI Illustrator Format Download
Menu for a Wedding Example Template
Elegant Black And White Wedding Menu Template Sample Download
Wedding Card Format Menu Template
Sample Wedding Menu Templates
Elegant Chalkboard Format Wedding Menu Template
Wedding Menu Format Download
Wedding Dinner Menu Card Art Deco Style Format Download
Example Black and White Wedding RSVP Menu Card Template
Sample Vintage Chalkboard Look Wedding Menu Poster Template