Menu
Tri Fold Menu
The best part about a tri fold menu is that you can comfortably accommodate all your food items. Sometimes, if you have more food items than space, a menu can end up looking clumsy and untidy. And that certainly doesn't leave a good impression on the diners' minds. Instead, you could try a tri fold menu template. For that, you must look up Free Menu Templates.
Table of Content
A good tri fold menu template PDF will allow you to design each page just the way you please. You can add different images on each of the pages, along with the names of the items and the prices listed against them. It also gives the diner the impression that they have a lot of options Menu Templates to choose from.
Basic Food Trifold Design Menu Template
Restaurant Trifold Creative Menu Template
Standard Chalkboard Trifold Menu Template
Tri-Fold Takeaway Menu Brochure Template
Basic Bakery Menu Tri-Fold Brochure Template
Free Christmas Tri-Fold Menu Brochure Template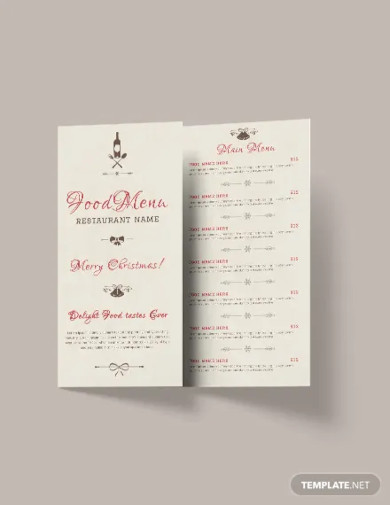 Sample Trifold Food Menu Template
Buy Now
Editable Restro Cafe Tri-Fold Brochure Menu
Buy Now
Classic Cafe Menu Tri Fold Word
Buy Now
Simple Pizza Menu Trifold Template
Buy Now
Printable Cuisine Tri-fold Menu Template
Buy Now
Modern Retro Food Creative Menu Trifold
Buy Now
Classic Cafe Menu Tri Fold Template
Buy Now
New Tri-Fold Cafe Menu Board Template
Buy Now
Cookie Shop Tri-Fold Menu Template
Buy Now
Standard Cuisine Tri-fold Menu Template
Buy Now
Fatcow Tri Fold Menu Free PDF Template Download

fatcowburgers.com | This PDF tri fold menu free PDF template has the front page with the restaurants details and contacts. The middle page has an image of French fries and the last the items offered.
Tri Fold Menu Vector EPS Format Download

This PDF tri fold menu vector comes in shade of brown, yellow and black with images of food and their price against it. The menu will help you give your clients a nice wide range of choices.
Free Italian Tri Fold Menu Template Download

This Word Italian tri fold menu template has the front page in dark brown color and an image of a dish on it. The second page has images of the fry menu the last page a list of beverage and dessert.
Japanese Tri fold Menu Example Download

This Excel format Japanese tri fold menu comes with an exquisite Japanese dish on the front page. The other two pages are in light brown color. For use you can download it here.
Coffee Shop Tri Fold Menu Template Download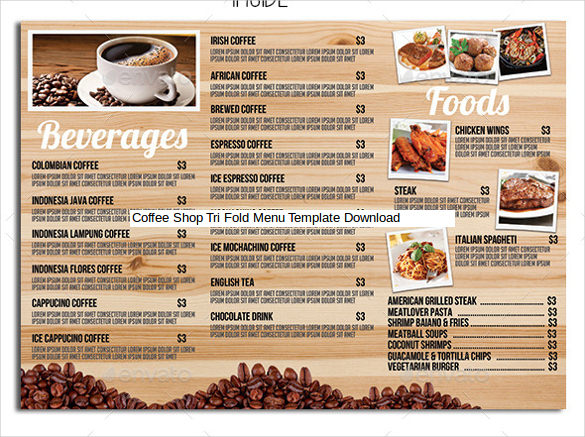 This tri-fold menu template would work wonderfully in a coffee shop or café settings. The woody brown color is its USP. In terms of layout, the menu mockup is lined with food and beverage sections respectively. Feel free to download, personalize and use.
Tri Fold Vintage Restaurant Menu Design Pamphlet Vector Template

Having space to spread your food items is very important to keep your menu tidy. This Excel format tri fold vintage restaurant menu design that comes in a black background which lets you try out your imagination.
Steak House Tri Fold Menu Free Download

This PDF steak house tri fold menu comes in dark brown color with the images of the food items their how they are served and their price. You can download it for reference or personal use.
There's no Hell Tri Fold Menu Template Download

This template is a Excel there's no hell tri fold menu that comes in a fierce re color in the first two pages and black in the last one. If you download it you can use it to come up with your own menu.
Tri Fold Menu Fasti Resto Template Download
Wine Restaurant Tri Fold Menu Template Download
Green Veg Restaurant Tri Fold Menu Card Template Download
Multi Purpose Tri Fold Menu Card Template