If you have ever been to any restaurant or eating house, you have most definitely come across a menu, unless you are blind and someone else ordered your food for you. In any restaurant or any other fine eating establishment you will come across a menu. It is just a decorated list of all the different foods and beverages that they serve.
Though menus are a common site now days you might be astonished to learn that the concept of using menus goes back to medieval China. Merchants, always on the lookout for business opportunities, started to serve food for patrons who led busy lives and did not have the time or energy to cook on a daily basis. The different variations in Chinese cuisine led the caterers to introduce a list of foods for their patrons. You may also see Cafe Menu Templates
Sample Bar Menu PSD Template

Buy Now
Bar and Lounge Menu Design in Word

Buy Now
Sample Dinner Menu Template

Buy Now
Wine Menu Design Template

Buy Now
Simple Breakfast Menu Template

Buy Now
BBQ Menu Template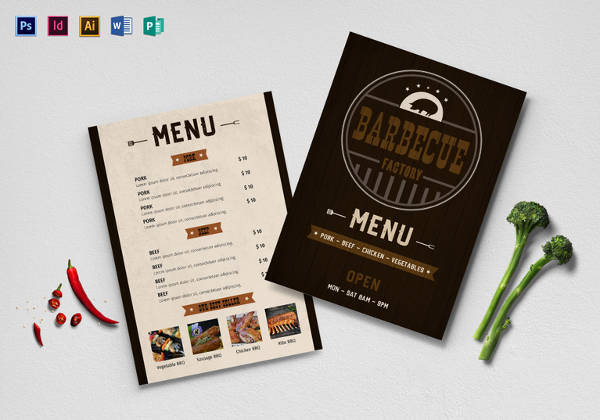 Buy Now
Editable Dessert Menu Template

Buy Now
Floral Wedding Menu Card Template

Buy Now
Easy to Edit Dinner Party Menu
Weekly Menu Template in Word Format
freeplannertemplates.com
Cafe Menu Template Word Format Download
gradymem.org
Restaurant Menu Template Word Free Download
whiteswanshawell.co.uk
Word Monthly Menu Template Free Download
mlhclub.co.uk
Wedding Menu Template Word Format
leopold.vic.bowls.net.au
Dinner Menu Template Word File
penningtonhotel.co.uk
Afternoon Tea Menu Template Word Format
adambradleycatering.co.uk
Bakery Menu Template Word Format Download
hotcakes.biz
Bar Menu Template in Word
thewellshampstead.london
Breakfast Menu Template Word File
public.navy.mil
Cocktail Menu Template Word
theoxfordretreat.com
Christmas Menu Template Word Document
agreatpub.co.uk
Word Catering Menu Template Free
cdsmenus.com
Dinner Party Menu Template Word File
gumbyscatering.com
Indian Menu Template Word Format
rajhanshotel.com
Japanese Menu Template Word Doc
karachisnob.com
Mother Day Menu Template Free Word File Download
sophieschoicerestaurant.co.uk
School Menu Template Word Doc
education.qld.gov.au
Word Takeaway Menu Template Free Download
coastguardtearooms.co.uk
Valentines Menu Template Word Format Download
watsonsbistroconwy.co.uk
Why are Menus Important?
A restaurant cannot function without a menu, be it a large and detailed menu with lots of varieties or a simple menu, a restaurant without a menu is like a peanut butter and jelly sandwich without peanut butter. Imagine going to a restaurant but not knowing what they serve. This is precisely the reasons menus exist, to inform the diners of their choices. Many restaurants have a buffet theme but still they employ a menu to let their customers know what delicacies are available on that day. You may also see Catering Menu Template
Types of Menus
Menus are of different types according to the restaurants, but they are generally classified into two groups à la carte and table d'hôte. In the former style you can pick individual foods from the menu, such as ordering only the steak without the accompanied vegetables and potatoes and in the latter variety a diner is asked to choose between various options of full course meals. You may also see Restaurant Menu Template
Getting The Perfect Menu
There was once a time when many restaurants used to rely on "menu specialists", people who were hired to design and print their menus. Well I am glad to say those days are long past. With the help of this amazing collection of menu templates all of which are free to download and useable with Word 2010. Just download the set of templates available in Word file and you can easily use them in MS Word.
How to Use
The templates are quite simple to use. Just download the collection templates and open your desired template in MS Word and get down to work. The templates allow you to customize nearly everything from font, colour and anything else that you might wish. Finish up and save your template as a word document, ready for print or if necessary further editing. The templates were designed with Microsoft Word especially for Word users. No cause for fear for there are adequate samples given with the templates to help you on your way.
Dos and Don'ts
There are no hard and fast rules for menu designing, it is all up to the restaurant owner. A piece of advice do not put pictures of food on the menu for it gives the customers unrealistic expectations that you cannot possible live up to. Keep it neat and clean with clearly marked items and their prices and you should do fine.