With so much of technological progress made in the area of photography, the availability of wide aperture lenses, high speed films, capturing a night shot without artificial lights has become a possibility. With long exposure shots you can achieve delightful and surreal shots. No wonder, photographers today are so keen on experimenting with night photography. We have a great collection of some exceptional examples of night photography that every photography enthusiast will love and get inspired from.
108+ Photography Business Templates in PDF, Word, Excel, PSD, Google Docs, InDesign, Apple Pages, HTML5, Google Sheets, Publisher, Apple Numbers, Illustrator - START DOWNLOADING
Night Calgary Photography
This is not a recent photograph, but we couldn't resist updating it on out list. This photograph was taken at Saddledome, Alberta, Canada after the Backstreet Boys performance. The lights and the clouds have been wonderfully captured by the photographer John Andersen.
Newyork Bridge Night Photography
Night makes things look marvellous sometimes and photography can make them look even more beautiful. Take the Brooklyn bridge here, for instance. The view of the bridge and the rivers looks incredible in the night lights.
Fantasy Night Photography
The most interesting aspect of night photography is Astro photography. This beautiful multiple exposure shot was taken by Christian Begeman where he captured the surreal Milky Way over a church in Mud Butte, South Dakota. The shot was captured post midnight.
Beautiful Night Photography
Night photography can be tricky but if done right the results can be exquisite. However, it requires immense technical knowledge on photographer's part to come out with a shot as brilliant as the one given above.
Clebration Night Photography
Celebrations and fireworks can be a great companion to any photographer interested in night photography. With the correct camera setting you can capture a perfect firework scene.
Amazing Night Photography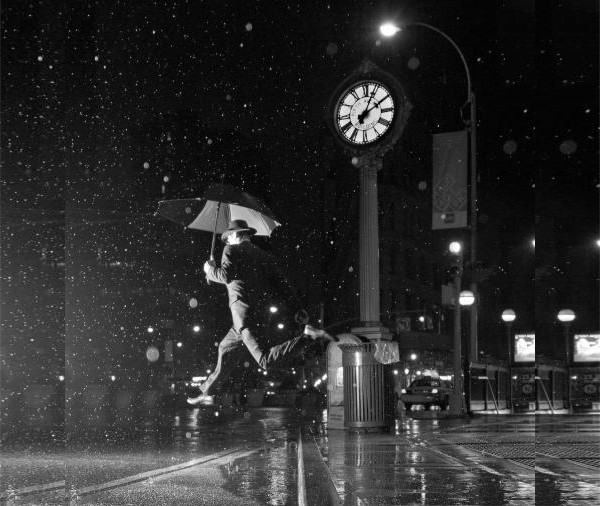 This is a self portrait that was captured by Juan Osorio. Taken at New York City, the picture perfectly captures the essence of NYC and it's nightlife. And somehow, the Black and White theme makes it even more lively
Singapore Night Photography
Any night person would love to be in a city like this. The photographer has done magic with the skyscraper and the lights with the perfect backdrop of night of course! A perfect example of City landscape photography.
Awesome Night Photography
The incredible show of light that you can see in the picture is by fireflies in the Elkmont area of the Great Smoky Mountain National Park, USA. The photograph has been captured by E. Haggart who took a 3 min long exposure shot to capture the beautiful sight.
Architecture Night Photography
Jim Richard is know for some great night shots. Especially if you are a visitor or Nat Geo, you must be well aware of his name. He captured this beautiful image of moon rising over the Golden Gate Bridge and made us fall in love with the moon and night all over again.
Cityscape in Asia Photography
Panoramic Skyline Photography
Night City Landscape Photography
Travel Night Photography
Royalty Night Photography
Reflection Night Photography
Blood Moon Night Photography
Night Panoramic Photography
Like we said, technical knowledge is the key when it comes to night photography. Also, a lot of patience, it can take you much ahead in your pursuit. If you are an aspiring photographer, start exploring the night of night photography and we are sure the excitement in photography will be restored.