Letters
How to Make a Company Letterhead [18+ Templates]
A company letterhead is the heading on top of all official company documents. It usually consists of the company name and company logo. The company letterhead can either be on the official company stationery or as a digital copy. The digital copy can be printed on any piece of paper but is usually printed on A4 (US) sized paper.
Table of Content
6 Steps to Make a Company Letterhead
Step 1: Choose a company letterhead template
Creating a company letterhead is easy enough, but nowadays, who has the time. Time is money. Speed up the process by using a company letterhead template. With the company letterhead template, you will be printing and sending official business documents that look both clean and official in no time.
Step 2: Choose the size and the orientation of the company letterhead
Decide on how big the company letterhead template will be. Be sure to decide on the size for both orientations. Files can either be portrait or landscape. Most official documents use portrait orientation. However, some documents will require you to send or print official business documents in the landscape orientation.
Step 3: Choose the color scheme of your company letterhead
Company letterheads are official business documents. However, this does not mean that you cannot change the font color. Some companies like to use their company colors instead of the usual black and white. This goes even better when the company logo is also colored.
Step 4: Personalize your company letterhead
Always personalize your company letterhead. You can add borders, small images, and you can even use the bottom border. Get creative and stand out. Adding a few border designs is fine, as long as it goes well with the theme you set. It should also match what your company offers.
Step 5: Select the font of your company letterhead
The company letterhead is the first thing that your employees and other recipients will see. Creativity aside, make sure that your chosen font is consistent and matches well with your company logo and overall theme. It should make a statement, but not take away from the main contents of the document.
Step 6: Save and print your company letterhead
As mentioned earlier, the company letterhead can both be on the official office stationery or a digital copy. Make sure you save a digital copy so you can have it sent for printing, or print as much as you need yourself. The company letterhead also works for emails and other digital documents.
18+ Company Letterhead Templates
1. Logistics Company Letterhead Template
2. Furniture company Letterhead Template
3. Startup Company Letterhead Template
4. Real Estate Company Letterhead Template
5. IT Company Letterhead Template
6. Software Company Letterhead Template
7. Computer Software Company Letterhead Template
8. Advertising Company Letterhead
9. Construction Company Letterhead
Download
Build up your company business letterhead with this Construction Company Letterhead template. Carefully designed to look clean and professional, this company letterhead template will surely help you with all of your company paperwork. The simplicity of the design will surely wow you and anyone who will receive your documents.
10. IT Company Letterhead Template
Download
Take a bite out of this IT business letterhead. Cool, clean, and eye-catching. Running your own IT company can be tough. Especially when you have to keep sending out both internal and external files. Make your documents look professional by using this IT letterhead template for any and all files that you need to be sent.
11. Real Estate Company Letterhead Example
Download
Enjoy this really good real estate business letterhead template. Letterheads are an important part of running a business. Make your office stationery look neat and professional by using business letterhead. Easy to use and edit, just download this business template and customize according to, or as much as you need!
12. Security Company Letterhead Template
Download
A business letterhead is the best way for a business to introduce the company. It sets the tone and shows your clients that you have a degree of professionalism. Use this security company business letterhead to represent your company in any document whether the document is paper or digital.
13. Business Consultant Letterhead Design
Download
An integral part of having a business is to have your own business letterhead. This business consultant letterhead Template is sure to fulfill this need. This cool, sleek, and professionally designed business consultant letterhead Template will look amazing for both inter-office and out of office correspondence. It is fully customizable and quick to edit.
14. Marketing Agency Letter Head Template
Download
Looking for a small business letterhead that best represents your marketing agency? Looking for the ideal letterhead that tells everyone that you are not just professional, but creative as well? Try out this marketing agency letterhead template. Not only is this business letterhead geared towards marketing agencies, but it is also easy to edit for your use as well!
15. Cleaning Services Letterhead Example
Download
Using a business letterhead is an easy way to make your office documents look official. It cleans up the document nicely. If you need an official business letterhead for your cleaning service business, give this cleaning services business letterhead template a try. It is ready for download and easy to edit.
16. Doctor Letterhead Template
Download
Running your own clinic is not an easy thing to do. Between making sure that your patients are taken care of, and all that paperwork, there does not seem to be enough time for anything else. Paperwork is always going to be there, so why not make it look formal using this business letterhead template?
17. Creative Agency Letterhead Sample
Download
Just because your company is known for creativity does not mean your documents cannot look professional. Achieve the professionally creative look using this well designed and creative agency letterhead template for any and all documents your business needs. Made exactly for creative agencies, this business letterhead template will show off not just your creativity, but professionalism too.
18. Restaurant Letterhead Template
Download
Restaurants have paperwork too. Just because they mostly revolve around food and services, most people forget that they still need to do office like things. Make sure your files have that official look by using a business letterhead. This restaurant business letterhead is made especially with restaurants in mind. Garnish your documents as well as you garnish your dishes!
19. Business Letterhead Template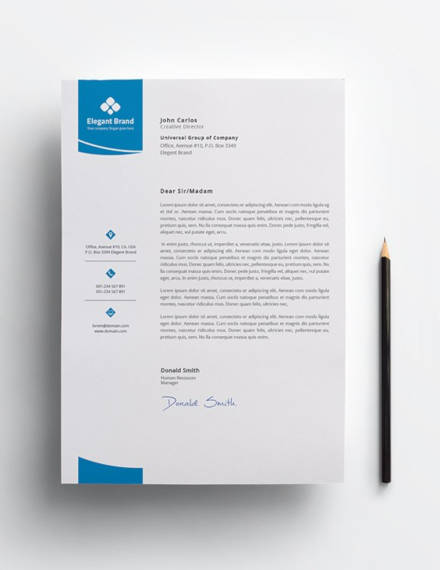 This corporate business letterhead is an amazing, elegant, and professional. Designed by professionals, this business template is sure to meet your standards. Documents can be sent internally, but they can also be sent to clients and other business partners, this template allows you to market yourself because it allows space for contact details.
More in Letters