There are times where one will need to send a letter for business-related purposes. When the time comes that you need to do so, then it is very important that you know how to make a business letter of intent. This article will provide you with all the information you need that will help you make one. You may also see Letter Samples.
7 Steps for Creating a Business Letter of Intent
Step 1: Put in Your Basic Information
The way to begin this type of letter is for you to provide the intended recipient with your basic information. This will make it easier for the business to know who they are dealing with. So make sure that you are able to include your complete name, address, and contact details.
Step 2: Provide the Date
Any kind of letter will require the date in which it was made. This will come in very handy in the event that either party involved will want to remember exactly when they sent or received the business letter. Be sure to include the month, day, and year when putting in the date.
Step 3: Place the Recipient's Information
Here is the part where you will need to include the basic information of the business that you are going to send the letter to. Doing this guarantees that the letter will make its way to where you want it to go. Make sure to put in the company's/organization's name and its address information.
Step 4: Have a Proper Introduction
The first few sentences of the letter are where you will need to introduce yourself to the recipient and the intentions you have. You will need to address the recipient appropriately with the right salutation, followed by his/her last name. Remember that this is a formal business letter, meaning that you'll need to keep the tone professional at all times.
Step 6: Providing Details Regarding Your Intentions
Now that you have stated the purpose of the letter, the recipient will definitely want to acquire more information regarding your intentions. So let's say that you wish to form a partnership with another business. How should the two of you go about it? What is it that you are offering? What does the recipient benefit from the agreement? It's questions like these that you will need to answer and put into the letter.
Step 7: Close the Letter
Once you are done making the letter, then you will need to close it in an appropriate manner. You should provide a closing statement where you thank the recipient for the time spent going through the letter and that you are eagerly waiting for a response. Place your complete name and signature at the bottom to officially close the letter.
9+ Business Letter of Intent
Simple Letter of Intent Template
Simple Letter of Intent Acquisition of Business
Simple Restaurant Letter of Intent Template
Simple Restaurant Non-Binding Letter of Intent Template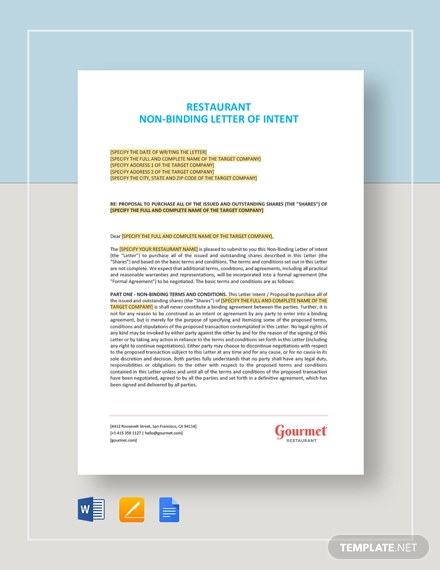 Simple Restaurant Letter of Intent for Transaction Template
If you are going to consider buying a business, then know that you will need to come up with the right letter to help you with that. It is for this particular reason that this template exists. Download and use it to make a letter which shows your intentions in a professional manner.
Sample Letter of Intent Acquisition of Business
For those of you who would like to make a letter which shows your intent to purchase a business, then this is the template for you. Once you have to download it, all you have to do is to put in the information it needs to show what kind of offer you have to give.
Letter of Intent for New Business
If you are willing to start a new business and you wish to inform someone, most likely another individual who's willing to sponsor, then you will want to make use of this template. With it, you can point out what it is that new business is going to do, how it's going to get started, the benefits and so on.
Letter of Intent to Purchase Business
In the event that you would ever want to purchase a business that someone is planning to sell, then you will want to make use of this template. Make sure to use either Microsoft Word, Google Docs, or Apple Pages so that you can make whatever changes you want until it has the information you need it to have.
Letter Of Intent For Business Partnership
There might come a time where one wishes to enter a business partnership with another individual or a rivaling business. Should that ever happen, then this template will definitely come in handy. With it, one can easily make a letter which points out why the partnership can benefit those that are involved in it.
Letter of Intent to Rent Business Space
If you feel as if you are lacking in terms of space for workers, supplies, or anything that you need to put things in, then you may want to consider looking for more business space. If you have found one that you can rent, then you can use this letter to point out your intentions clearly.