Birthdays herald new beginnings for the celebrant. It is the time when a person is overcome with exhilarating awareness of his or her temporal existence and of possibilities for growth and self-realization. Indeed, birthdays are one of the most momentous events in our lives and what better way to mark this day in the vast sea of our memories than to celebrate it with our loved ones through a birthday party.
During birthday parties, tons of food are bound to be served and your guests might get confused at what food to get due to its variety. It would be immensely helpful in smoothing the flow of your party if your guests will have a visual reference for the kinds of food and beverages that are available to them. This is where a party menu is handy. So if you are planning a birthday party soon, then you might want to use our easily downloadable  Birthday Menu Templates. Scroll down below and choose the template which you deem suitable to your needs.
Simple Birthday Menu Template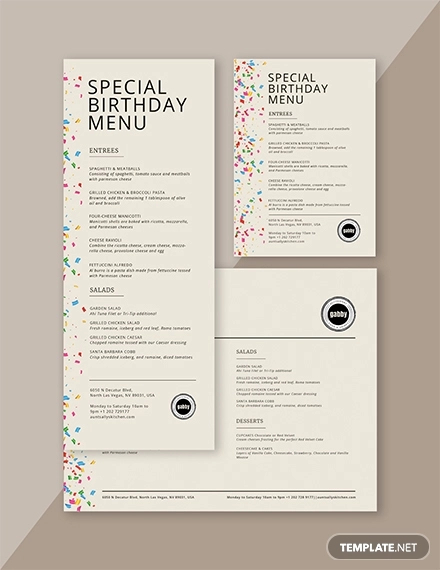 Special Birthday Menu Template
Birthday Menu Template
Birthday Dinner Menu Template
Birthday Dinner Party Menu Template
Download
Birthday BBQ Party Menu Template
Download
Children's Birthday Party Menu Template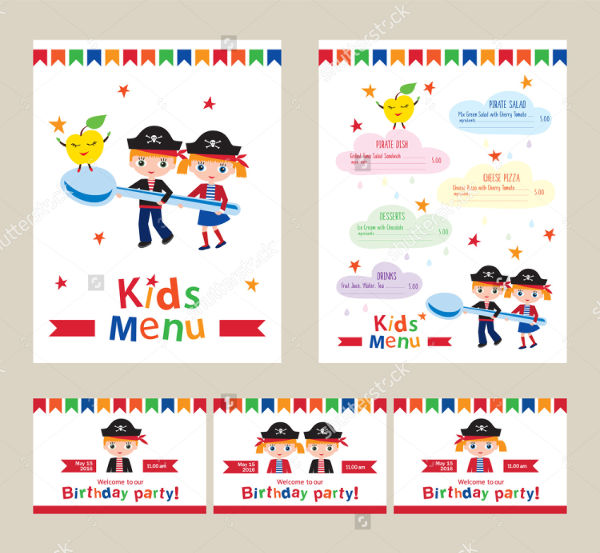 Download
Birthday BBQ Party Menu
Are you hosting a huge BBQ party soon? Just because BBQ parties are known for its laid-back and informal setting, it doesn't mean that a little order and structure wouldn't make this homey party more enjoyable. Hence, you might want to your BBQ partygoers to be able to pick out the kind of meat cuts, burger patties, or which sausages they want—be it frankfurter, bratwurst, chorizo, or andouille. This birthday party menu is just what your party needs!
Children's Birthday Party Menu
Kids are very visual. You would benefit the most if you use this template and insert images of the food items you are serving so that they get excited to munch as much goodies as they can, which is essentially a good thing since we want kids to have loads of fun. Normally, kids will be enticed by the sight of burgers, spaghetti and meatballs, pizza, fries, chocolate cake, and ice cream.
On another note, one way of making your child's birthday party a joy-filled event would be to create a whole-day program which consists of numerous games, activities, and entertaining presentations. And if it interests you, you might want to check out our Birthday Program Templates. Just click on the link provided.
Frozen Birthday Party Menu Design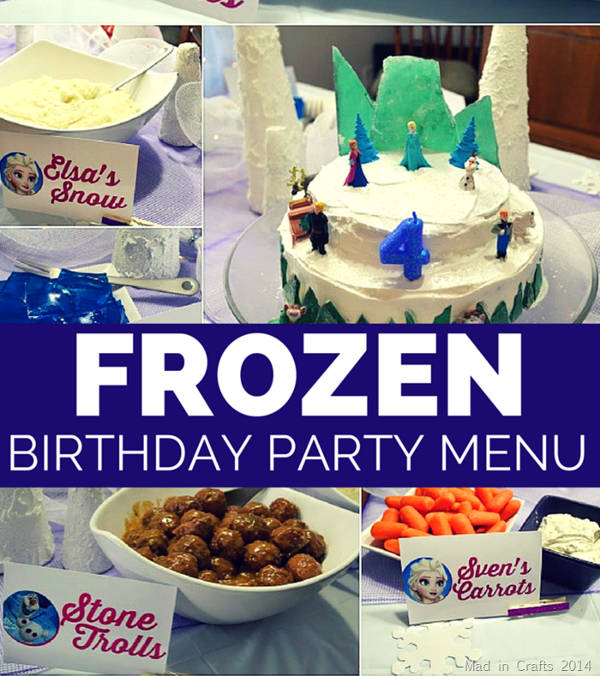 Download
Hello Kitty Birthday Party Menu Design
Download
Mickey Mouse Birthday Party Menu Template
Download
Beach Birthday Party Menu
Beach and party are two words that blend together perfectly when placed beside each other. Beach parties are often a combination of classy and laid-back. Your guests would be able to enjoy the party more, if instead of lining up to get their food, they will just lounge on their seats and wait for servers to ask them what they want to eat. These Elegant Menu Templates match the breezy atmosphere and cerulean sea with pale-blue themes.
Mickey Mouse Birthday Party Menu
Mickey Mouse is unbeatable in invoking feelings of pure fulfillment among kids and adults alike. This lovable cartoon character has played its part in our childhood memories. That is why this menu template is perfect for you—whether you are planning a party for your child or just planning a party that will take you and your old friends down memory lane. You can maximize this template by playing with the food names on your list. For example, you could add Mickey before the word cake. This helps invites goofiness into your party's mood.