Menu
Elegant Menu
With elegant menu template, you can capture a larger market as these templates are easily available online. Once you have a menu template, your capacity of customers may increase. Look at our beautiful and elegant menu template that can make your restaurant a noticeable one. You can also see Elegant Menu Template.
Table of Content
Customize your template professionally with the fonts, the layout, photos and a logo as per your needs. Check out pretty customizable templates that are listed below. You can also see Menu Templates.
Elegant Restaurant Menu Template
This stunning restaurant menu template has different PSD files cover like the front page, left and right menu items page and back page. It gives you the option to add more pages as per your choice. It is fully layered, with CYMK color and 300 dpi resolution.
Dinner Menu Template
This Amazing dinner menu template can be used as a food menu change. Available in US and US LEGAL size this template can be designed simply by adding your own items and print.
Elegant Valentine Menu Template
Elegant valentine menu templates help you to promote drinks, food, starters for the special occasion. Available in high resolution and all sizes, this elegant template can create huge profit as well as customer loyalty.
Wedding Menu Template
These beautiful wedding menu templates are absolutely free and can be modified with text and colors. Its image is completely transparent. With no text, it can support jpg file format.
Elegant Food Menu Template
This attractive, modern layout and beautiful food menu template are savvy. They have some attractive features like different menu variations, 300 dpi / CMYK, different backgrounds, etc. It supports A4 (210×297 mm) format. You can also see Christmas Menu Template.
Elegant Drink Menu Template
This elegant drink menu template is all about showcasing and advertising cocktails, restaurant food, concocting drinks, drinks on holiday, occasion drinks. Available in high resolution, any size, and format, this template can be easily customized in minutes.
Elegant Party Menu Template
This stylish and attractive template for party restaurants comes with impressive features like catchy colors, CMYK color mode, 100% vector, 4 PSD editable files and much more.
Elegant Seafood Menu Template
This elegant seafood menu template can promote your delicious seafood from the ocean. Some of its important features include 100% adjustable layout, paper size, colors, fonts, and much more.
Elegant Coffee Menu Template
This well-designed and attractive coffee menu template designs can be used to advertise your business online like for any coffee workshop, store, brasserie, pizzeria, feasting launch, brewery and much more. Available in all formats and sizes this high-resolution coffee menu template can be your best choice.
Elegant PSD Drinks Menu Template
This multipurpose PDS menu template is a complete vector template menu which will be perfect for cocktail drinks. It can be useful to make your menu more eye-catching and trendy. Available in A4 US Letter (8.5×11), 4 PSD editable files with 0.25-inch bleed, this menu template can be freely downloaded. You can also see Birthday Menu Template.
Free Download Elegant Menu Template
These colorful and bright, elegant menu template has got the straightforward description. Some of its attractive features include editable text, fonts, scripts, color schemes, and images.
Elegant Christmas Menu Template
Included in 3 flyer bundle, this elegant Christmas menu has special Christmas desserts, meal courses, and attractive dishes in it. This file comes in JPEG and PDF file format. The front page comes in black color and last page with golden that makes every customer thrilled.
Clean Elegant Menu Template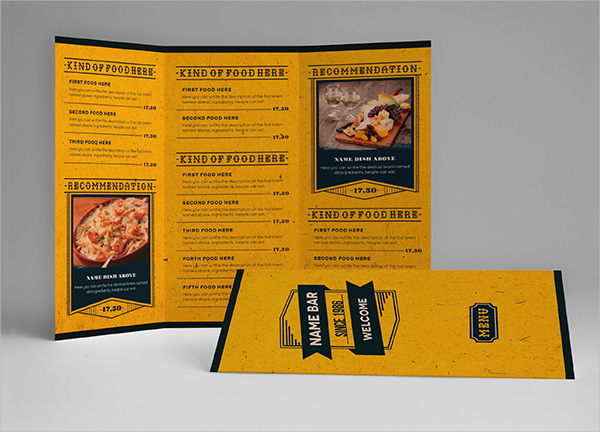 This clean and classic, elegant menu template is for people who wish to have a perfect lunch and dinner menu plan. With adjustable color and size, this high-resolution template can add a unique, new menu proposal to your restaurant.
Elegant PSD Menu Template
Sophisticated and modish PSD Menu Template can be the best template for a modern-day restaurant. With attractive features like 8 PSD files, 2 sizes A4, 300 dpi, and 8.5×11-inch paper size, this amazing menu comes in black and white color where it offers starters and main course. You can also see Price Menu Template.
Vintage Pastry House Menu Template
Elegant Navy Menu Template
Multipurpose Menu Template
A3 Elegant Menu Template
There is no uncertainty about the truth that elegant menu templates can attract the customers and put a great first impression on them. All of the above-mentioned menus are stylishly designed to attract the customers. With loads of features, you can go for an exclusive menu template as per your choice and requirement. You can also see Pizza Menu Template.