Coffee happens to be one of the most popular beverages, yes, even more than alcohol. There is nothing better than spending an hour at a café with your favourite people, or even alone! A café is truly the best place to hang out, especially with its overall ambience. An integral part of this ambience is the amazing menu you provide. To create a good menu, you could look up some café menu templates. You can also see Cafe Menu Templates. A good coffee menu template sample allows you to list all the different coffees and cappuccinos you serve. You can even add a list of light snacks that would go perfectly with the coffee. Images form an important part of a menu; with a such a template, adding images become a piece of cake. You can also see Menu Templates.
Coffee Menu PSD Template
Buy Now
Cafe Menu Template
Buy Now
Classic Cafe Menu Tri Fold Template
Buy Now
Elegant Menu Template
Buy Now
Example Coffee Shop Menu Tri Fold Brochure Template Download
A great and easy way to make a wonderful coffee shop menu is to use our tri fold brochure template. Designed with a brown coffee color, this example can carry many menu items.
Coffee Music Cafe Tri fold Menu Template Sample Download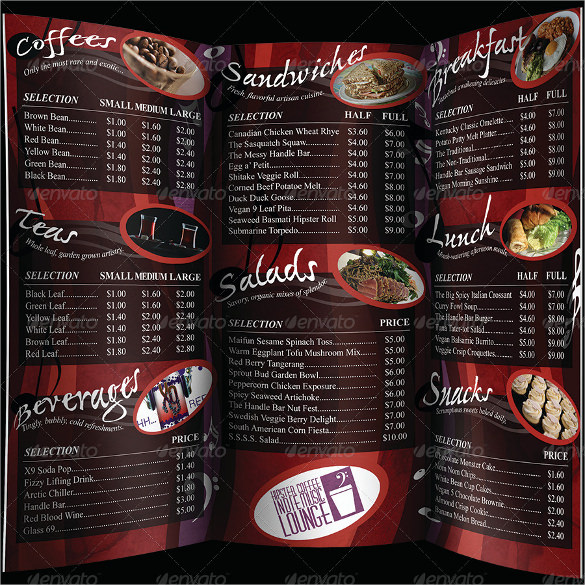 We have a great tri fold coffee menu with music theme. This sample is designed with an impressive layout and has both text and photos of the dishes on offer.
Three Coffee Menu Design Template Sample Download
Here you can download three types of coffee menu template designs to make your cafe menu with. The example is very impressive when you use it in creating your menu.
Coffee Shop Restaurant Menu PSD Format Download
Designed in a pink theme, this beautiful coffee shop restaurant menu can give you a very great perception with customers. Download the sample template today and create a unique coffee shop menu.
Coffee Shop Menu Brown and Orange Cafe Rack Cards Template Sample Download
This is a very simple two color coffee shop rack card. This example template can be used to design cards for marketing the coffee shop in order to bring in more customers.
Coffee House Menu Card Template Sample Download
With this coffee house menu card template, anyone can use this example to create an attractive coffee menu. Download the template here for free and create your own unique menu.
Example Coffee Menu Template Download
There is no easier way to make a simple coffee menu than to use this sample template. We have designed a brown and orange menu template that is liked by customers.
Coffee Menu Vector EPS Format Download
In order to create a lovely coffee menu for your coffee shop then this wonderful example is the way out. The template is readily downloadable in a free vector EPS format.
Example Coffee Menu with Hand Drawn Template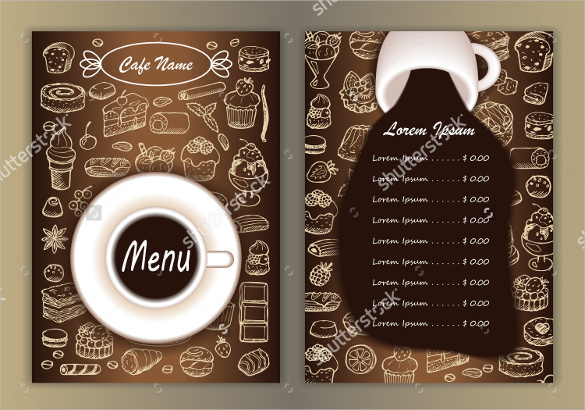 This coffee menu template is designed with hand drawings of cupcakes and other baked items. The sample is editable allowing you to modify the content at will, download it from this site.
Sample Menu Boards for The Well Coffeehouse Template
In order to come up with an artistic coffee menu that is handcrafted in design, this sample menu template is right for you. With a black background, the design is just great.
Example Vintage Coffee House Menu Template Download
Sample Customized Coffee Menu Card Template
Vector Format of Cafe Menu Template Download
Coffee Menu Barista Template Sample Download
Elegant Coffee House Menu PSD Format Download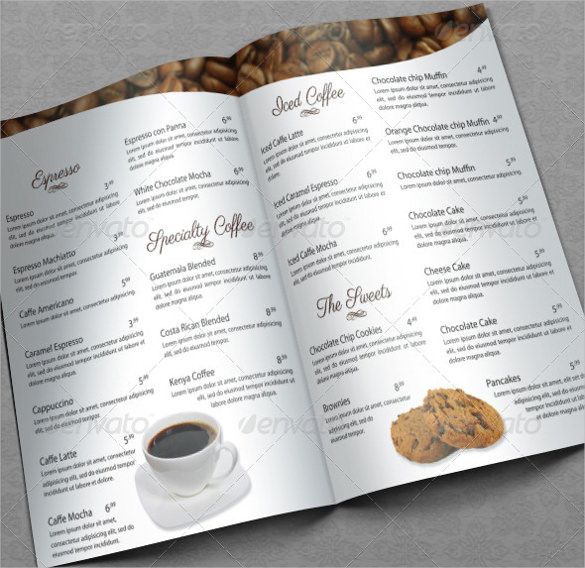 Coffee House Menu Template Sample Download
Coffee Chalkboard Menu Template Sample Download
Example Cafe Coffee Cup Flyers and Coffee Menu Template
Sample Cafe Menu Template Download
Sample Printable Coffee Menu Template Download