Food menus at French restaurants are designed very distinctly – especially the lavish and elite places wherein the crème de la crème is the dining audience. Well, if you have a French dining place and you're looking to do a menu-makeover or design a menu for an all-new French restaurant, you have come to the right place. Here, we have compiled French menu templates which have the distinctive design and feel you'd be looking for. You can also see Free Menu Templates. A French menu template sample will have been specifically designed to suit your needs, hence you can rest assured. It would allow you to list all your drinks and dishes in an organized fashion. The best part about downloading a Menu Templates is that you get to customize it just the way you please.
Simple French Menu Template
French Menu Template
Modern French Menu Template
Dinner Party Menu Template
Restaurant Menu Template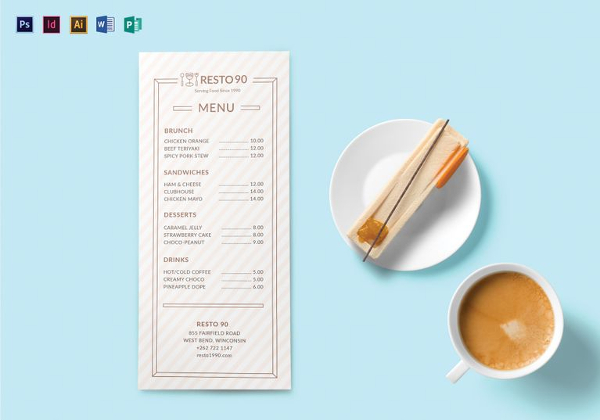 Food Menu Template
Printable French Menu Template Sample Download
frenchfranks.co.uk | When it comes to French menu, the design has to be great just like the food itself. Use our expertly designed sample menu template today to make your customers interested.
Example French Antique Printed Menu Download
This antique printed menu template brings out the vintage design very well. It is available for download in a sample format that can be used to create the menu as you wish.
Multi Course French Menu Free PDF Format Download
modgourmet.com | This example of a French menu is designed to give you a multicourse from the starter, main course to the dessert. It is available for download in a PDF file format.
Antique Vintage French Menu Dated Template Sample Download
We have the right cafe menu template for you to create the perfect vintage menu. It can be downloaded as a sample and edited as you may desire it to appear.
French Menu Template Sample Download
In order to bring to your customers the old look menu in a printed format, this example is the way to go. It can be customized to appeal to you and your customers.
Example Vintage French Menu Template Download
If you want to give your customers a vintage menu like what was on the walls in the 30s, then this sample will do it. The menu even has a date in the previous century.
Free PDF Format of AF French Menu Download
glutenfreepassport.com | This French menu template is designed in a simple looking design but can display a lot of categories of dishes. The example can easily be downloaded here at no cost.
Menu Board for French Restaurant Template Sample Download
Anyone can use this menu board for a French restaurant to impress the customers and increase sales. Download the sample from this site in a format you can edit as desired.
French Menu Free PDF Format Download
outincanberra.com.au | If you want your restaurant or bar to have a wonderful French menu, we have the right template for you. Download this sample today and make a difference in your business.
Sample French Menu in Gold Frame Template
This printable French menu template can give your restaurant a serious face lift due to the great design. The example has a handwritten design with an organized layout for easy categorising the dishes in the menu.
French Menu in Paris Template Sample Download
Sample French Food Menu Template Download