Menu
Restaurant Menu
If you go out for dinner, don't you judge a restaurant based on its overall appearance and its food menu? If it doesn't offer the cuisine you like or has an unimpressive menu, you're likely to walk out. Yes, customers can be that harsh. That is precisely why you need to pay close attention to your restaurant's menu if you haven't already.
Table of Content
A menu templates must go with the ambiance and theme of your restaurant. There are plenty of restaurant menu designs available on our site so don't worry about making one from scratch all by yourself. Simply download from the hundreds of options that are available and easily choose the one that is compatible with your restaurant.
Creative Restaurant Menu Template
Make your restaurant's menu appear all the more creative and elegant by making use of our ready-made restaurant menu template. This menu design lets you enter the names of your restaurant's dishes in an organized manner. Add or modify any of the content by downloading and opening it in different file formats.
Blank Restaurant Menu Template
If you're in need of a simple blank menu for your restaurant, try out our readily downloadable template that is available for use in different file formats such as MS Word, Pages, Google Docs, etc. With this printable menu at your disposal, you can conveniently enter the menu details without any hassle. Get it now!
Family Restaurant Menu Template
Designed keeping users in mind, this "Family Restaurant Menu" template is perfect to use if you run a family-oriented restaurant. This menu is pleasing to look at and allows you to present your menu details in an elegant manner. Download in any file format now! You can also take at our look at seafood menu templates.
Chinese Restaurant Menu Template
Are you in the hunt for an appropriate menu design for your Chinese restaurant? If yes, fret not, we have just the right template for you! Our Chinese restaurant menu template comes with the perfect design and layout that looks simply aesthetic. You can make it yours by downloading it now!
Burger Restaurant Menu Template
Here's a "Burger Restaurant Menu" template that is up for instant download. You can use this uniquely designed template for your burger restaurant. Upon downloading this impressive menu template, you can add, replace, or modify the contents to match your menu requirements. Get it now!
Menu Board Template
Hurry up and download this creative "Menu Board" template so that you can creatively present the dishes that your restaurant offers. This high-quality sample menu is easy to edit and comes with remarkable content that can be personalized according to your preferences. Do not worry about creating an impressive menu from the start because this attractive template comes with customizable features and royalty-free images.
Simple Menu Card Template
Check out this "Simple Menu Card" template that guarantees nothing but the finest content and excellent design for your restaurant menu card. By using this template, you can highlight your restaurant or cafe name at the very beginning of the menu, followed by the list of menu items. This blank menu template is simple to use once downloaded in various file formats. Try it out now!
Food and Drinks Menu Template
Are you looking for a detailed food and drinks menu card template for you for your restaurant? If so, you can try out this well-crafted food and drinks menu template that has the content present in it arranged neatly. You can open, view and edit this template in Adobe Photoshop and InDesign.
How to Create a Restaurant Menu (5 Steps)
Step 1: Select Your Preferred File Format

To create a menu for your restaurant or cafe, you need to firstly select a file format. There are many file formats available such as MS Word, Photoshop, InDesign, etc for you to use. So, select a format that you prefer and open a new document in it.

Step 2: Select a Background Theme For Your Menu

Now, depending upon the theme of your restaurant or cafe, you can choose a background design for your menu card. You can keep it minimalistic or fancy based on your preference. Make sure you add a border so that the contents present in the menu look put-together.

Step 3: Enter the List of Menu Items

Next, enter the names of the dishes or menu items in the document. Divide these items into different categories such as appetizer, meals, desserts, drinks and so on. List them in an organized manner along with their respective prices.

Step 4: Enter Your Restaurant's Contact Information

Once the menu details are entered, continue to enter the contact information of your restaurant. Here, include the name of your restaurant, phone number, address, website, as well as company address. You can also take a look at our free menu templates.

Step 5: Save and Print

Finally, ensure that you review all of the menu details so that you can add or modify any information. Then, click on the Save button once all details are perfectly mentioned and get it printed.
Creative Modern Food and Drinks Menu Template
Restaurant Food and Drinks Menu Template
Modern Food and Drinks Menu Template
Blank Restaurant Menu Template in PSD
Editable Restaurant Menu Template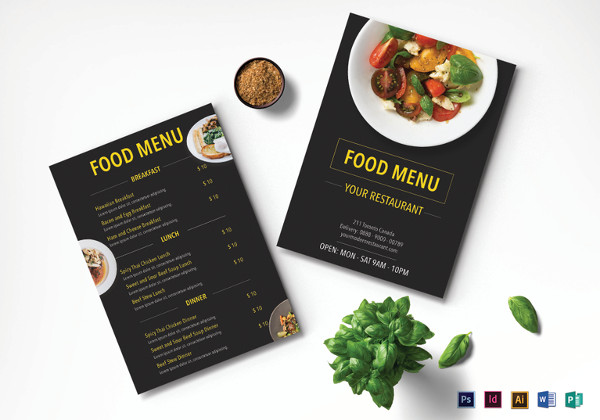 Simple Restaurant Menu Template
Restaurant Table Tent Menu Card Design
Restaurant Menu PSD Template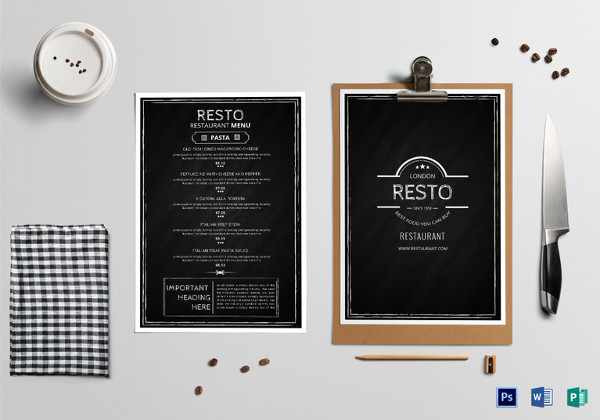 Restaurant Food Table Tent Menu Template
Sample Western Grill Restaurant Menu
Chalkboard Restaurant Menu Template
Restaurant Menu Classic Template
Simple Food Menu Photoshop Template
Free Restaurant Christmas Menu Template
Vintage Restaurant Menu Illustrator Template
Simple Italian Restaurant Menu Template
Rustic Restaurant Menu Word Template
Restaurant Menu Design Format Template

With this help of this above-shown sample restaurant menu template, anyone can come up with a great menu. It has a layout expressing all the categories available so you just need to fill the content with what you have.
Example Restaurant Menu AI Illustrator Template

To create a restaurant menu the easy way without starting from scratch, this sample template will help. It is available in the AI Illustrator format for easy modification and customization.
Restaurant & Cafe Menu Pack Template Sample Download

There are restaurants and eateries out there where the owners would love to have a menu card design and layout which becomes a part of their restaurant's legacy and that which is memorable for the diners that come in. Well, if that sounds exactly like what you need, then this above-shown menu template is the best answer! It is free, downloadable and editable.
Restaurant Menu Vector EPS Format Download

This menu template allows you to create your menu in the design available. You can include pictures of the foods and easily edit them. Download the example here for free.
Restaurant Sample Menu AI Illustrator Template

This sample menu template is simple and easy to read making it presentable to customers. Download this fun menu example today and create your desired menu in a matter of a few minutes. It is available in the Ai Illustrator file format.
Restaurant Food Menu Flyer

With this sample template for the restaurant menu, your place can appear different and special as it comes as a flyer. It is a colorful and easy to edit template design.
Restaurant Menu Vector EPS Format Template Download

With this simple one-page menu template, a fast-food restaurant can create a wonderful menu. Download it here for free in vector EPS format example template and customize it to create your desired menu.
Example Restaurant Menu Mockup Template Download

By using this sample restaurant menu template, you can come up with an exciting menu for any cafe or restaurant. It has a folding cover to show the name and logo of the restaurant.
Restaurant Menu AI Illustrator Template Sample Download
Restaurant Menu Vector EPS Format Template Download
Example Restaurant Menu Bundle Template Download
Restaurant Menu Template Sample Download
Restaurant Menu Design Format Template Download
Example Restaurant Menu Template Download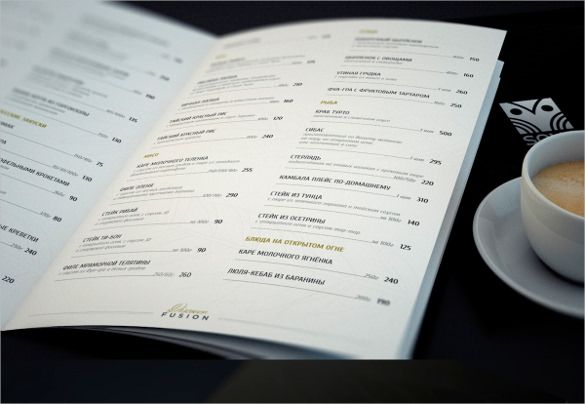 Restaurant Menu Vector EPS Format Template Download
Restaurant Food Menu Bundle Template Sample Download
Conclusion:
Aside from our above-shown impressive templates, we also have a wide collection of other menu templates which you can view by clicking on menu templates. They are designed to help you save time and get the work done quickly without compromising on the content or quality of your menu.