Most restaurants have realized the importance of having a take out counter because customers usually prefer that now. For a take out counter, these restaurants generally have separate take out menus, that is because the food items and the prices might vary. Also, it becomes more convenient. To create a take out menu, you could easily look up some Free  Menu Templates. A good take out menu template Word is attractive and well organized. Once you download it, you will be able to incorporate all the essential details in the menu. In addition to that, you can also add images to make the Menu Templates look all the more attractive.
Take Out Menu Free Template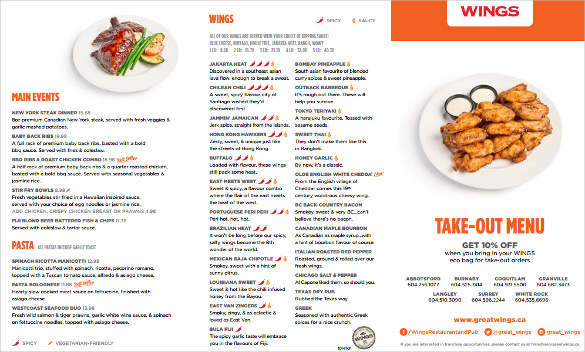 greatwings.ca | This PDF take out menu comes in white with black and orange writings. It has an image of wings on the front page of the menu and can make a wonderful and appealing menu.
Restaurant Take Out Menu Trifold Brochure Template
This Word restaurant take out menu tri fold brochure comes in maroon. The items offered on the menu are appetizers, soup and salad, dinners special and maki sushi which are easy to download.
Take out Restaurant Menu Template Download
This Excel format take out restaurant menu template comes in white with the items written in red. This menu comes in two pages giving your menu more space for more items on your menu.
Caribbean Restaurant Take Out Menu Template Download
This PDF Caribbean restaurant take out menu template has images of the different kinds of food being offered. It also has lunch special and a contact for ordering home deliveries.
Take Out Menu Template
This Word take out menu template comes in cream with red and black writings for the menu contents. This menu is for people looking for a stylish menu for their take out counter.
Cafe Take out Menu Template Download
This Excel format café take out menu template is a tri fold that comes in red and white coffee colors. With single columns of food items it makes it easy for customers to choose.
Takeout Menu Free PDF Template
theseafoodshop.com | This take out menu free PDF template comes in a vibrant white color with blue writings for the items. The menu is for sea food take outs shop that you can download and use it as yours.
Takeout Menu Free Template Download
mariecallenders.com | This Word take out menu free template comes in a white background and red writings giving it a delightful look fit for a takeout menu. The menu comes in three different columns.
Hickory Take out Menu Template Download
hickoryrestaurant.com | This Excel format takeout menu template is a simple one page menu for a BBQ take out restaurant. It comes in light brown with and image and contact info below the page.
Duffs Takeout Menu Free PDF Template Download
duffsfamouswings.ca | This duff takeout menu free PDF template come with red and white writings on a dark brown background giving it a fabulous look. You can download it and use it.
Free Take out PDF Template Download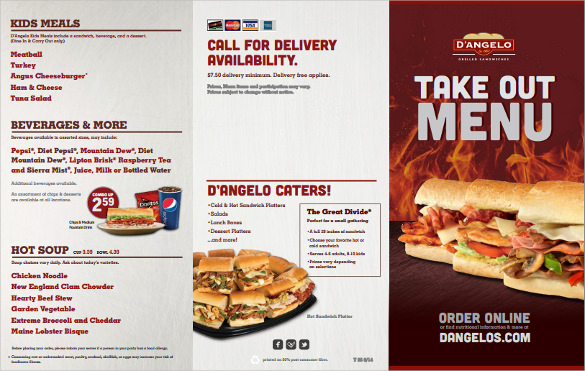 menusearch.net
Free Takeout Menu Template Download
isaacsdeli.com
Menu Mansfield Take Out New Template Download
wtsbbq.com
Print Take Out Menu Template Download
manuelsstore.com
Sunda Takeout Dinner Menu Template Download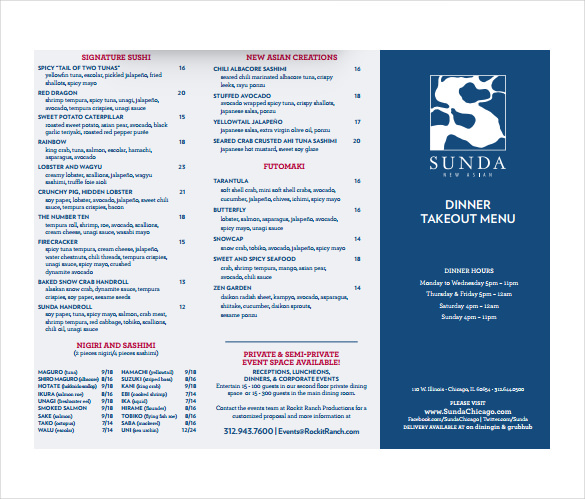 sundachicago.com