Holding an anniversary event can be tiresome. There are many things you need to pay attention to, such as inviting guests. To help you with such a momentous event, we offer you these elegant invitation designs that are attainable in no time at all. Make use of our beautifully crafted anniversary invitation templates to make the event even grander! Our experts in the industry have premade all these templates with unique and visually appealing layout and content that you can utilize to save time, money, and effort! And to cater to your personal preferences, our templates are highly customizable and editable in various editing programs. For added convenience, you can work this on your laptop, desktop PC, or even your smartphone! Grab this amazing deal by subscribing to our plans now!
What Is an Anniversary Invitation?
An anniversary invitation usually comes as a card or letter to invite someone in celebrating a momentous event of a person or as a group. Whether it is a death anniversary, 50th anniversary, company anniversary, church anniversary, wedding anniversary, etc., one makes an official invitation for the anniversary event. It becomes a more formal invitation to the event when given an anniversary invitation letter.
How to Make an Anniversary Invitation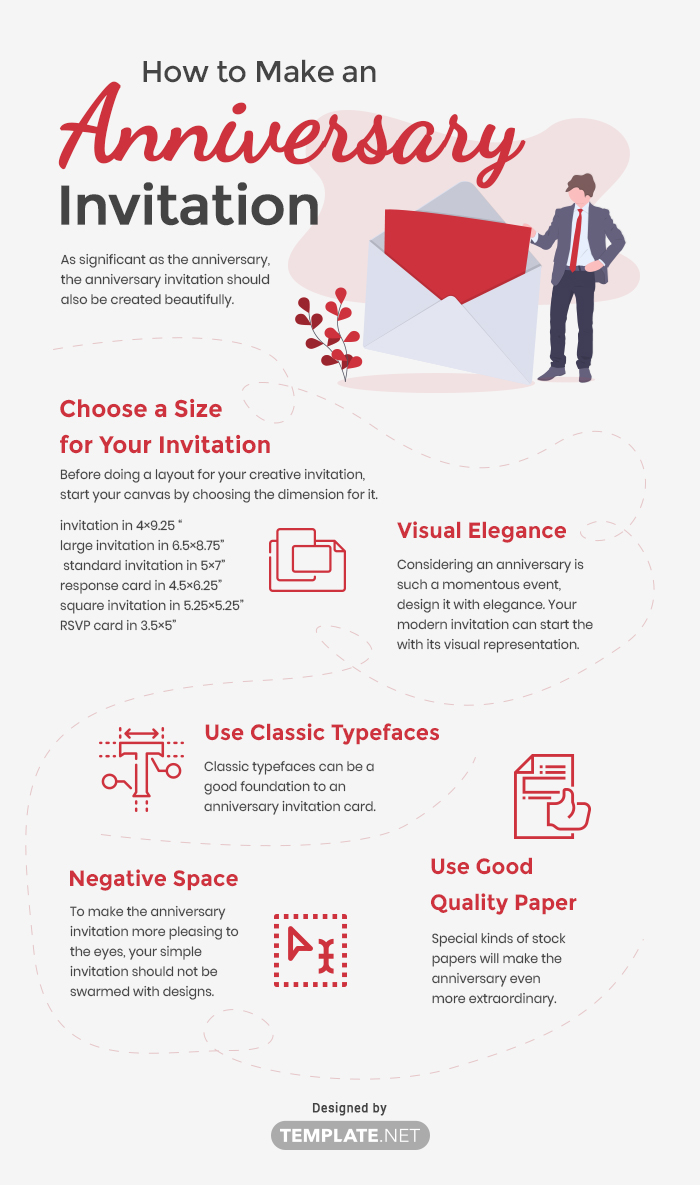 As significant as the anniversary, the anniversary invitation should also be created beautifully. Furthermore, it needs to be exact. Here are quick and effective ways in making an elegant anniversary invitation.
1. Choose a Size for Your Invitation
Before doing a layout for your creative invitation, start your canvas by choosing the dimension for it. Most dimensions for such an invitation can be a thin invitation in 4×9.25 inches, large invitation in 6.5×8.75 inches or 5.5×7.5 inches, standard invitation in 5×7 inches, response card in 4.5×6.25 inches or 4.25×5.5 inches, square invitation in 5.25×5.25 inches, or RSVP card in 3.5×5 inches.
2. Visual Elegance
Considering an anniversary is such a momentous event, design it with elegance. Your modern invitation can start the with its visual representation. Avoid punky, inappropriate, and indecent graphics and illustrations. Black, to begin with, is a bold, elegant color that can perfectly match with anything. Carefully balance the color elements. Tip: minimalist designs are elegant in nature. Nevertheless, always match the anniversary invitation letter with the event and its theme.
3. Use Classic Typefaces
Classic typefaces can be a good foundation to an anniversary invitation card. Moreover, these fonts can help your details be more legible with style. Also, be consistent in using the same typefaces. Being consistent and limiting your anniversary invitation with few typefaces can make it even more pleasant and beautiful.
4. Negative Space
To make the anniversary invitation more pleasing to the eyes, your simple invitation should not be swarmed with designs. You do not have to make use of all of its space for your embellishments. The thing is, a negative or blank space is an even better design. White or negative spaces can foster elegance with a top-notch reading experience.
5. Use Good Quality Paper
Special kinds of stock papers will make the anniversary even more extraordinary. Guests will be sensing the special day even more by feeling it through the printable invitation card. Remember, the anniversary invitation will be the first thing they see and touch regarding the event. First impressions rise through this letter. Special stock papers for anniversary invitations can come textured, scented, and thick. Choose the kind of stock paper for this kind of special event.
Read More
Earn 20% commission on every sale from your Share
Bloggers: Publish/Mention Template.net products on your website, blog, Social Media or Via Email & Earn affiliate commission of 20% for every sale