Menu
Chalkboard Menu
A chalkboard menu would look perfect for a cafeteria, a pizzeria or a diner. It appears to have been written on a chalk board, and often coloured chalk is used. That gives it a unique look, and makes it all the more attractive. If you want a fun, light hearted ambience for your restaurant, somewhere casual where people can simply hang out with their friends, this is the menu to opt for. To create such chalkboard menus for breakfast, you could try out Weekly Menu Templates.
Table of Content
Chalkboard Menu Card Template
Simple Chalkboard Menu Design Template
Hand Drawn Chalkboard Menu Design
Printable Chalkboard Trifold Menu Template
Sample Chalkboard Blank Menu Template
Chalk Board Sandwich/ Sub Menu Template
Chalk Board Birthday Menu Template
Chalkboard Italian Menu Template
Chalkboard Bar Menu Template
Chalkboard Menu Template in PSD
Chalkboard Restaurant Menu Template
Cafe Menu Chalkboard Template
Chalkboard Restaurant Menu Template
Retro Chalkboard Menu Template
Christmas Chalk Menu Template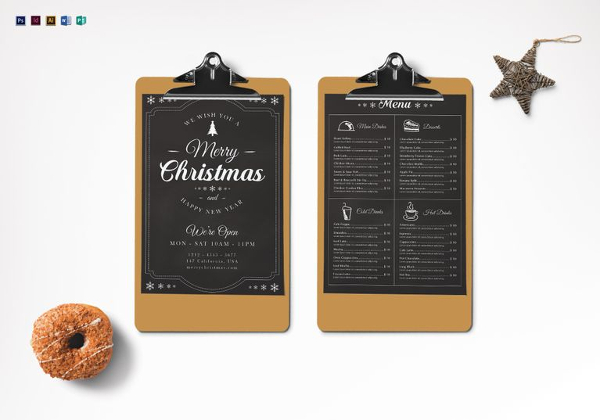 Cafe Menu Board Template
A chalkboard menu template PDF would contain the names of your food items and the prices of each listed against a black background. To make it look even more striking you could opt for Menu Templates which appear to have been written with coloured chalk.
Free Chalkboard Menu Design Template
Free Chalkboard Christmas Menu Template
Free Chalkboard Wedding Menu Template
Typography Chalkboard Menu Template
Breakfast Chalkboard Menu Template Download

Breakfast being the most important meal of the day it should have a nice big menu that the customers can comfortably place their order from. This PDF menu comes with pictures and prices of the food offered.
Chalkboard Menu Mockup with Juicy Watermelon Download

This Excel chalkboard menu mockup with juicy watermelon is a menu that will help you bring out the best in your menu. With the wide space to fill and re usable it is convenient as ever.
Vector Chalkboard Menu for Restaurant Template Download

Chalkboard menus are really cool and instantly attractive. Here's one sample menu which would look really look good in a restaurant. The template has some amazing artwork – hand-drawn designs and food images. The menu template features offers house specials, starters, side, dessert cold and hot drinks.
Chalkboard Trifold Menu Template

This Word chalkboard tri fold menu template comes with also yellow and red colors. This menu is a hand held menu that makes it easier for each customer to get a closer look at the menu.
Chalkboard Bakery Menu Template Download

This PDF chalkboard bakery menu template has drawings of baked breads and cakes at the top. This menu can be downloaded by a bakery to schedule their baking for every day of the week.
Elegant Chalkboard Wedding Menu Template
Coffee and Bakery Menu on Chalkboard Design Template Download
Menu on Chalkboard for Alcohol Template Download
Food Menu on Chalkboard Template Download
Chalkboard Look Wedding Menu Card Template
Chef Menu Chalkboards Mock Up Download
Seamless Food Menu on Chalkboard Download
Restaurant Food Menu Design With Chalkboard Template Download
Coffee Menu on Chalkboard Template
Monster Chalkboard Menu Download
More in Menu